1551 Emma and the pirate treasure
The Day the Pirates Went Mad
by Trevor Atkins, illustrated by Jon Merchant
Coquitlam: Silverpath Publishing, 2021
$14.95 / 9781989459027
Reviewed by Cassidy Lea
All royalties are donated in support of BC Children's Hospital
*
It's the early 1700s and eleven-year-old Emma Sharpe is in a difficult situation. Her parents have been sent to prison until they can pay off their debts and she's living in an orphanage where conditions are less than ideal. Then one day there's a light on the horizon: a beautiful ship called the New Adventure. Inspired by stories of "faraway places" and prompted by a desire to "make her fortune so she could free her family from prison," Emma stows away on the ship, and later becomes a valued member of the crew (p. 15). The crew of the New Adventure, made up of people from all backgrounds, nationalities, and walks of life, becomes a surrogate family for Emma. During her time on the New Adventure she learns to load cannons, fight, and navigate and plan a voyage. But when they come across some pirate treasure, everything starts to change. The crew begins fighting amongst themselves, even though there's plenty of treasure to go around. Could it be that the bounty really is cursed?
The Day the Pirates Went Mad is a fun and informative adventure story, reminiscent of the Magic Tree House books that were staples of my own childhood. The story allows for the presentation of interesting historical facts and context, while being entertaining and accessible, making it a great book for introducing kids to maritime history. This is perfect solo reading for ten to twelve year olds, as well as a fun story to read with younger children, so long as adults realize that elements surrounding death, piracy, and slavery are also parts of the story.
I found that not being familiar with nautical terms and sailing lingo to be a bit of a disadvantage, and a little more explanation within the story would have been nice. I would have loved the chance to learn about life on the sea with Emma so as not to feel like the odd one out, but the glossary at the back of the book was a great addition that cleared up most of my confusion.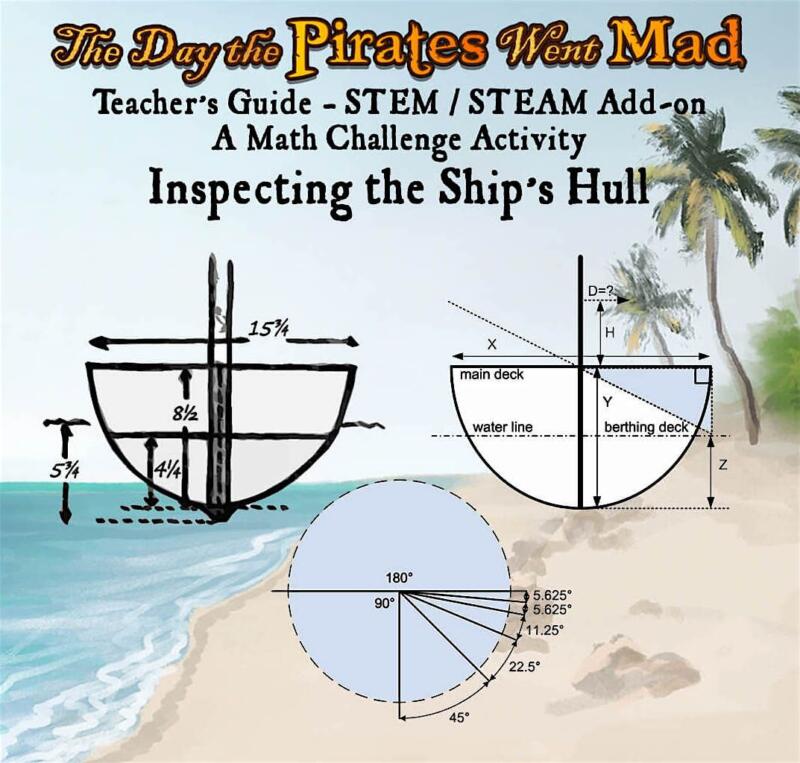 The Day the Pirates Went Mad is the ideal book for a classroom setting, and there is even a website that includes a Teacher's Guide, Pirate Games, and even some recipes that are mentioned in the book. These extra interactive activities just increase the educational opportunities — and the fun! And I'll definitely have to try those recipes.
The story is a little slow, in that we don't get to the part where the "Pirates Went Mad" until the last third of the book. However, that doesn't mean it wasn't an engaging read, with plenty of mini adventures occurring in the beginning of the book. A lot of time is also spent early on getting to know the varied crew of the New Adventure, and all in all, it was time well spent. I also love how informational the story is; I've always found that fiction is a great way to learn fact, which certainly holds true with The Day the Pirates Went Mad. For example, I had no idea that "being in the doldrums" was anything other than a saying. If you want to know where that saying comes from, don't look it up, just read the book.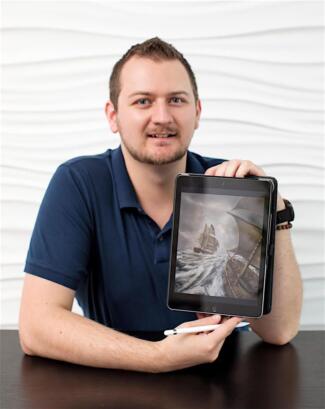 Trevor Atkins' writing style is detailed without being clunky, and the dialogue is realistic and clear, with enough "ye's," "yo ho's," and "aye's" to make it sound old fashioned and piratey. The characters Atkins creates are unique and complex, with short but compelling backstories that give a glimpse into life in the 1700s. Atkins initially started writing Emma's story for his daughter, and his love for her, as well as her influence on the story (not so many details, Dad!) is clear to see.
Atkins touches on a lot of bigger issues that can be delved into further in the classroom, or with parents, so that young readers can gain a better appreciation for the issues and struggles present in 18th century life. And of course, anything that makes learning enjoyable is a good thing. Who doesn't love a story about cursed pirate treasure?
The Day the Pirates Went Mad is a fun, enchanting adventure story that will appeal to both boys and girls and could easily supplement classroom or home instruction. An entertaining read that is sure to satisfy, it would teach the inquisitive reader a thing or two about privateering and life on a merchant ship in the 18th century. More than that, all readers will leave the story with a reminder that the real treasure in life is not found in stuff – bling, booty, and baubles — but in the people we call family.
*
Cassidy Lea is a Thompson Rivers University Alumnus with a double Major in English and Psychology. She loves reading and writing, but isn't too fond of arithmetic. She enjoys going for walks, curling up with a good book, and spending time with her family. Editor's note: Cassidy Lea has also reviewed books by Frances Greenslade and (writing as Cassidy Jean) Natelle Fitzgerald for The British Columbia Review.
*
The British Columbia Review
Publisher and Editor: Richard Mackie
Formerly The Ormsby Review, The British Columbia Review is an on-line journal service for BC writers and readers. The Advisory Board consists of Jean Barman, Wade Davis, Robin Fisher, Cole Harris, Hugh Johnston, Kathy Mezei, Patricia Roy, Maria Tippett, and Graeme Wynn. Provincial Government Patron (since September 2018): Creative BC. Honorary Patron: Yosef Wosk. Scholarly Patron: SFU Graduate Liberal Studies.
"Only connect." – E.M. Forster
Please follow and like us: