1521 House of cards
The Perfect Family
by Robyn Harding
Toronto: Simon and Schuster Canada, 2021
$24.99 / 9781982176877
Reviewed by Zoe McKenna
*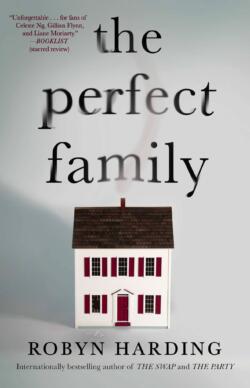 In front of the window overlooking my own quiet street, it is not at all difficult to imagine the suburban neighbourhood in which Robyn Harding's The Perfect Family takes place.
The Perfect Family is the latest instalment in Vancouver-based writer Robyn Harding's list of domestic thrillers, including The Party, which was an Arthur Ellis Award finalist, and The Swap, a Globe and Mail Toronto Star bestseller [reviewed here by Jessica Poon — ed].
The Adlers are the envy of their community. At first glance, each house is like the next — but upon further inspection, it's clear the Adlers' home is a cut above the rest. Thomas is a flourishing real estate agent and Vivian is a budding interior designer. Together, the couple has raised two children — Eli and Tarryn — to be smart, successful students. Eli has just completed his first stint as a college athlete while Tarryn continues to excel in her high school academics, despite teenage angst. Their fully refurbished home serves as a reminder to their community that Adlers are decidedly different from their neighbours, despite first appearances.
Except, what sets the Adlers apart isn't the expense of their home, but rather that "they had done horrible things. They had kept horrible secrets." Someone on their street is convinced that "the world would be a better place without people like the Adlers." This someone is willing to take action to ensure the Adlers know that their horrible secrets are being discovered. The Adler family home is repeatedly and violently vandalized with eggs, slashed tires, and even firebombs.
The story is told from the perspective of the four family members. The first chapter opens with Vivian, grappling with her inner monologue mid-yoga flow in an attempt to find peace and gratitude as her family life begins to unravel. In addition to her son abruptly dropping out of college and her daughter's growing sullenness, Vivian is certain that Thomas is having an affair. As the perspectives change, it becomes clear that Vivian's worst suspicions don't begin to touch on the truth.
Harding rotates between characters with every chapter. While this approach has the potential to become dizzying, in The Perfect Family, it serves to disentangle the threads of each character's lies at just the right pace to keep readers hooked. Harding is careful not to linger in scenes and describe events from multiple points of view. Rather, she tactfully avoids overlap and each moment builds off the last to maintain a lively pace and a threatening momentum throughout the novel. With each chapter, details are slowly revealed, to the point where the reader is positioned as the lead detective with all the clues, knowing much more than any character on the page. This, paired with short, snappy chapter lengths, creates engaging, frantic energy.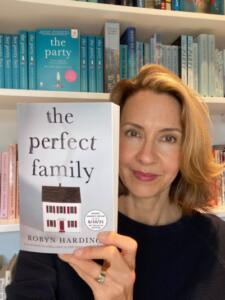 Every character has a distinct voice with sharp, defined perspectives and opinions. Even without chapter titles, it would be easy to distinguish Thomas's stern, authoritative tone from Tarryn's snarky jokes. The one uniting trait the Adlers share is their unlikeable nature. Not only do their secrets call their morals into question, but the relationships the Adlers have with each other and their broader community range from apathetic to cruel. With this, Harding creates a clear commentary on the seemingly-perfect middle-class elites. Between Vivian's blustery dramatics and Eli's strange attempts to avoid repercussions, understanding why the Adlers have a target on their backs isn't difficult.
Fans of domestic thrillers will feel right at home with this novel. Harding utilizes familiar genre beats to punctuate the plot — the story opens with an ominous threat and characters point fingers so many times that red herrings are found around every corner. While the domestic thriller may be a modern genre, the "whodunnit" suspense of the story is reminiscent of classic mystery novels.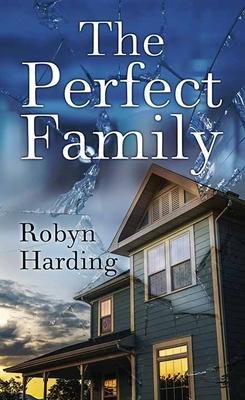 Despite the unsettling dread that builds throughout the book, the suspense Harding creates doesn't quite result in a satisfying climax. Harding leaves readers with more questions than she answers in a last-minute divergence from the classic mystery format. Many story elements are left unresolved, and even those that are addressed are called into doubt in the novel's final pages. This style of ending has the potential to be frustrating or even disappointing as readers' detective work results not in resolution, but in further mystery. For others, an ambiguous conclusion offers the opportunity to continue mulling over the novel's secrets, long after the book is complete.
Regardless of whether the ending is aggravating or rewarding, Harding's careful prose and unsettling character are sure to remain with readers as they cast envious eyes around their own communities. The Perfect Family begs the question: do you think your perfect neighbours might have something to hide?
*
Zoe McKenna recently completed her Master of Arts from the University of Victoria and also holds a Bachelor of Arts from Vancouver Island University. Her thesis, as well as a great deal of her other reading and writing, focuses on horror writing in Canada, especially that by BIPOC authors. Her previous work has appeared in VIU's Portal Magazine and the Quill & Quire. When not reading, writing, or reviewing, Zoe can be found hiking a local mountain or in front of a movie with her two cats, Florence and Delilah. She is always covered in cat hair and wears almost exclusively dark clothing to prove it. Find her here on Twitter. Editor's note: Zoe McKenna has recently reviewed books by Lindsay Cameron, Danial Neil, Allie McFarfand, Chevy Stevens, Carmella Gray-Cosgrove, Ed O'Loughlin, and Meghan Bell for The British Columbia Review.
*
The British Columbia Review
Publisher and Editor: Richard Mackie
Formerly The Ormsby Review, The British Columbia Review is an on-line journal service for BC writers and readers. The Advisory Board consists of Jean Barman, Wade Davis, Robin Fisher, Cole Harris, Hugh Johnston, Kathy Mezei, Patricia Roy, Maria Tippett, and Graeme Wynn. Provincial Government Patron (since September 2018): Creative BC. Honorary Patron: Yosef Wosk. Scholarly Patron: SFU Graduate Liberal Studies.
"Only connect." – E.M. Forster
Please follow and like us: