1515 Jock, the unreliable narrator
Haunting British Columbia: Ghostly Tales from the Past
by Mike McCardell
Madeira Park: Harbour Publishing, 2021
$34.95 / 9781550179552
Reviewed by Caileigh Broatch
*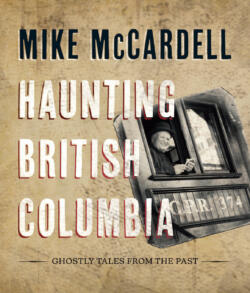 A browse through the history section at a local bookstore often turns up its fair amount of dust. There are archives of articles, biographies of BC's most famous, tales of extraordinary events, and the occasional ghost story. Mike McCardell's newest book, Haunting British Columbia: Ghostly Tales from the Past, is a convergence of everything; it is neither truth nor lie, it is simultaneously fact and fiction, it is a ghostly account of bygone times. But despite its title it is not a book of conventional ghost stories or hauntings of the kind we have come to expect from BC writers like Ian Gibbs and Barbara Smith.
In 2013, McCardell published the first in his series of ghostly narratives: Haunting Vancouver: A Nearly True History. In it, McCardell reincarnated Jock Linn, a sapper in the Royal Engineers, a detachment of which helped provide the colonial infrastructure of BC between 1858 and 1866. (In reality, North Vancouver's Lynn Valley is a corruption of his name). Now fans will rejoice as McCardell's reimagined narrator returns after an eight-year slumber to tour the province in Haunting British Columbia: Ghostly Tales from the Past.
"I revealed my secret life in the book Haunting Vancouver a few years ago," Linn-McCardell states in the introduction. "I am a ghost. I lived long ago in BC, and I am still around now. Please don't say you don't believe in ghosts because if I wasn't real how could I be typing this, with a coffee cup alongside, telling you I am real?"
Those accustomed to McCardell's voice on the six o'clock news will find a familiar cadence to the storytelling aspect of the narrator's voice. He is known, in most circles, as Vancouver's television journalist reporting on human-interest stories. Those stories revolve around people doing interesting things, but his book departs from stone-cold facts — and conventional ghost appearances and hauntings — and takes some liberties in re-creating historical icons.
This unusual perspective is designed to grab the attention of a range of readers, from those with an interest in the historical background and figures of BC's past to those more inclined to character-driven stories. The book is large-formatted and hard-cover, a coffee-table book to entertain guests with spun tales of historic baseball games and famous society schmoozers.
Haunting British Columbia has 47 segments, each one documenting a unique character and subject, and it feels as if no rock has been left unturned in McCardell's excavation of BC's history. It's worth noting here, however, that the majority of the characters introduced are Vancouverites. Linn, through McCardell, has conveniently met several noteworthy historical icons including Terry Fox, John L. Sullivan, George Challenger, W.P. Kinsella, Fred Hume, Babe Ruth. Politicians, architects, actors, writers, athletes: no one is safe from depiction. Their rumours, blackmail, and crimes are dusted off and readers might be unnerved by the casual way that BC's seedy past is brought up.
For example, take the chapter on Francis Rattenbury, the English architect who relocated to BC in 1891. His designs and accomplishments are more recognizable than he is, though after reading Haunting British Columbia your view may change. He is the man who designed Victoria's parliament buildings and the Empress hotel, not to mention Vancouver Art Gallery and its "giant columns and concrete lions."
McCardell wishes us all to know that though his buildings are exquisite, Rattenbury was not. He was, if the retold history is correct, a stealing and lying idiot who was murdered by his wife. It is a twisted tale McCardell writes, with little sympathy for any involved party. As with most of the stories in the book, it does not provide a happy ending.
Among the other prominent characters are merchant Charles Woodward and a certain Sister Francis — Franny, to her nineteenth-century friends. Sister Francis helped open one of Vancouver's first hospitals and started a nursing school; that much is true, but McCardell's book is as much fiction as history. His narrative skews the facts here, almost like an anti-history lesson. It is left up to the reader to decipher what happened. Or not.
"Franny," McCardell's narrator tells us, "was Sister Francis, who was a deaconess of the Church of England. Or she was not. She was a certified midwife and nurse. Or she was not. She was a recipient of the Victoria Cross. Or not."
The contradictory tone is present in more chapters. It's hard to fault a ghost for being an unreliable narrator, and the status of women in that time was often subjective, and history has not always been kind to their memories; but readers expecting a professional history book will have to hold their tongue and put their pedantry on the shelf.
Linn, or McCardell, is a much more accomplished storyteller than he is an illustrator. If this reviewer may be so bold, he is quite atrocious at recreating portraitures of his subjects. George Challenger, whose 6,000 square foot, three-dimensional map is an iconic piece of provincial heritage, might roll in his grave to see it recreated in such a way. Artistic ability aside, McCardell's stick-figure doodles complement the light-hearted tone of the book. It's a reminder that bygone days were not all grim — and that there is some fun to be had in learning.
It is hard to discern where Mike McCardell ends and Jock Linn starts, which is perhaps a compliment to McCardell's craft and a tip of the hat to the book's structure. Haunting British Columbia is like a grandfather's story: an idiosyncratic ramble for a devoted audience. Mostly true, or not, but heavily embellished, it has a back-in-my-day feel to it. Just whose voice projects that tone is up to the reader to decide.
*
Caileigh Broatch is a writer from Vancouver Island with a BA in creative writing and journalism from Vancouver Island University. Her work has been published in Portal Magazine and The Nav (VIU's student magazine, where she was the features editor from 2018-2020). Her studies have taken her to investigate Canadian literature, gold panning, ghosts, and killer whales, among more academic topics. Editor's note: Caileigh Broatch has has recently reviewed books by Nicholas Read, Nancy Hundal & Angela Pan, Denyse Waissbluth, Barbara Smith, and AJ Devlin  for The British Columbia Review.
*
The British Columbia Review
Publisher and Editor: Richard Mackie
Formerly The Ormsby Review, The British Columbia Review is an on-line journal service for BC writers and readers. The Advisory Board consists of Jean Barman, Wade Davis, Robin Fisher, Cole Harris, Hugh Johnston, Kathy Mezei, Patricia Roy, Maria Tippett, and Graeme Wynn. Provincial Government Patron (since September 2018): Creative BC. Honorary Patron: Yosef Wosk. Scholarly Patron: SFU Graduate Liberal Studies.
"Only connect." – E.M. Forster
Please follow and like us: