1511 Halibut & argillite
Learning to Carve Argillite
by Sara Florence Davidson & Robert Davidson, illustrated by Janine Gibbons
Winnipeg: HighWater Press, 2021 (Sk'ada Stories Series, ages 6-8)
$21.95 / 9781553799849
*
Jigging for Halibut with Tsinii
by Sara Florence Davidson & Robert Davidson, illustrated by Janine Gibbons
Winnipeg: HighWater Press, 2021 (Sk'ada Stories Series, ages 6-8)
$21.95 /  9781553799818
Both books reviewed by Alan Hoover
 *
These books are a collaboration by Sarah Florence Davidson, Assistant Professor in the Faculty of Education at Simon Fraser University, and her father Robert Davidson, an outstanding innovative Haida artist and cultural leader. Sarah Davidson tells of experiences in the life of her father based on his childhood memories of time spent with and learning from his father, Claude Davidson, and his grandfather Robert Davidson Sr. They present a warm, positive view of Indigenous family life. Targeted at 6-8 year-olds, they are, I can attest, enjoyable reads for adults as well, and with the strong images, stories that can be read to children of almost any age.
The story told in Learning to Carve Argillite is in the first-person voice of a young boy learning to carve argillite at age thirteen mentored by his father and grandfather. The narrative is engaging and is told in a very straightforward manner. Illustrations by Janine Gibbons are beautiful and capture the character of a young person's early argillite carvings.
Although aimed at kids, the story contains important information on the situation that Haida argillite carvers faced in the early 1960s. All the old masterful argillite poles had left the Haida villages and they had to find inspiration by looking at fuzzy photographs in a 1953 publication called Haida Myths. The narrator recounts climbing up Slatechuck Mountain at the south end of Graham Island with his dad to bring back raw argillite to his home village of Massett at the north end of Haida Gwaii. The young carver's recounting of his visits to his grandfather to show him his work are infused with his tsini's affection for his grandson. Grandfather's reaction to the young carver's work also gives insight into the traditional teaching style of Haida elders by showing, not telling youngsters what to do.
*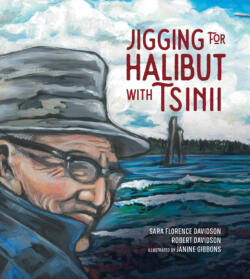 The second book, Jigging For Halibut With Tsinii, is a story told by a young boy of a day spent fishing for halibut with his grandfather in a small rowboat along the coast near the village of Old Massett, Haida Gwaii. The story and illustrations give the feeling that you are in a boat on the water. The story is rich with details about grandfather's knowledge of the weather, the tides, the location of the halibut grounds and the fishing that takes place. We also learn that grandfather made the boat and the oars.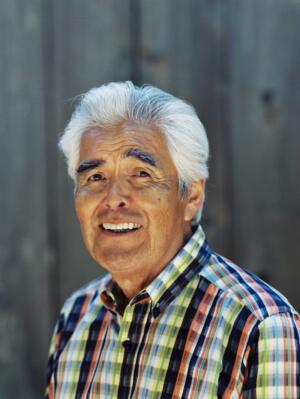 After grandfather catches a halibut and brings it aboard, the reader is given a glimpse of traditional Haida attitudes toward the halibut:
Tsinii says to the halibut, "make your mind strong because I'm going to club you." This is out of respect, preparing the fish for what is to come.
This description of fishing is not romanticized or portrayed as some sort of sport; instead, it is a simple but elegant depiction of fishing with a purpose. I love the ending where the young narrator says:
As we clean the halibut, I think of my naanii [grandmother] in the kitchen preparing for our return, and I think of the halibut stew I know we will be eating for dinner tonight.
These two delightfully illustrated books, aimed at younger readers, should be in the juvenile section of every public and school library in BC.
*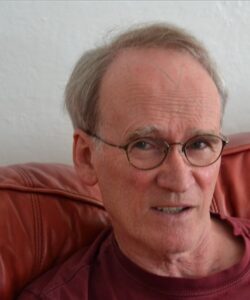 Alan Hoover worked for 33 years at the Royal British Columbia Museum as a curator and manager. He contributed to The Legacy: Tradition and Innovation in Northwest Coast Indian Art (Royal BC Museum, 1980); edited the anthology Nuu-chah-nulth Voices, Histories, Objects & Journeys (Royal BC Museum, 2000), and recently published Making a Chaputs: The Teachings and Responsibilities of Canoe Maker (Royal BC Museum, 2022), with Joe Martin. Editor's note: Alan Hoover has also reviewed books by Jack Davy, Darren J. Martens, and Colin Browne for The British Columbia Review, and his book Southern Northwest Coast Indigenous Canoe Racing: A Brief History has been reviewed by Sanford Osler.
*
The British Columbia Review
Publisher and Editor: Richard Mackie
Formerly The Ormsby Review, The British Columbia Review is an on-line journal service for BC writers and readers. The Advisory Board consists of Jean Barman, Wade Davis, Robin Fisher, Cole Harris, Hugh Johnston, Kathy Mezei, Patricia Roy, Maria Tippett, and Graeme Wynn. Provincial Government Patron (since September 2018): Creative BC. Honorary Patron: Yosef Wosk. Scholarly Patron: SFU Graduate Liberal Studies.
"Only connect." – E.M. Forster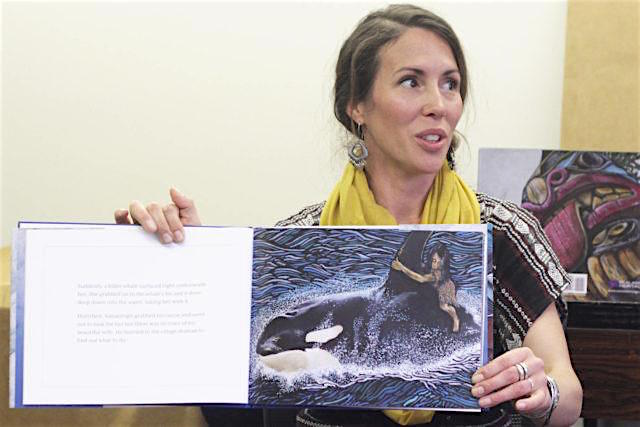 Please follow and like us: