1494 A Cree hero's journey
Mamaskatch: A Cree Coming of Age
by Darrel J. McLeod
Madeira Park: Douglas and McIntyre, 2018
$29.95 / 9781771622004
Reviewed by Heather Simeney MacLeod
*
Editor's note: From time to time we get our wires crossed at The BC Review, or — very rarely — a publisher sends the reviewer the wrong book or kindly throws in a copy of an author's earlier book. Such is the case here with Heather Simeney MacLeod's review of Mamaskatch: A Cree Coming of Age, by Darrel J. McLeod, which was reviewed in December 2018 by David Milward for The BC Review.
Enjoy our double-booking!
Heather MacLeod's review of Darrel McLeod's new Peyakow: Reclaiming Cree Dignity, a Memoir will follow in a future issue of The BC Review – Richard Mackie
*
Darrel J. McLeod attended the University of British Columbia where he obtained two degrees — Bachelor of Arts in French Literature and another in Education. Prior to becoming a writer, McLeod worked for the federal government as a chief negotiator of land claims, as well as working as an executive director of education and international affairs with the Assembly of First Nations. Mamaskatch: A Cree Coming of Age, McLeod's debut book, received the Governor General's Literary Award for Nonfiction in 2018. It has been hailed by renowned writers including Eden Robinson, Joshua Whitehead, and Louise Bernice Half. Born in 1957, McLeod is from Treaty 8; it's the largest of Canada's treaties, including areas of northeast British Columbia, northern Alberta, northwest Saskatchewan, and parts of the Northwest Territories, including altogether 39 First Nations. McLeod grew up northwest of Edmonton, in the hamlet of Smith.
McLeod's coming-of-age memoir relies upon three languages — untranslated Cree, French, and predominantly English. Like this fragmented inclusion of language, the book, too, is fragmented, consisting of difficult, separate, and loosely connected episodes that have been arranged into titled chapters. Understandably, McLeod's coming-of-age memoir contains those features that exist in many Indigenous memoirs, such as racism, poverty, intolerance, violence, abuse, drugs, and alcoholism. I would suggest that these difficult staples of Indigenous life are revealed, yet again, in McLeod's Mamaskatch. They reveal the effects of settler colonialism in all its myriad dissonance and destruction. Bertha, McLeod's mother, is a source of strength, pride, and love. His mother – as in many Indigenous cultures — teaches him to rely upon story with which to teach, guide, expose, understand, integrate hardship, and entertain. A beautiful Cree woman emerging from the residential school system, Bertha exposes McLeod to the richness of his Cree heritage and the deprivation of all his lineage has inherited from colonialism. He provides an honest recollection of a complex woman and mother.
I suggest that McLeod's vignettes are fractured to illustrate the fragmented experiences of intergenerational trauma, suffering, and memory. For memory isn't a clearly delineated map; it is pieced together from our five senses. Thus, memory visits us and carries us — as McLeod so deftly illustrates — through sound, taste, smell, touch, and through the sense that is often overly relied on, vision; but as McLeod asserts, there is much we are unable to see and comprehend. We rely upon fragments and try to piece all the senses back together in our memories.
Indeed, McLeod's prose evokes those images, sights, sounds, and smells of childhood alongside family gatherings and story, for example: "The next morning, Mother baked lemon meringue pies, apple pies, fresh Bannock, white bread and cinnamon buns…. After dinner, we lingered around the table telling stories and savouring Mother's pie" (p. 50). Within the span of a few paragraphs, McLeod takes us from the smell of freshly baked bannock, the warmth of the kitchen, the laughter of family stories — and then places us within the revolving door of intergenerational trauma. Where one moment we are laughing over apple pie and listening to country and western music, in the next we are experiencing the struggles of a family member abusing, assaulting, or harming another. As a child, McLeod ran to his mother to bring her back home to ensure the safety of his sister, Debbie. He writes:
I saw Uncle's back. Wilf Carter's voice wailing "Blue Canadian Rockies."
I scrambled through [the window], jumped to the ground and ran up the dirt road toward the bar. The malt-laden air from the bar's huge exhaust fan swamped me. I darted up the steps to the hotel lobby, pressed and held the buzzer….
I stood in the dim glow of the streetlight, tears blurring my vision. Was Debbie dead, or badly hurt? Why hadn't I run faster (p. 52).
McLeod reminds us of those moments of intense difficulty and fear by rooting them in the mundane — the music, dirt road, steps of the hotel lobby, the glow of the streetlight, and he places us as part of his own story, as witness to his witnessing and to his experiences. This is the work of truth and reconciliation.
The stories, vignettes, and chapters that together create McLeod's coming-of-age memoir tackle the instability of his childhood and family life, the fragmentary nature of memory and, perhaps, of growing up. As he refers to it, the spiralling or cyclical nature of the abuse he experienced speak to a childhood endured in a seemingly constant state of fear. He eases that fear through Cree stories and lessons that provide meaning and comfort.
In my reading, it is McLeod's nuanced, troubled, and evocatively passionate and proud mother, Bertha, who inscribes the words and pages of Mamaskatch. She burns with an intensity that McLeod witnesses, voices, and in so many ways unflinchingly addresses and celebrates. Indeed, Bertha's perspective pulses in this memoir in the manner of myth. The nonhuman animal, the natural world, and the sacred internal world are explored by McLeod as he is growing up, reflecting the importance placed upon dreams, bodies of land and water, and animals — matters that are often not revered outside of many Indigenous cultures.
His brother, Greg — who transitions to a woman, Trina – prompts McLeod's own analysis of his sexuality and what part or role it may have played in his place in society and the world. As a young boy, McLeod witnessed Rory — his sister Debbie's partner — masturbate. His testimony, for that's what it feels like, is rooted in the ocular; he is filled with fear for what he has seen, frightened for what it is he has seen, terror that what he has witnessed is a sin. He writes: "From a clearing in the bush, I feel the gaze of the Three Sisters. They're towering over me. Did they see what had just happened? Then I notice the cluster of crows" (p. 80). It is in this way, I suggest, that McLeod is not alone in his pain, confusion, and fear, for the Three Sisters are with him; they see him and the crows see him.
McLeod's book charts the chaotic and unstable hero's journey. He overcomes and transcends so many hardships and so much loss with palpable hope and grace. He closes his book twofold, with a riverside image and two Cree words. He writes: "Tomorrow I would go down to the Athabasca alone. I would wade in and splash the water onto my arms and face," followed by "Ekosi etikwe" ("See you later" or "that's it — for now" (p. 225). My own grandfather spoke Cree, and McLeod has closed his hero's journey, his coming-of-age, his memoir, with these simple, open-ended, and enigmatic words. The many directions accessible through his parting words are reminiscent of how McLeod introduces readers to the unstable and fragmentary nature of his book, memories, and experiences. Mamaskatch: A Cree Coming of Age is an astonishing excavation of relationships, culture, and self by an equally astonishing writer.
*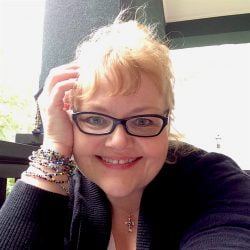 Heather Simeney MacLeod is a Métis writer, playwright, poet, and artist. She has published four collections of poetry, two of her plays have been performed in Canada and abroad, and her visual art has been exhibited in Victoria and Yellowknife. Her creative nonfiction piece, "To Discover the Various Uses of Things," won first place in the Malahat Review Creative Nonfiction prize in 2012. She is an Assistant Teaching Professor in the English Department at Thompson Rivers University in Kamloops. Editor's note: Heather MacLeod has also reviewed books by Ivan Coyote, Garry Gottfriedson, and Robert Eighteen-Bisang & Elizabeth Miller for The British Columbia Review.
*
The British Columbia Review
Publisher and Editor: Richard Mackie
Formerly The Ormsby Review, The British Columbia Review is an on-line journal service for BC writers and readers. The Advisory Board consists of Jean Barman, Wade Davis, Robin Fisher, Cole Harris, Hugh Johnston, Kathy Mezei, Patricia Roy, Maria Tippett, and Graeme Wynn. Provincial Government Patron (since September 2018): Creative BC. Honorary Patron: Yosef Wosk. Scholarly Patron: SFU Graduate Liberal Studies.
"Only connect." – E.M. Forster
Please follow and like us: