1493 Holding fast
Bog Treasure
by Eileen Casey and Jeanne Cannizzo
Dublin: Arlen House, 2022, distributed by Syracuse University Press
$19.95 / 9781851322695
Reviewed by Jane Frankish
*
Editor's note: readers might also like to hear Eileen Casey read a selection of her bog poems in Treasure, a short film commissioned by Offaly Arts for Culture Night, 2021, and available here. — Richard Mackie
*
I sank into Bog Treasure.
This collection of poetry is about bogs and I was immersed from the very first poem. Centred on the peat bogs of Ireland, Bog Treasure opens up for the reader vast vistas of the ancient past. Eileen Casey and Jeanne Cannizzo come together to capture the impressions of these amorphous wetlands that are soft and squishy and that can, sometimes, give way and suck you in.
Through eclectic verse, this collection raises images of the wanderings of marvellous animals and the sometimes-questionable activities of human beings. What draws Casey to write about the bog is "the surface and depth elements, that sense of outward calm while underneath is written layer upon layer of narrative" (p. 14). Cannizzo, in turn, is "intrigued by the idea that bogs are not quite land and not quite water either, but rather in some sort of liminal state" (p. 62). Using such archaeological and metaphysical approaches, the authors collaborate to explore, unearth, and unveil the treasures and the meanings of the bog.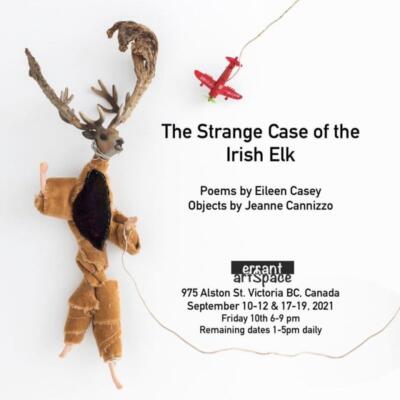 Casey and Cannizzo had begun their collaboration in an earlier work which is included in this collection. In September 2021, Casey's poem, "The Strange Case of the Irish Elk" was presented as an art installation at Errant Art Space in Victoria, along with Cannizzo's found objects, fabrications, and drawings.
The visual elements of the installation and film echo and amplify the themes of preservation and excavation in Casey's verse and serve to personify the elk. Cannizzo made a coat to cover the elk in what might be interpreted as an attempt to keep the remains warm or to restore the animal to its original vitality. The poem itself follows the wide migratory sweep of the Irish Elk up until its extinction:
                                                        elk felt,
Siberian winds, knew African horizons,
crossed Eurasia. Stranded in his frozen
world…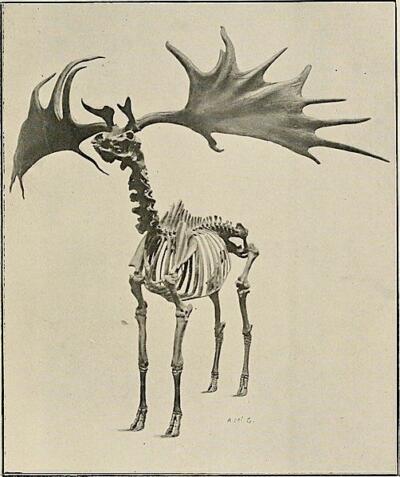 Casey references Nobel laureate Seamus Heaney, born in Northern Ireland and known for poetic works "of lyrical beauty and ethical depth, which exalt everyday miracles and the living past."[1] In his poem "Bogland" for T.P. Flanagan,[2] Heaney visualizes the excavation of the Elk skeleton as a symbol for the archaeological appropriation of the land and the processes by which we make meaning from the artifacts unearthed. The skeletal remains are released from the darkness of the peat to be put into the glaring light and "air" of the museum:
They've taken the skeleton
Of the Great Irish Elk
Out of the peat, set it up
An astounding crate full of air.[3]
If Heaney seems ambivalent about the extrication and presentation of the Elk, Casey sees hope. Freed from its peaty "interment," the Elk can be a means of cultural rejuvenation. She describes the Elk remains that have been retrieved from Irish bogs with a sense of discovery and ownership:
Centuries interred in bog, brought
to surface in peaty layers. Crated
in the air by Heaney; freedom forges
new territories.
Casey notes that Heaney was sensitive to the bog's "romantic (prairie-like) possibilities as well as its ability to preserve for posterity" (p. 14), and like Heaney she uses enjambment to emphasize her ideas:
Elk. The word kicks at our throats
like fine whiskey. Irish. An Fia Mór.
*An Fia Mór is Irish for the Great Elk
Here, Casey uses enjambment to emphasize a simile for the speaker's guttural sensation in sounding the word "Elk," thereby emphasizing its Irishness. While palaeontologists have found that this animal is not in fact exclusively Irish, a large number have been found in Irish bogs, and Casey declares in the poem's final line: "why wouldn't we claim him as our own?"
In her artistic statement Casey suggests that Heaney's poem is an entry point from which to explore the dimensions of bog mythology. "Heaney gives the elk a place to roam in new, unfettered territories. Our imaginations" (p. 14). It is here, in the national imagination, rather than in palaeontology or geography, that the Elk is destined to be Irish.
Cannizzo's poem, "Molyneux," explores an earlier theory of this creature. Cannizzo alludes to Shakespeare's Macbeth in characterizing the uncertainties of early scientific thought. In 1695, Irish physician Thomas Molyneux was the first to describe the Great Elk based on its remains. His religious beliefs led him to conclude that God would not allow any species to go extinct, or as he put it, "to be loft entirely out of the World, fince it was firft Created."[4] He proposed that, although no longer living in Ireland, the Elk was very much alive in the form of the North American Moose!
Out of the witches' cauldron come imprecations,
and foul visions.
But in Molyneux's simmer science,
Healing and human curiosity.
Nevertheless, in today's scientific understanding, the Great Irish Elk is an extinct species of deer of the genus Megaloceros Giganteus.
In her list-poem, Cannizzo itemizes the treasures that have been found in a particular bog over many years. She evokes life around each object, by suggesting a "reason" or a narrative for its deposit:
INVENTORY — BOG 316
                                            Reason for deposit
1 gold 9 ct Claddagh ring, 17th century
                                            Broken vows
1 bronze sword, 860 BC
                                            Ritual offering to supernatural
1 newborn, male, 2 days old
                                             Illegitimate birth
The dark implications and the emotions stirred by some of these "reasons" appear to call into question the Cannizzo's matter-of-fact accounting and list of found objects.
Casey's "LEMANAGH BOG BODY" directly reveals a dark horror. Even more directly The "body" referred to in the title of the poem is the lower torso of a human being that has been violently cut in half:
                             Flexed feet suggest force. Dragged
to burial after torture. Halved. Like a nation split in two.
His story could be today's headlines.
While alluding to the collective tragedy of her native Ireland, She also seems to want to present the image of a contemporary murder.
"BORN STILL" by Cannizzo presents an alternative sense of the bog as a repository, one that "holds" or preserves objects safely in its "grasp." In this poem, the "dark" peat becomes a welcoming space, a resting place:
I was never of their world.
The bog holds me; I am of this place.
Suspended in its colloidal grasp,
in the warm thickness of the dark,
I am comforted.
In "BOG WISH ," Casey  speaks of her desire to be one with the bog. The poet wishes to be buried in a bog, to be laid open and to be absorbed in the peat. Her mummified remains will tell the "herstory" of an ordinary woman who wanted to merge into this carbonized ecosystem:
                                                  Blood
of my bog blood floating in myriad
coloured sphagnum beds.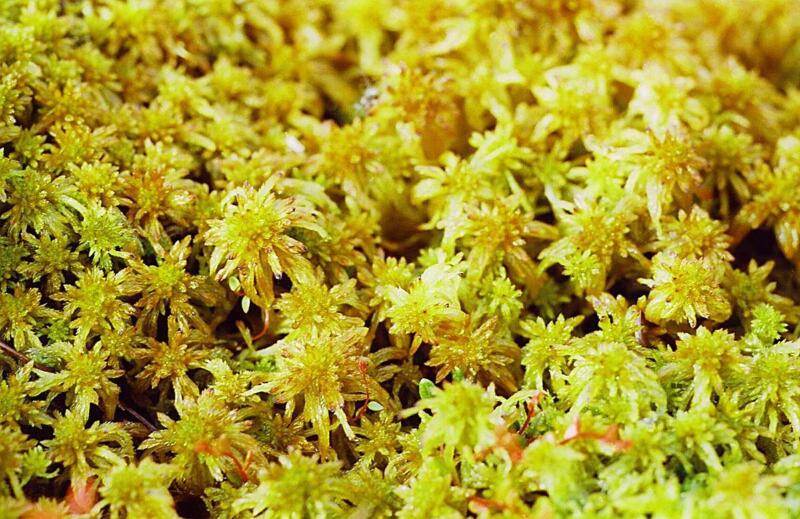 *
Intrigued by the poetry in Bog Treasure and searching for a personal experience of this geography, I made a visit to Burns Bog in Surrey, BC. This bog is on the traditional, unceded territories of several First Nations, including the Tsawwassen, Stó:lō, Katzie, Semiahmoo, Kwantlen, Kwikwetlem, Musqueam, and Tsleil-Waututh Nations. I was calmed by the softness and stillness of the place. I saw "wet-slimed" sphagnum and was reminded of Casey's "Moss Miracle" and its mythical warriors who used this moss as medicine for their wounds:
Sphagnum absorbs up to twenty times its weight,
water or blood. As warriors from myth knew well.
Battle scars cool. No cure for deeper wounds.
I wondered about the prehistory and the people of this place. I found, according to the Burns Bog Conservation Society, that First Nations "have cared for this land in many ways, gathering medicines, food, and other materials while ensuring that the bog remains in good health for future generations." It seems that even though this area came under settler ownership in the late-1800s, the First Nations have continued their traditional relationships with the land.[5]
In "CLONCREEN WIND FARM (2030)" Casey describes the slow descent of things into the bog and gives us a sense of what might be called "bog ontology." The bog is a physical manifestation of time and has a metaphysical aspect to it:
Bog comes into its own, what Aristotle
decreed even for the tiniest acorn. Bog, destiny,
a carbon tank.
The reader is able to see the vegetation sinking into the depths of the world and at the same time reflect on the nature of change. In its silence and stillness, the bog encapsulates the indescribable flow of time. The bog shows us that nature exists outside of our human scale. It breaks down vegetation releasing hydrogen and carbon dioxide, which makes the peat acidic and anaerobic. This is what gives the bog the ability to preserve things like skin and bone and to give us glimpses of animal and human lives that ended long ago. As I imagine sinking into the bog I recall Cannizzo's poem, "Endling:"
unique among those dying animals.
The final one, a survivor alone.
Waiting for its own death.
In her artistic statement Jeanne Cannizzo notes that bogs "can actually support the weight of a moose on their spongy surfaces" (p. 62). I decided to step off the designated path and feel, for myself, the soft, springy support of the wondrous wetlands. Further along in my walk around Burns Bog, I find a tractor, half-submerged, an accident from the recent past.
I am reminded of Casey's poem, "Dust," and her time-capsule image of lifting a plane out of the bog, re-living its final act:
A Spitfire
sunk in a Donegal bog, lifted out, all guns blazing.
People and animals that moved around, sought sustenance, thought about beauty, had jobs, loved and died — all are captured in the darkness of the bog which is forever changing, nourishing and replenishing itself. In Casey's poem, "Witness, after a charcoal sketch by Jeanne Cannizzo," I find these poignant lines:
Fraught with possibility, beyond
flesh and blood. Metaphysical
transport in a brown cube of peat.
I press down hard on the sléan
*sléan is Irish for bog shovel
The bog swallows up life and history and coughs it back up again for our consideration. It is a life-sustaining source of energy, condensed by nature, then abstracted and industrialized by humanity. Casey and Cannizzo render ancient times and present moments in their Bog Treasure, taking the reader on a thoughtful journey into and out of the bog.
*
Jane Frankish is a writer of poetry and prose. She holds a Masters of Arts in Liberal Studies from SFU and a Masters in Library and Information Studies from UBC. She works as a librarian at Vancouver Public Library. Editor's note: Jane Frankish has also reviewed a book by Jenny Boychuk for The British Columbia Review, and published a memoir, Chennai: A Place in Between, and a Letter from the Pandemic.
*
The British Columbia Review
Publisher and Editor: Richard Mackie
Formerly The Ormsby Review, The British Columbia Review is an on-line journal service for BC writers and readers. The Advisory Board consists of Jean Barman, Wade Davis, Robin Fisher, Cole Harris, Hugh Johnston, Kathy Mezei, Patricia Roy, Maria Tippett, and Graeme Wynn. Provincial Government Patron (since September 2018): Creative BC. Honorary Patron: Yosef Wosk. Scholarly Patron: SFU Graduate Liberal Studies.
"Only connect." – E.M. Forster
*
Endnotes:
[1] Poetry Foundation, 2022. Seamus Heaney.
[2] Heaney, Seamus. 1969 Door into the Dark. London: Faber and Faber, p. 55
[3] Ibid.
[4] Molyneux, Thomas 1697 II. "A discourse concerning the large horns frequently found under ground in Ireland, concluding from them that the great American deer, call'd a moose, was formerly common in that Island: with remarks on some other things natural to that country." Phil. Trans. R. Soc. 19 489-512
[5] Burns Bog Conservation Society, First Nations and the Bog.
Please follow and like us: