1486 Canadian Pacific calling
Canadian Pacific Trackside 1977 to 2012 with Conductor John Cowan
by John Cowan
Avon-By-The-Sea, New Jersey: Morning Sun Books, 2022
$69.95 (US) / 9781582487854
This book is available from Kelly's Kaboose, The Railway Store, in Savona, and Central Hobbies in Vancouver —  or order a copy from your local independent bookstore or directly from the publisher
Reviewed by Robert D. Turner
*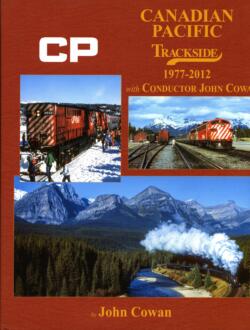 Canadian Pacific's railway across Canada has been featured in many books, but few have been written from the perspective of a long-time trainman/conductor, who carried along a camera for most of his career. John Cowan's new book is just such an addition to the documentation of this important aspect of Canada's recent history.
John grew up in Ontario and from an early age developed a fascination with railways. This led him to a career with Canadian Pacific, first as a station operator and soon as a trainman and eventually a conductor. John began working for Canadian Pacific in Ontario in 1977, but soon moved west to British Columbia where most of his railway career took place. Railway employment and assignments are based largely on seniority within districts, so as time went on and as his seniority permitted, he was able to work in new areas, sometimes for just a few weeks, to gain broader experience and see new territory. This gave him an opportunity to see parts of British Columbia that few people are fortunate enough to experience. He also worked with many veterans with service on the railway going back several decades before his career began. They included Al Clifford, who started with CPR in 1939, and Cable Freeman, who was the last man to hold status on the original Kettle Valley Railway's seniority list.
A book like this, written from the perspective of someone who has dedicated his career to working on railways, is a treasure trove for those who have a fascination for rail transportation in British Columbia and beyond. John obviously enjoyed his work and set out to record the sights he experienced by taking a camera along to document both the day-to-day and more unusual events along the Canadian Pacific. Over his years with the CPR, he worked on the Dayliner on Vancouver Island's Esquimalt & Nanaimo Railway, the West Coast Express (a commuter service out of Vancouver), the Kettle Valley line, long freight trains in the Selkirk Mountains, and on VIA Rail's passenger trains including the Canadian. Those who have themselves worked on railways will find this book especially interesting. The photographs, often taken from the caboose or when a delay or moment or two, such as waiting for another train to pass, provided a safe opportunity, are many and varied, showing unusual angles and views of the trains and scenery. Because the photos were taken en route during his working trips, they often show places and scenes, in the mountains and other remote areas along the CPR system, that were otherwise quite inaccessible to photographers.
The photos are diverse and colourful. CP's red engines and VIA Rail's yellow and blue engines, in particular, stand out. Most photos are taken in BC, although John Cowan's extensive experience also took him to other parts of Canada, as far east as Montreal. The photos encapsulate British Columbia's diverse geography along the CPR's routes and the culture associated with rail travel. The green forests along the Kettle Valley Railway, the snowy peaks of the Rockies and Selkirks, the tumbling creeks and waterways, and the stations, farms and communities along the railway are all preserved in the images. The photos are all from the diesel era of CPR in recent decades. However, many views also include vintage structures, such as stations and water tanks, reflecting the historical aspects of this work. Chapter 7 highlights John's experiences with the CPR's restored steam locomotive No. 2816, named The Empress, which operated on special trains over much of the CPR system. There are also some nice photos of the British Columbia Provincial Museum train, which ran in the 1970s, with former CPR steam locomotive 3716. Its purpose was to take exhibits from the BC Provincial Museum (now the Royal BC Museum) to towns and remote communities throughout the province. The Museum Train exhibit cars were also used, along with BC Rail's Royal Hudson steam locomotive, for tourism promotion for the province on trips across much of Canada and the large parts of the US. The CPR's centennial in 1986, with a visit to BC of steam locomotive 1201, is also highlighted.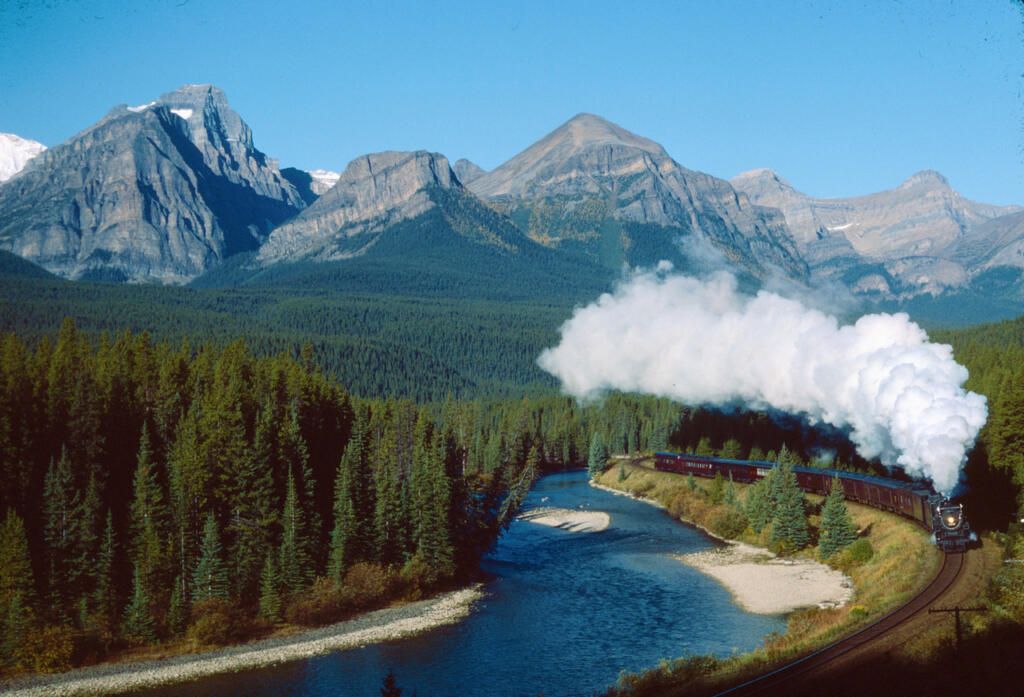 Overall, there are about 250 photos, all in colour and nearly all taken by John. Most are reproduced half-page in size and have brief captions. Text is limited to a one-page introduction. This new photo book is one of an extensive series of similar colour pictorials featuring railway locomotives and equipment as well as "trackside" photo books from across the United States and Canada.
The photos and captions tell many stories, including John's own experience with a failed vision test that nearly ended his career in train service before it started. Persistence and a little help from an old friend, made a second test possible. He passed this test, permitting him to hire on as a trainman with Canadian Pacific. He never looked back, eventually becoming a conductor on CPR and VIA passenger trains and working on VIA's Canadian and Malahat on Vancouver Island. Another unusual story took place in the middle of the Kicking Horse Canyon when he was trainman on The Canadian. A huge boulder fell down onto the track east of Golden in 1978, and some of the passengers volunteered to help move the rock off the track with levers and muscle power, which they did. That avoided a long delay (and from the photo they had fun at the same time). The book is a documentation of many places and events that are now part of history – equipment and practices that in many cases simply do not exist anymore. Technology and times pass so quickly; it's almost like the clock speeds up as we get to the present day. Events and technologies from the '80s and '90s are now gone forever. But this makes a photographic record like this even more a living history.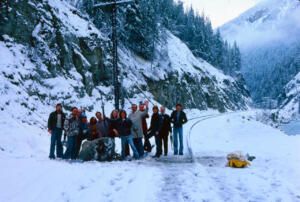 Dedicated to his three children, this book is intensely personal, a diary of a working person's life. As a professional railway employee his work took him out along the CPR in all hours and in all weather and seasons; making the book a pictorial diary. John finished his conductor career on the West Coast Express, for which Ian Smith contributed photos; and, fittingly, the last photos (taken by John Shaske) show him outside the commuter train on his last run. He had worked on the West Coast Express for 17 years off and on, before this last day on December 5, 2012. I couldn't help wondering how many miles he had travelled during his career with Canadian Pacific. The nation's railways have been fortunate to have employees like John Cowan, who have so dedicated their working lives to the safe and efficient operation of our critical rail transportation system. It is also clear that he loved what he was doing!
*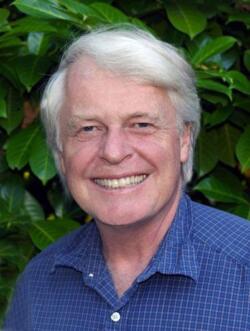 Robert D. Turner is Curator Emeritus, Royal BC Museum, where he was Chief of Historical Collections for many years. He is the author of 18 books on transportation history and 400 articles and book reviews. Over 4,000 of his photographs have been published in books, magazines, and exhibits. He is a Fellow of the Royal Canadian Geographical Society (FRCGS), and in June 2022 was awarded an  honorary doctorate by Simon Fraser University. As a heritage consultant, he has extensive experience with heritage sites, historic railway operations, restoration projects, and museum developments from many countries. Visit his website here. Editor's note: Turner's book The Klondike Gold Rush Steamers: A History of Yukon River Steam Navigation (Harbour Publishing, 2019) is reviewed here by Ken Coates.
*
The British Columbia Review
Publisher and Editor: Richard Mackie
Formerly The Ormsby Review, The British Columbia Review is an on-line journal service for BC writers and readers. The Advisory Board consists of Jean Barman, Wade Davis, Robin Fisher, Cole Harris, Hugh Johnston, Kathy Mezei, Patricia Roy, Maria Tippett, and Graeme Wynn. Provincial Government Patron (since September 2018): Creative BC. Honorary Patron: Yosef Wosk. Scholarly Patron: SFU Graduate Liberal Studies.
"Only connect." – E.M. Forster
Please follow and like us: