1398 Who let the furies out?
Iron Goddess of Mercy
by Larissa Lai
Vancouver: Arsenal Pulp Press, 2021
$19.95 / 9781551528441
Reviewed by Michael Turner
*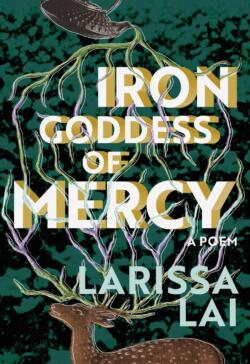 There is celebration at the gates of Larissa Lai's recent poetry book, Iron Goddess of Mercy. On the back flap, Fred Wah comps on the book's multiple epistolary addresses ("Dear Reader, Dear Deer in the headlights, Dear 'People of the on/off switch'"), urging us, like the Roman praeco, to "Stop. Look. And listen," while inside its front cover, a "Praise for" page whose blurbage (from poets Kai Cheng Thom, Ian Williams, Joanne Arnott, Sina Queyras, Canisia Lubrin and Fred once more) not so much apprises us of what's to come, but indicates how we might feel about it. Yet it is only when we reach the epigrams three pages later that the book is allowed its footing: that hate lives in love (Joy Harjo), that spirits walk among us (Roy Kiyooka) and that certain spirits should be kept from the text because "You can't write about the furies" (Colm Tóibín).
Just as Anne Michaels's novel Fugitive Pieces (1996) responds to Theodor Adorno's dictum "No lyric poetry after Auschwitz," Lai has taken on Tóibín's pronouncement. That both Adorno and Tóibín are white men whose historic privilege allows them their authority only broadens the scope of her response: a truly post-modern critique where the sanctity, if not the autonomy, of the text is, a la the cine-poem of Kiyooka's StoneDGloves (1970), revealed as a carapace for the labouring racialized body. But rather than a literal casting of the Furies as Greco-Roman goddesses of vengeance, Lai presents "them" atmospherically — a condition in which both the writer and the reader are intertwined, complicit. What's more, rather than limit her Classical references to Western mythology, as Anne Carson does with her kitschy conflations of 20th century bourgeois domesticity and the life of ancient Greeks, Lai draws on Eastern traditions as well, from the chance/change operations of China's I Ching to the Japanese travel diary known as the haibun.
Billed as a long poem, Iron Goddess of Mercy (the title comes from a variety of oolong tea named after a goddess known for leading the sick to "her" medicinal tree) is composed of 64 entries, one for each aspect of the I Ching's hexagram. As with the haibun, each entry consists of a single prose block that "concludes" with a haiku. Where Lai departs from her formal references is in the construction of these prose blocks, which owe less to the chronological events of a travel day than to an always already palimpsest of space-time compression. This is not to say that these blocks lack a narrative; on the contrary, as raps they are suffused with narratives — to the point where, as master narratives, they are both battled with and repurposed, a dialectic that empowers "the widening gyre" (p. 28), turning grains of ideas into food for thought. As knowledge, these foods are the food of the gods and the goddesses, of course, and to read one entry as one would a nightly page from a pillow book is scarcely enough to sleep on, and yet to read two or more at once is a torment consistent with what the Furies are known for.
The opening entry block, first addressed to Maenad (in Greek mythology: an ecstatic female follower of Dionysus), asks that the two meet "at the crossroads where we played touch footsie" (p. 9). Right away — or perhaps reading back after having travelled halfway down the page — the reader's senses are primed. Is this an in media res opening, or a work without beginning or end? Are these "crossroads where we played" the same crossroads were the Devil was alleged to have taught Robert Johnson how to play guitar (in exchange for his soul)? Is "touch footsie" a pun indicative of a more honestly erotic form of touch football?
Assuming the author's address (to Maenad) refers to all these things, and more, the reader would be correct to assume that what lies ahead is both dense and dizzying, with no less than 15 "Dear"s in this page-and-a-half entry alone — a chorus of addressees, each of whom (from Monad to Mynah to miner to Moonie, etc.) could be responsible for any number of pleasures or injuries, where subject positions shift, homonyms flourish, song lyrics are turned against themselves, alliterations shimmer, "high" and "low" culture conflates — all of it contributing to an inclemency that brings to mind the traveller caught in a mountain snow storm, from the mind of a reader uncertain whether to impose a (narrative) road map or, like "Dear Mailman staking your hot plot digging deeper where the white man's dug before," (9) dig in for the night. And when the haiku finally comes —
Seek Peace find Labour
         Buzzing around the windsock's
Empty hive
— the reader is led to believe that morning has broken (like the Cat Steven's song, which the author also makes pun of) and the skies have cleared.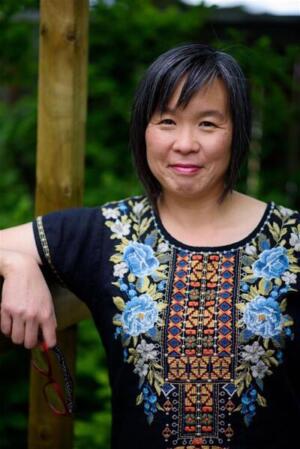 Though discouraged to do so by some of our teachers and mentors when looking at images and reading texts, we cannot help sometimes but see, if not seek out, the figure in the abstract(ed) painting or the narrative through-line in collagist poetry or prose, a tendency that belongs as much to how we are shaped by the ideological forces of political economy and civil society as we are by what we "like" in the visual artists and literature. And because the Author has come to mean something else in our social media age of portraiture and auto-fiction (at least what the Author did and didn't mean to Roland Barthes when he was writing), so too do we take notice when we see evidence of the author (Lai) from what we know of her from her instantly available online biographies. Thus, if this book could be said to have a beginning, it could "begin" with what is said of the author's Newfoundland childhood "in your nice school in new found land, new fin lund," (p. 13). But then, it is not the author's "I" that relates this, for this "I" is still encased within a previous generation's "you" ("your"), a generation that itself remains encased in colonial histories, where Imperial Britain, then Imperial Japan, then the British again called the shots in the Lai Family's native Hong Kong.
As a scholar with an eye and an ear to popular culture, Dr. Lai knows exactly what she is doing in constructing a text that eschews the three literal Furies (as Tóibín might think of them — or as Lai thinks he thinks of them) to allow, like that signifying rapper Schoolly D, the full force of pimpdom's power (over identity, cultural forms, mode of production, Indigenous land, etc.) to turn on itself like that crackhouse some call Twitter. Lai's Furies, then, are the ever-widening gyre of a self-punishing world, spinning faster with every entry, where the delicate haiku is no match for the rap-sonic intensity of the prose block that precedes it. This is not a failure of the text, nor is it a disingenuous attempt to excuse one, but an instance of Literature's historic attraction to opacity (recall the expressive concrete poems of Judith Copithorne and Steve McCaffery from the late-1960s). For readers looking to build a collection of 21st century English-language poetry, who are looking to bookend Rupi Kaur with something more formally reflective of our increasingly perilous times, this book's for you.
*
Michael Turner is a writer of variegated ancestry (Scottish/ German/ Irish, mat.; English/ Japanese/ Russian, pat.) born, raised and living on unceded Coast Salish territory. He works in narrative and lyric forms, both singularly, as a writer of fiction (American Whiskey Bar, The Pornographer's Poem, 8×10), poetry (Hard Core Logo, Kingsway, 9×11), criticism and music, and collaboratively, with artists such as Stan Douglas (screenplays), Geoffrey Farmer (public art installations) and Fishbone, Dream Warriors, Kinnie Starr and Andrea Young (songs). His work has been described as intertextual, with an emphasis on "a detailed and purposeful examination of ordinary things" (Wikipedia). He holds a BA (Anthropology) from UVic and an MFA (Interdisciplinary Studies) from UBC Okanagan. Currently he is an Adjunct Professor in the Faculty of Liberal Arts and Sciences and School of Interdisciplinary Studies and Graduate Studies, Ontario College of Art & Design University and a workshop leader at Mobil Art School, Vancouver. Editor's note: Michael Turner has also reviewed books by Emma Cleary et al., Tara Borin, Taryn Hubbard, Jen Sookfong Lee, Isabella Wang, and Sachiko Murakami.
*
The British Columbia Review
Publisher and Editor: Richard Mackie
Formerly The Ormsby Review, The British Columbia Review is an on-line journal service for in-depth coverage of BC books and writers. The Advisory Board consists of Jean Barman, Wade Davis, Robin Fisher, Cole Harris, Hugh Johnston, Kathy Mezei, Patricia Roy, Maria Tippett, and Graeme Wynn. Provincial Government Patron (since September 2018): Creative BC. Honorary Patron: Yosef Wosk. Scholarly Patron: SFU Graduate Liberal Studies.
"Only connect." – E.M. Forster