1372 A riotous mix of species
The Flora and Fauna of Coastal British Columbia and the Pacific Northwest, Expanded Edition
by Collin Varner
Victoria: Heritage House, 2021
$39.95 / 9781772033564
Reviewed by Jocie Brooks
*
Glossy colour photos of stone sheep, chinook salmon, salal berries and a black-capped chickadee grace the cover of Collin Varner's The Flora and Fauna of Coastal British Columbia and the Pacific Northwest, inviting the reader to explore the rich biodiversity of this area. A visual feast for any nature enthusiast, the book has 1500 photos of over 800 species found along the coastline from Juneau, Alaska south to San Francisco, California.
Varner worked for many years as a horticulturalist and arborist at the University of British Columbia (UBC), and he was responsible for saving thousands of trees across campus. An avid photographer, he has authored many field guides, the most recent being the Edible and Medicinal Flora of British Columbia (2020). Now retired, Varner devotes a lot of his time to photography and is preparing more field guides that will be published soon. The Flora and Fauna is an expanded version of his original 2018 book of the same title. The new version has 20 additional species, and includes the conservation status of threatened species.
Intended as an overview guide, there is a broad sampling of the most likely encountered species from this ecologically diverse area. Rivers that empty into the Pacific Ocean form deltas and estuaries that are hotbeds of biodiversity, from marine life to the millions of birds that migrate along the Pacific flyway. The tides and winds from the ocean to the west have an enormous influence on the region, as do the towering mountains. The varied topography results in very different species in the subalpine and alpine areas compared to what's found at sea level.
The opening pages have a map of the Pacific Northwest region, and a glossary of botanical terms. The two halves of the book, Flora (plants) and Fauna (everything else) are divided into a total of 13 subsections. Each photo has adjacent text with bite-sized information under headings such as general description, traditional use, etymology, habitat and flowering season. Warnings, printed in red, highlight poisonous species such as death camas, Indian hellebore and amanita mushrooms as well as species that cause adverse reactions, such as blistering and rashes from handling cow parsnip. Range maps are not included in this overview guide, and readers will have to consult other books and online resources to find specific locations for each species.
Each subsection (flowering plants, mammals, marine life. etc.) has species arranged alphabetically by common name. An alternate common name is often provided, for example, "dwarf dogwood" is also known "bunchberry" and some refer to the "orca" as "killer whale". Latin names are also given for each species.
In the "Flora" section, the alphabetical order means that plants from very different habitats or elevations may be placed beside each other. This can be confusing for identification purposes, but as a "flip through" introduction it is okay. There are many field-guides available that group plants by flower colour, family or habitat that an aspiring botanist can use as companions to this book.
Birders may be used to traditional guides that categorize birds in groups such as ducks, shorebirds, raptors etc. Due to the alphabetical arrangement, the northern shoveler, northern saw-whet owl, northern flicker and northern goshawk all share the same pages. The downside of alphabetical order is the difficulty of comparing similar species. For example, the similar downy and hairy woodpecker are pages apart from each other. Supplementing with bird-specific field guides and apps is recommended.
The author uses smaller inset photos to highlight identification features. For example, in the tree section photos of cones, bark and needles are included, and in the bird section males and females of a species are often shown. This attention to detail enhances the book.
It is noted that "fungi and allies" are grouped under the "Flora" section, even though fungi are now considered to be more closely related to animals than plants. Slime mould and plants such as ghost pipes and coralroot orchids are included in the section. There are some fine photos here, including the bright yellow "dog vomit" slime mould and the "alcohol inky cap", or "tippler's bane" mushroom that can be lethal when consumed together with alcohol.
There is a comprehensive section on invasive plants, which thrive in the damp and temperate climate of the Pacific Northwest. The flora section is rounded off with "marine flora" which lists seaweeds (algae) with intriguing common names such as sea palm, sea sac and Turkish towel, and vascular plants like eel grass and lyngby's sedge.
Notably absent from the flora section are grasses, bryophytes (mosses and liverworts) and lichens, though one lichen, "sea tar," is represented in the marine flora section, and there is one grass "millet" in the invasive plants section. Grass, bryophytes and lichen make up a significant part of the biomass of the Pacific Northwest, and it would have been good to have a few pages devoted to these ecologically important organisms. Perhaps the invasive plants section (73 pages!) could have been a reduced in order to include representation from the missing groups.
The "Fauna" half of the book includes subsections on birds, land mammals, reptiles and amphibians, insects and invertebrates and concludes with marine fauna. There is a lot of ground to cover here and the scope of this book is truly ambitious, but all sections are quite well represented with indicative species. The rough-skinned newt, a showy and common salamander species would have been a nice addition to "reptiles and amphibians." "Insects and Invertebrates" includes an eclectic mix of butterflies, dragonflies, beetles, bees, millipedes, spiders and gastropods (slugs and snails) and more. The gastropods seem a bit out of place here, but it all works. After all, a riotous mix of species is what one finds in the natural world, unlike the neat categories and classifications that humans like so much. The final section "marine fauna" includes smaller organisms found in the intertidal as well as large marine mammals such as whales.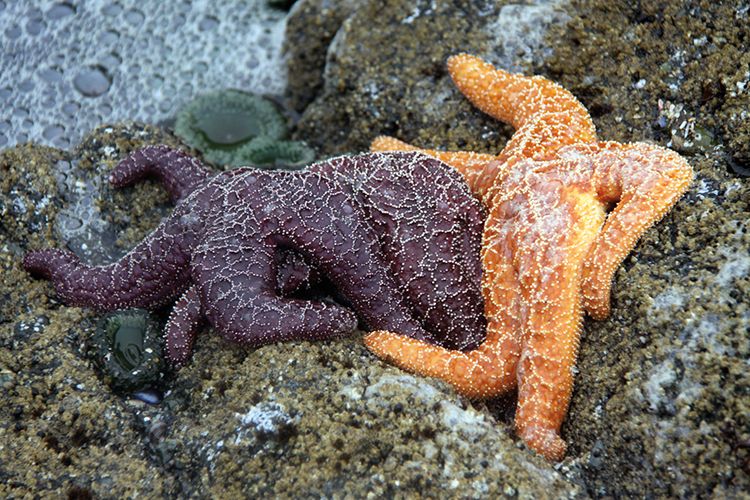 Though it is suggested as a take-along field guide for a day pack, I would find this book too large and heavy to pack. It is suitable for the car, and doubles as a lovely coffee table book for a visitor to page through. The fact that Varner primarily used his own photographs throughout is impressive — it must have been a true labour of love to collect and compile so many high-quality images.
The broad scope of this book offers a good introductory survey of our Flora and Fauna, and readers will enjoy this visually pleasing guide. The alphabetical arrangement of species is not ideal for identification purposes, and supplementing one's library with more specific field guides for plants, birds, mammals, etc., is recommended.
Varner's book will inspire readers to explore this incredible coastal region, leading to a greater appreciation of its inhabitants and hopefully, a heightened interest in conserving and protecting wild places.
*
Jocie Brooks studied classical piano, and has a Bachelor of Music degree from the University of Victoria. She works as a piano teacher but moonlights as a nature nerd, with keen interests in birds, botany, fungi and conservation. Jocie enjoys reading and writing, and wrote a nature column in the local paper for many years. She lives in the Comox Valley with her two children. Editor's note: Jocie Brooks has also reviewed books by Dale Bakken & Sandra Lynch-Bakken and Megan Clendenan & Kim Ryall Woolcock for The Ormsby Review.
*
The Ormsby Review. More Books. More Reviews. More Often.
Publisher and Editor: Richard Mackie
The Ormsby Review is a journal service for in-depth coverage of BC books and authors in all fields and genres. The Advisory Board consists of Jean Barman, Wade Davis, Robin Fisher, Cole Harris, Hugh Johnston, Kathy Mezei, Patricia Roy, Maria Tippett, and Graeme Wynn. Scholarly Patron: SFU Graduate Liberal Studies. Honorary Patron: Yosef Wosk. Provincial Government Patron since September 2018: Creative BC
"Only connect." – E.M. Forster