1310 Eking a living on Saturna
Making a Living on Saturna: Jon and Priscilla, an oral history
by Bill Schermbrucker
Saturna Island: Cliffside Publishing, 2021
$17.00 /  9781777544201
Reviewed by Margot Fedoruk
*
"How does one make a living on a beautiful, isolated island which consists mainly of rock and gravel?" This is the driving question behind author Bill Schermbrucker's book Making a Living on Saturna: Jon and Priscilla, part of a series of four oral history books highlighting the successes of a handful of Saturna Island business pioneers. In this first book of the series, readers can enjoy individual interviews with Jon Guy and Priscilla Ewbank who met on Saturna Island in the seventies. Together they raised a family, farmed, started a bakery, and bought and ran the Saturna General Store (among other ventures); or, to borrow a phrase from Walter Bavis (who lived on Saturna in the 1920s), they learned how "to scratch a living." When Schermbrucker died before completing the project, David Osborne facilitated the completion of the series with the help of his daughter Sofia Osborne.
Historians have proposed the idea that oral histories offer more than regular historical facts; they provide a unique narrative that not only tells us what the subject did but may reveal what the subject intended, which is why (I suspect) Schermbrucker encouraged his subjects "to wander freely in their responses" to his interview questions. This method, combined with the author's goal of focusing on his subjects' success stories makes for a very entertaining read. This book is a valuable slice of local history that will fit well on any history buff's library shelf. I would recommend to readers that they supplement their reading of this book with the rich store of live audio recordings available on the Royal BC Museum website.
The first interview begins with Jon Guy in April of 2014 (Guy died the same year); he tells a lively story about his first days on Saturna, working at odd jobs such as caretaking and cutting and selling firewood. He admits having some reservations when he first moved to the island, "Am I just living a fool's dream, or can I really do it?" He also tells the tale of how he was first inspired to bake and sell sourdough bread, which he eventually delivered in a converted crab boat, the White Star.
Part of the Gulf Island chain, half of Saturna Island is now in the Gulf Islands National Park Reserve (GINPR). Like many islands, Saturna is vulnerable to the seasonal nature of tourism. The island is reliant on BC Ferries which makes stops and transfers via Galiano, Mayne, or Pender Islands. On BC Ferries' Gulf Islands service, Saturna is at the end of the line. Finding a way to thrive on this remote mountainous island with a small economic base of just over 350 full-time residents would be a challenge for anyone. For those who may be considering embarking on a similar entrepreneurial journey, Guy reveals some of his business principles that helped him succeed:
If our expectations are reasonable and we make good choices and we're willing to work  steadily and be consistent in what we produce and do, then [Saturna's] a good place to be. I think there are opportunities to make a living here that haven't been tapped.
Readers will enjoy hearing two versions of the same life story from this couple, not only revealing the details of how to make a living in a remote place, but if you read between the lines, noticing clues about how to create a good life, no matter where you live.
In the second interview, Priscilla Ewbank tells us about being grateful for the many jobs she had to help support the family, ranging from farmer to librarian, janitor to newspaper columnist. Ewbank wrote the long-running column, Saturna Notes.
Her narrative is peppered with thoughtful bits of insight, for example, "being an entrepreneur, you kind of ride the edge of what you're passionate about," and that it "takes a lot of internal stamina" to run your own business.
Ewbank also wrote the afterword, where she provides details lacking in the initial interviews:
Jon and I came of age in the "back to the land" time when you were encouraged to "do our own thing" and support yourself off of the land independently. Jon had very little truck with this popular concept of how to live a life. "Interdependent" was how we saw the world, and he saw it as an opportunity….
Making a Living on Saturna: Jon and Priscilla includes many wonderful photos of the couple at various stages of their life, which also grace the front and back cover of this small soft covered book. An illustrated map at the back helps readers visualize landmarks (or to help plan a visit to enjoy the natural beauty of Saturna?). According to David Osborne of Cliffside Publishing, the next book in the series will be Making a Living on Saturna: Money Family, available by the end of December 2021. Next in line are the stories of John and Melanie Gaines, and the final volume, slated for publication in the first half of 2022, will include interviews with other well-known islanders, Barry and Geri Crooks.
Author Schermbrucker had a long and impressive background as an editor, writer, and teacher. He was an English instructor at Capilano University and a fiction editor for the Capilano Review. He also wrote historical and autobiographical fiction including the award-winning novel, Mimosa (Talonbooks, 1988). Schermbrucker moved to Saturna, where he was inspired to begin this oral history preservation project. He took five years to interview, transcribe, and edit the material before his death in 2019.
The Making a Living on Saturna series will be appreciated, not only by locals but by a broader audience including anyone who is considering moving to a remote community or who wants to learn about the history of a place directly from previous settlers. After all, true-life story narratives are highly subjective — which makes them all the more compelling.
"How much do you actually need to live a life?" Ewbank says in her interview with Schermbrucker. I suggest you read this book to find out.
*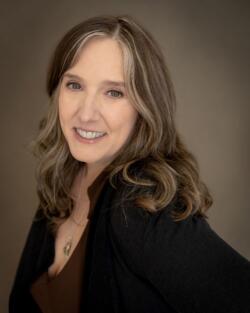 Margot Fedoruk is the author of Cooking Tips for Desperate Fishwives: An Island Memoir, which will be published in September 2022. She has a Bachelor of Arts degree from the University of Winnipeg and a writing degree from Vancouver Island University, where she was awarded the Barry Broadfoot Award for creative nonfiction and journalism and the Meadowlarks Award for fiction. She has studied with Susan Juby, Kathy Page, Sonnet L'Abbe, Frank Moher, Robert Hilles, Robert Wiersema, and editor Joy Gugeler. Margot lives and works on Gabriola Island. Visit her website here. Editor's note: Margot Fedoruk has also reviewed books by Dawn Postnikoff & Joanne Sasvari, Susan Lundy, Myriam Steinberg, Mandy Moore & Leanne Prain, sb. smith, Kim Clark, and Sari Cooper for The Ormsby Review, and she has also interviewed Shelagh Rogers.
*
The Ormsby Review. More Books. More Reviews. More Often.
Publisher and Editor: Richard MackieThe Ormsby Review is a journal service for in-depth coverage of BC books and authors. The Advisory Board consists of Jean Barman, Wade Davis, Robin Fisher, Cole Harris, Hugh Johnston, Kathy Mezei, Patricia Roy, Maria Tippett, and Graeme Wynn. Scholarly Patron: SFU Graduate Liberal Studies. Honorary Patron: Yosef Wosk. Provincial Government Patron since September 2018: Creative BC
"Only connect." – E.M. Forster