1308 The late life of Muggins
Muggins: The Life and Afterlife of a Canadian Canine War Hero
by Grant Hayter-Menzies, with a foreword by Mark Zuehlke
Victoria: Heritage House, 2021
$22.95 / 9781772033717
Reviewed by Valerie Green
*
Writing a book totally devoted to a dog is a difficult task but Grant Hayter-Menzies has it down to a fine art.
In Muggins: The Life and Afterlife of a Canadian War Hero the author has related a true story of an extraordinary little dog who became world famous in his short but very worthwhile life. Not only does this book tell the story of an incredible dog but it shows the depth of the author's respect and admiration for dogs everywhere. The relationship between human and canine comes across on every page.
A strong foreword written by military historian and author, Mark Zuehlke, sets the scene as it introduces us to Muggins, a Red Cross fundraiser, who became an international celebrity during the First World War. Between 1916 and his death in 1920 Muggins raised about $21,000 (equivalent to a quarter million dollars today) and was awarded a total of eight medals for his efforts.
In his prologue, author Grant Hayter-Menzies describes Muggins meeting with the Prince of Wales in front of the Parliament Buildings in Victoria in late September of 1919 where he was being praised for his war effort. The Prince was not the only notable person Muggins would meet. A month later he and General Sir Arthur Currie posed on the steps of the entrance to the Empress Hotel — as two war heroes. A year later, Muggins passed away from pneumonia at the age of seven.
The author goes on to talk about animals (both horses and dogs) that have been used in war on the battle fields and discusses whether these animals were true heroes in the same sense as human heroism. He explains "humans rush in . . . . humans understand the rules, accept justifications for risking their lives for an idea or an ideal. Leave that heroism to humankind." On the other hand he wonders if an animal is "capable of understanding what it has been called on or coerced to do." Despite scientific tests, the author believes we will likely never know. Horses gallop into battle willingly and dogs, despite shivering at the sound of gunfire, will do what they have been trained to do. Could this be called exploitation, he wonders?
In Muggins' case, although his war effort was on the home front, it could equally be considered a form of exploitation, for Muggins had been trained to strut around town with Red Cross cans tied to his back asking, in his delightful canine way, to contribute to the cause. By the end of the day those cans became very heavy and Muggins was a small dog. The fact remains, however, that he did his duty day in and day out on the streets of Victoria and appeared by all accounts to be happy doing it.
The author begins his story on Remembrance Day in 2015 at a signing he was doing at venerable Tanner's Books in Sidney, BC, for his recently released book "Rags," also a canine war hero who became the mascot for the American First Division in 1918. It was at that book signing in 2015 that he first learned about Muggins from Dr. Sylvia Van Kirk who was buying a book. As they chatted, Dr. Van Kirk asked the author if he had ever heard of Muggins, the little white Spitz-breed dog who had raised money for the Red Cross during the Great War. She had spent years collecting research on the little hero and felt he deserved to have a book written about him.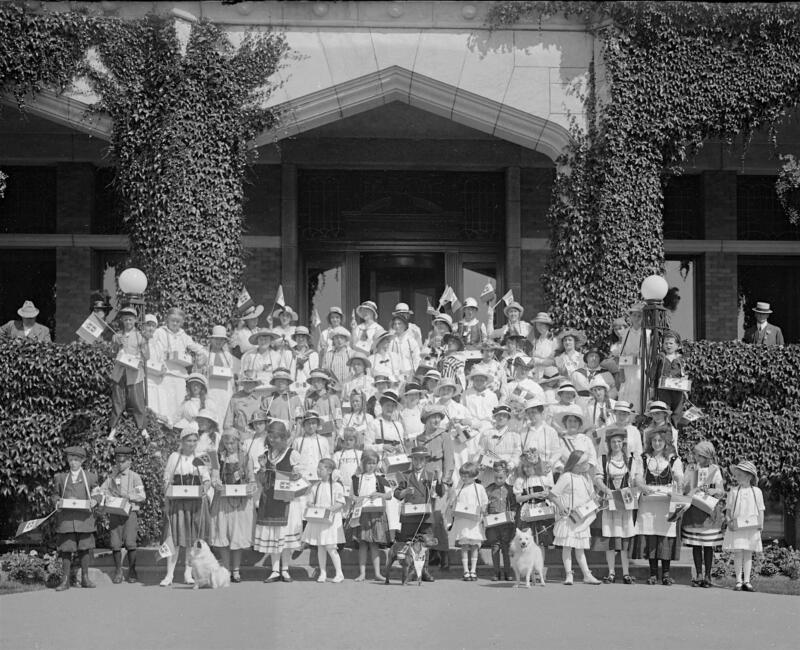 Although he had never heard of Muggins before that day, he had no wish to be a co-author on a book, (even with such a prestigious lady as Dr. Sylvia Van Kirk). For him writing is a very personal thing. However, he was interested in the story. For a while life intervened and then in 2019, at yet another book signing, Van Kirk and Hayter-Menzies met again and after listening to Hayter-Menzies' presentation on his latest book about Woo — Emily Carr's Monkey, Van Kirk declared that Grant was the perfect person to write Muggins' story. He, above all, understood "the powerful effect animals have on human endeavours." She even offered to hand over all her own research to him.
And so the book's journey began. This became not only the story of Muggins' life from when he first appeared in the news in 1916 until his death in 1920, but also presents an in-depth picture of life in Victoria during the First World War.
There was still much more research to do and was tackled with gusto by Hayter-Menzies, despite there being some mystery surrounding Muggins' early life before he was owned by Beatrice Woodward.
Mrs. Woodward had volunteered Muggins to raise funds for the Red Cross in 1916. But who, the author wondered, had trained this little dog to sit, beg and bark his thanks as coins were dropped in his cans? Not only that, at the end of every day, Muggins could be seen trotting back from the inner harbour towards the Red Cross building on Fort Street where he then had to climb many steps with his heavy cans. Often he was alone but he knew exactly where he was going from one of his many collecting "stations" around the city to the Temple Building on Fort Street, which housed the Red Cross.
This more than anything else greatly impressed the author so one day, in company with his own beloved dog Freddie, he decided to walk that route himself. It was a warm day and the streets were busy just as they probably were back in 1916. The author and his dog weaved through the crowds and the journey took 45 minutes. When they reached the Temple Building on Fort Street there were still 13 stone steps to climb. This would not have been an easy task for a small dog carrying heavy cans on his back.
The author of this delightful book not only tells the story of this enigmatic little dog and his many achievements, but he also weaves into the story gems of history about buildings and places in the capital city.
And even after his death, Muggins had an "after-life" of service. In 1920 his body had been handed to a taxidermist and this model of him was brought out again in the Second World War for fundraising for the Red Cross along with the many post-cards and posters of Muggins that had been saved. His fundraising work comforted and helped many servicemen and women around the world during both Wars and his tremendous effort definitely needed this book to be written about him. The book is complimented with many excellent photographs and an extensive bibliography and index.
Grant Hayter-Menzies was indeed the perfect person to write Muggins' story. A notable biographer and historian, he has specialized in writing about the unsung heroes of wars, most notably "the role of animals in those wars."
Both dog lovers and historians will enjoy this poignant story of a true little war hero.
*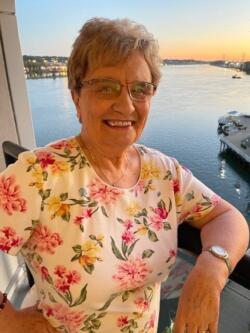 Valerie Green was born and educated in England where she studied journalism and law. Her passion was always writing from the moment she first held a pen in her hand. After working at the world-famous Foyles Books on Charing Cross Road, London, followed by a brief stint with M15 and legal firms, she moved to Canada in 1968 where she married and raised a family, while embarking on a long career as a freelance writer, columnist, and author of over twenty non-fiction historical and true-crime books. She is currently working on her debut novel Providence, which will be published soon by Hancock House as the first of The McBride Chronicles, an historical four-generational family saga bringing early BC history alive. Now semi-retired (although writers never really retire!) she enjoys taking short road trips around BC with her husband, watching their two beloved grandsons grow up and, of course, writing. Editor's note: Valerie Green has recently reviewed books by Michael Whatling, Jen Sookfong Lee, Kay Jordan, Leanne Baugh, Sara Cassidy, Catherine McKenzie, Mary-Anne Neal, Vanessa Winn, and Edeana Malcolm.
*
The Ormsby Review. More Books. More Reviews. More Often.
Publisher and Editor: Richard Mackie
The Ormsby Review is a journal service for in-depth coverage of BC books and authors in all fields and genres. The Advisory Board consists of Jean Barman, Wade Davis, Robin Fisher, Cole Harris, Hugh Johnston, Kathy Mezei, Patricia Roy, Maria Tippett, and Graeme Wynn. Scholarly Patron: SFU Graduate Liberal Studies. Honorary Patron: Yosef Wosk. Provincial Government Patron since September 2018: Creative BC
"Only connect." – E.M. Forsterayter-MenziesH
*
*