1286 They had me at gnocchi
Island Eats: Signature Chefs' Recipes from Vancouver Island and the Salish Sea
by Dawn Postnikoff and Joanne Sasvari
Vancouver: Figure 1 Publishing, 2021
$38.99  /  9781773271675
Reviewed by Margot Fedoruk
*
For those of you who share Federico Fellini's sentiment that "life is a combination of magic and pasta" then this may be the book for you. Island Eats is a treasure trove of over 80 farm to table style recipes (not just pasta) from Vancouver Island food makers and shakers. It is well curated by two food savvy writers who really know their stuff. Dawn Postnikoff and Joanne Sasvari have compiled a well-balanced "culinary story" of chef-tested recipes made by local food pioneers, who use a variety of freshly sourced, seasonal ingredients from in and around Vancouver Island's land and waters. These recipes might just compel readers to don their hiking boots to hunt for chanterelles for dinner or pack up a suitcase for a weekend getaway to try some of the tantalizing fare on site.
"Culinary surprises are hidden away in some of the remotest island recesses and more culinary tourists are drawn to the islands than ever before. Use this book to help map out your trip," says Sinclair Philip, founder of the Sooke Harbour House.
There is something for everyone, from simple steamed clams, oyster tacos, smoked salmon sushi pizza and vegan burgers, to tofu bowls and tiramisu. Everything you would want for dinner and more for our increasingly sophisticated palettes. There is a good mix of recipes that are both healthy and decadent, from Brentwood Bay's Charred Kale and Citrus Salad to five types of pasta dough from various chefs — have I died and gone to heaven?
For those of you who worry that this book may contain only complicated recipes that only seasoned chefs can pull off, fear not! This is no mere coffee table book. The authors explain that these chefs share recipes "they make themselves — not just for their customers, but for their families — from ingredients grown by their friends and neighbours."
The first recipe from 10 Acres Bistro had me at gnocchi, made with roasted squash and beets. It took me close to two hours to make but was worth every minute. (I hardly minded the scalded fingertips from handling steaming hot baked potatoes). This recipe not only fulfilled my desire for a pasta-filled life but contained elements of magic, the scent, the texture and most importantly, the flavours of in-season roasted beets and butternut squash were simply divine. My husband and I both agreed the recipe was a keeper.
The Salmon Chowder by the Bishop Family of Hornby Island's Sea Breeze Lodge was delicious and fairly simple to make with not a lot of exotic ingredients to shop for. And their Irish Soda Bread was an easy and a very satisfying, warm, fragrant accompaniment to the soup.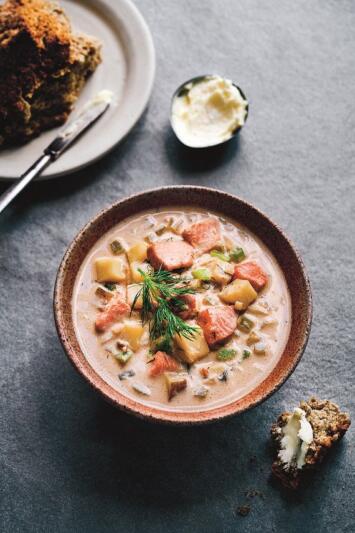 While most of the ingredients in these recipes are easy to source, such as local seafood and fruit, some of the ingredients may be a bit harder to find. Not everyone has sumac, agar-agar, or fresh or dried spruce tips in their larder. But luckily, many of the recipes offer alternatives for ingredients that are easier to find. For instance, if you are making Sobo's Wild Nettle and Sorrel Soup the chef suggests using spinach, kale, or chard if nettles are not in season. If you are attempting to make the Farmhouse Rabbit Pie of Victoria's Saltchuck Pie Company, use a free-range chicken if you can't source a rabbit.
Island Eats is part of Figure 1's cookbook series, which currently has sixteen books in print that are also worth checking out, with titles like Calgary Eats, Montreal Cooks, and Winnipeg Cooks. Their format is similar, beginning with a list of the restaurants in alphabetical order and ending with a useful and detailed index. Each restaurant, pub, or bakery has at least one nice colour photograph of their food and a black and white photograph of the chefs and/or owners along with a write up about their history and inspirations. Learn interesting tidbits about these establishments, such as how the owners of Tofino's Ouest Artisan Patisserie work out of a converted shipping container, or get intrigued about why Port Alberni's Swept Away Inn (a restored and converted 100-foot tugboat) is on the map for their twist on Moroccan cooking.
This sturdy hardcover book is easy to prop open on the kitchen counter while you work out recipes for savoury treats like Cherry-tomato-Ricotta Galette from Salt Spring Island's Woodshed Provisions or the Mo-Jo Bowl from Comox's Tidal Cafe. Also of note are Blue Spruce Ice Cream's Bannock Ice Cream Sandwich, Brie & Barrel's Stilton Cheesecake with Strawberry-Basil Compote, and a more traditional but still enticing Sliced Almond Cinnamon Bun with Cream Cheese Frosting from Ladysmith's Old Town Bakery. There are simply too many irresistible recipes to mention in a brief review.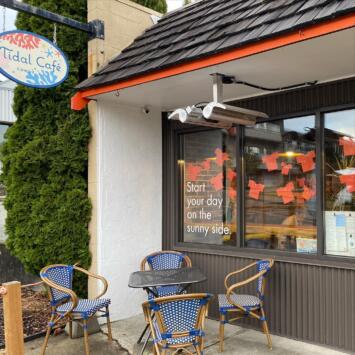 Cookbooks that use local ingredients are becoming increasingly popular, such as DL Acken and Emily Lycopolus' Cedar + Salt: Vancouver Island Recipes from Forest, Farm, Field, and Sea (Touchwood 2019). (Reviewed here by Harvey De Roo – ed). The difference is that Cedar and Salt is filled with recipes that are developed solely by Emily Lycopolus while Island Eats has recipes from forty different chefs to choose from.
The authors of Island Eats know their way around our local food scene and have rounded up a good mix of recipes made from forward-thinking cooks from Victoria to Port Hardy to the Gulf Islands and many place in between, as they note:
In the last twenty years, dozens and dozens of talented chefs have moved to Vancouver Island and the Gulf Islands. Even in the smallest communities, you'll find Chefs who've worked and staged in Michelin-starred restaurants or own their own storied establishments elsewhere. They're shucking oysters and rolling pasta just for you, pouring you a glass of local wine, or telling you about the best surf beach or hiking trail or the cool new craft brewery in town.
Dawn Postnikoff is one of the founders of Edible Vancouver Island and Joanne Sasvari is a magazine editor and food, drink, and travel writer for Edible Vancouver Island. Sasvari also writes for Food & Wine Magazine and has authored many other food inspired books including The Wickaninnish Cookbook, Vancouver Eats, Frommer's Easy Guide to Vancouver and Victoria, and Paprika.
"Vancouver Island is a magical place," write Sasvari and Postnikoff, and I have to agree — magic abounds in these pages. I can't think of a better Christmas gift for those foodies in your life. Blossom Tea Panna Cotta with Pears and Hazelnuts, anyone?
*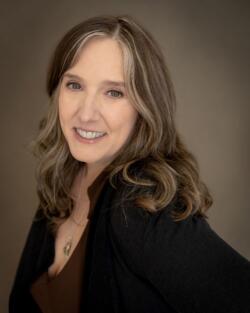 Margot Fedoruk has published excerpts from her memoir Cooking Tips for Desperate Fishwives: An Island Memoir in Portal magazine in 2019, 2020, and 2021. She has a Bachelor of Arts degree from the University of Winnipeg and is a graduate of the Creative Writing degree at Vancouver Island University, where she was awarded the Barry Broadfoot Award for creative nonfiction and journalism and the Meadowlarks Award for fiction. She has studied with Susan Juby, Kathy Page, Sonnet L'Abbe, Frank Moher, Robert Hilles, Robert Wiersema, and editor Joy Gugeler. Margot lives and works on Gabriola Island. Visit her website here. Editor's note: Margot Fedoruk has reviewed books by Susan Lundy, Myriam Steinberg, Mandy Moore & Leanne Prain, sb. smith, Kim Clark, and Sari Cooper for The Ormsby Review, and she has also interviewed Shelagh Rogers.
*
The Ormsby Review. More Books. More Reviews. More Often.
Publisher and Editor: Richard Mackie
The Ormsby Review is a journal service for in-depth coverage of BC books and authors. The Advisory Board consists of Jean Barman, Wade Davis, Robin Fisher, Cole Harris, Hugh Johnston, Kathy Mezei, Patricia Roy, Maria Tippett, and Graeme Wynn. Scholarly Patron: SFU Graduate Liberal Studies. Honorary Patron: Yosef Wosk. Provincial Government Patron since September 2018: Creative BC
"Only connect." – E.M. Forster