1249 Capital memories
Victoria Then & Now: Postcards from the Past
by Nick Russell
Victoria: Old Goat Press, 2021 (new edition; first published 2014). Contact russcomm@telus.net
$18.95 / 9780987788917
Reviewed by Ron Verzuh
*
Capital Memories: Old postcards and modern-day images of Victoria sketch social and architectural history
When I was sowing my wild oats I would send postcards to my parents. Partly it was an easy way to tell them I had not fallen victim to opium dens, gold diggers or massage parlour Madams. Partly it was to present Dad, the amateur stamp collector, with some new and exotic additions to his messy collection. I was not alone in this endeavour.
Author Nick Russell now provides a whole book of examples that reflect other people's reasons for sending postcards, all of them depicting an aspect of Victoria's social and architectural history. Voyeurs won't get much from the few messages on the cards; many are blank. By comparison, my cards home often overflowed the edges.
This enlarged postcard-shaped book offers readers historic images on the left page and modern photographs on the right to show the changes wrought over the decades. The text is sparse but adequate. We learn who sent the postcard, what they wrote on it and a history of the image and its contents. This includes details about the photo, such as the publisher. The facing page contains accounts of modifications to the buildings.
Readers who know Victoria will enjoy seeing the Empress Hotel, possibly the most photographed of all the old railway hotels. Today's dragon boat races in the harbour were preceded, as the postcard shows, by war canoe races in the 1890s. Several cards show the Tally Ho, the popular horse and buggy rides still enjoyed today.
The totems in Thunderbird Park, near the Royal BC Museum, are pictured on some cards. A Beacon Hill Park card includes horseless carriages of 1907 vintage. Other cards show Christchurch Cathedral (1872), the Methodist Church (1890) and that most Victorian of landmarks, Craigdarroch Castle (1897).
Travellers who want more about the heritage buildings that helped shape Victoria's uniqueness will see several examples of the work of Frances Rattenbury such as the Empress and the stunning Legislature. Belmont House, designed by Samuel Holt Horton in 1912, is not quite as impressive.
Russell is a heritage restorer with awards to prove that he has a passion for old homes and historic buildings, of which there are plenty in the provincial capital. He has previously published two other books on similar topics. He's also a historian able to correct the facts on some cards. For the Craigflower School card, for example, he notes that it was built in 1855, not 1853, and a local steam sawmill supplied the building materials, not Great Britain.
Other buildings appear on numerous cards of the downtown thoroughfare featuring Broad, Douglas and Yates Streets, and Government Street (1910) is prominently displayed. The Court House (1890) and Bastion Square are also present in a 1907 card. City Hall and the Hudson's Bay Store are part of the "Downtown Cluster," and Chinatown with its Fan Tan Alley appears on a 1911 card.
James Bay, Ross Bay and Foul Bay all find a place, as does the sealing fleet in the Inner Harbour (circa 1901) and the Gorge Bridge (1918). These are part of Russell's "Outer Circle" collection. One of my favourite cards is the Carnegie Library (1915), one of 2,000 libraries the steel magnate turned philanthropist contributed to North American cities. Another is the 1905 image of a Tally Ho with a team of six horses carrying a group of bonneted tourists along Shoal Bay.
A map and list of sources allow the reader to do further research, but Russell has already done much to make the task pleasant and educational. It's a treat to flip through these images of bygone days and journey into Victoria's past with this unique photographic guide.
*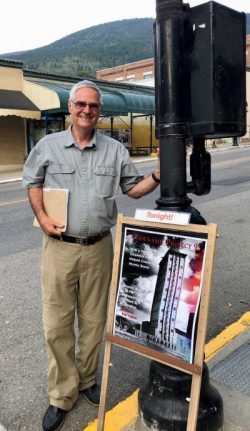 Ron Verzuh is a writer, historian and documentary filmmaker, recently moved to Victoria. His work has appeared in The Ormsby Review since it was founded in 2016. Editor's note: Ron Verzuh has recently reviewed books by Jim Christy, John Jensen, Charlie Hodge & Dan McGauley, Ravi Malhotra & Benjamin Isitt, Allan Bartley, Eric Sager, Michael Dupuis & Michael Kluckner, Elizabeth May, Rosa Jordan, Vera Maloff, and Peter Nowak for The Ormsby Review.
*
The Ormsby Review. More Books. More Reviews. More Often.
Publisher and Editor: Richard Mackie
The Ormsby Review is a journal service for in-depth coverage of BC books and authors. The Advisory Board consists of Jean Barman, Wade Davis, Robin Fisher, Cole Harris, Hugh Johnston, Kathy Mezei, Patricia Roy, Maria Tippett, and Graeme Wynn. Scholarly Patron: SFU Graduate Liberal Studies. Honorary Patron: Yosef Wosk. Provincial Government Patron since September 2018: Creative BC
"Only connect." – E.M. Forster