1207 Coyote's Covid correspondence
Care Of: Letters, Connections, and Cures
by Ivan Coyote
Toronto: Penguin Random House (McClelland & Stewart), 2021
$25.00 / 9780771051722
Reviewed by Carol Matthews
*
One day in March, 2020, Ivan Coyote received an email telling them that the next day's roadshows had been cancelled. A few days later, they learned that most of their events, plans and main source of income had evaporated. Feeling unable to continue with the story they were writing, Ivan turned to the file of letters, emails, and hand-written notes and began to re-read and answer many of them in letters that sometimes ran to four or five pages. Ivan notes that these response "would never have come out of me if the world hadn't forced most of us to stop and stay in one place for these last long and lonely months."
Writer, performer, film-maker, storyteller, activist, and author of thirteen books, Ivan Coyote has travelled the world telling stories about their trials and adventures growing up in the Yukon as "a two-spirited tomboy." As a non-binary, trans person, they have been an advocate for the LGBTQ2S community for decades. People who have heard them speak in classrooms, auditoriums, libraries, and other community settings testify to the profound effect their stories have for all listeners. In Care Of: Letters, Connections, and Cures, Ivan reveals even more deeply their capacity to be a compassionate listener who responds to fans with understanding and thoughtful care.
In an interview in the Vancouver Sun, Ivan claimed that they are not trained as a counsellor and it would be irresponsible to function as a therapist in these situations. "This book Care Of is in many ways a continuation of the work I have tried to do with my other works, but in a very overt way." Though not a therapist, Ivan's "overt," compassionate, caring, and insightful responses may well offer more healing than what any professional treatment could.
My friend, who has for many years been a school counsellor working with LGBTQ2S teenagers, comments on how important it is for these young people to see and hear from Ivan Coyote that they are not alone. It's helpful, she says, for them to see someone who is completely at ease with who they are telling stories about the many challenges of their own journey, and reflecting on the experiences of other young people who didn't fit into traditional identities or labels.
The stories told in the Care Of letters reveal the various experiences of people who have been oppressed by parental or societal expectations. They are sometimes funny and always poignant, producing both laughter and tears. In an earlier book, Tomboy Survival Guide, Ivan recalls their own challenges and adventures growing up butch and offers tactics for negotiating that landscape and staying true to one's self. A later book, Rebent Sinner, tells stories about being trans and non-binary in terms of patriarchal and political oppression. Care Of is different: issues here are presented in a very immediate and personal context through the individual letters Ivan has received and their heartfelt, compassionate, and understanding responses.
Care Of is not an easy read. Letters from parents, teenagers, and seniors tell of the pain and shame of having to hide who they really are. Reading them, I found I had to stop frequently to reflect on how narrow my own knowledge is and to consider how our social attitudes force people into physical and interpersonal behaviours that can be deeply wounding.
For example, Ivan shares a handwritten letter  from a teacher who felt guilty about not inviting a cohort of student teachers to their performance because it would mean "sharing my truths and shame to people who still fail to see me." Ivan responds by telling stories of some of the students who have talked to them at school events. They acknowledge that this teacher knows such stories and affirms that "I am right there beside you… You will change that school faster and deeper and more fundamentally than any shiny-shoed storyteller ever can."
Many of Ivan's listeners hang around after their talks for individual conversations, and a great many initiate a connection through letters, emails, or even a note tucked under a windshield wiper. It's clear that listeners idolize Ivan and yet feel able to connect easily with them. One letter is from a man who describes himself as "the father of a wonderful, courageous, cynical, hilarious, transgender son," who writes about having been in "denial or avoidance mode" and thanks Ivan for sharing his story. "Thank you for cracking my heart wide open," he says. Ivan replies in a long letter about their own relationship with their father and says, "I'm crying now as I type…I've never curled up under the covers and cried because my father didn't understand me, but I weep even as I write to you today because he didn't listen, and he doesn't ask, and he didn't try. You did, and you do, and you are."
Throughout the book, Ivan's gratitude and appreciation for their correspondents rings true. In the acknowledgments they thank the letter writers, urge them to stay in touch, and remind them that they have two free copies of the book and a cheque for each letter-writer. They acknowledge everyone involved in producing the book, every member of their family, their "partner and collaborator and co-conspirator" and daily inspiration — and both of their grandmothers.
Ivan is a great conjurer, and the Care Of letters, rich in stories, are a great gift to all of us. "Storytellers," they conclude. "We can't help but keep hoping that there might just be a happier ending there somewhere." And sometimes there is, when a beloved role model and storyteller takes the time to reach out and connect with someone who is suffering. Their words uplift us all.
"Please, please stay as safe as you can and keep in touch," is how they end most of their letters. As a reader, I want to say the same to Ivan Coyote.
*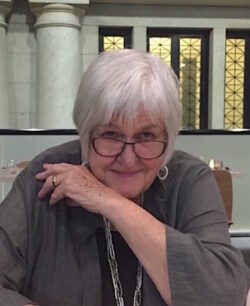 Carol Matthews has worked as a social worker, as Executive Director of Nanaimo Family Life, and as instructor and Dean of Human Services and Community Education at Malaspina University-College (now VIU). She has published a collection of short stories (Incidental Music, from Oolichan Books) and four works of non-fiction. Her short stories and reviews have appeared in literary journals such as Room, The New Quarterly, Grain, Prism, Malahat Review, and Event. Editor's note: Carol Matthews has also reviewed a book by Tamara Macpherson Vukusic for The Ormsby Review.
*
The Ormsby Review. More Books. More Reviews. More Often.
Publisher and Editor: Richard Mackie
The Ormsby Review is a journal service for in-depth coverage of B.C. books and authors. The Advisory Board consists of Jean Barman, Wade Davis, Robin Fisher, Cole Harris, Hugh Johnston, Kathy Mezei, Patricia Roy, Maria Tippett, and Graeme Wynn. Scholarly Patron: SFU Graduate Liberal Studies. Honorary Patron: Yosef Wosk. Provincial Government Patron since September 2018: Creative BC
"Only connect." – E.M. Forster