1171 Elizabeth Brewster: A vital ghost
The Essential Elizabeth Brewster
by Ingrid Ruthig (editor)
Erin, ON: The Porcupine's Quill, 2021
$14.95 / 9780889848788
Reviewed by Susan McCaslin
*
Ingrid Ruthig's The Essential Elizabeth Brewster, a new volume in Porcupine Quill's Essential Poets Series, is a gathering of some of the best and most representative selections from Canadian modernist poet Elizabeth Brewster (1922-2012). Ruthig's astutely chosen excerpts span Brewster's body of work from 1952-2009. Ruthig's succinct foreword offers both a biographical sketch and insights into Brewster's impressive poetic legacy. Brewster's poems, cupped in a beautifully crafted volume by Porcupine's Quill, make a strong case for her continuing relevance to our times.
Elizabeth Brewster (Betty) was born in rural New Brunswick, the youngest of five children in a family of straightened means. Her father struggled with depression and her mother with the depravations of poverty. Yet as a child she discovered the delights of reading and began writing poems at age nine, one of which was published in a local journal when she was twelve. In 1940 she won first prize in a poetry contest judged by the slightly older poet P.K. Page, who encouraged Brewster to develop her poetic gifts and seek higher education. Through scholarships and sheer determination, she earned a BA from the University of Toronto, a MA from Harvard's Radcliffe College, and a PhD from Indiana University, eventually becoming a professor at the University of Saskatchewan where she taught English and Creative Writing from 1972-1990.
One of the few female modernist poets in Canada in the forties and fifties, Brewster became a leading founder of The Fiddlehead, one of Canada's early and most enduring literary journals. During her lifetime she received numerous literary awards, including the E.J. Pratt Award, an honorary doctorate from the University of New Brunswick, the Saskatchewan Order of Merit, and the Queen's Diamond Jubilee Medal. Her work was shortlisted for the Pat Lowther Award in 1991 and a finalist for Governor General's in 1996. In 2001 she was inducted into the Order of Canada. Her contributions to literature included not only poetry, but three volumes of stories, two novels, and two memoirs.
As Ruthig notes in her Foreword: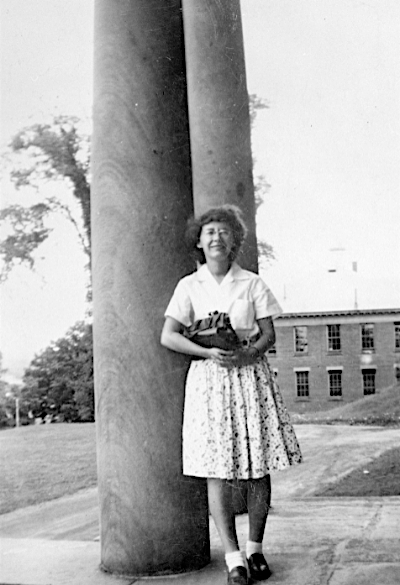 Despite accolades, Elizabeth Brewster has remained at a distance. Whether due to circumstances, her wariness of affiliation, or the persistently gendered view of canon-minders, she has been the poet whose work is included in critical anthologies while her name is missing from their introductions….This doesn't erase the fact, however, that hers is an integral part of our literary inheritance, one of few long-standing Canadian voices to find a foothold in the early twentieth century's modernist movement, then grow beyond it into the new millennium.
My long-time admiration of Brewster's poetry stems from a conversation I had with her in Victoria in 1997 when editing an anthology titled A Matter of Spirit: Recovery of the Sacred in Contemporary Canadian Poetry (Ekstasis Editions, 1998). Brewster impressed me with the depths of her insights and ability to contemporize the stories of lesser known biblical women such as Dinah and Tamar. Each spring she made an annual visit to Victoria where she resided for months in a modest rooming house behind the Parliament Buildings. Her association with Victoria had begun earlier in her life when she taught at the University of Victoria from 1960-66.
Among her selections Ruthig includes the poem "When I am Old," set in Victoria, where Brewster situates her literary aspirations within a larger order of things. Here she releases concerns about whether or not her work will leave a lasting legacy for the freedom of "living on the shores/ of the widest ocean//anywhere — letting go into the natural world.
When I am old
I think
I shall move to Victoria
with all these others.
I'll find a few rooms to live in
somewhere overlooking
one of the bays,
with a twisted oak
growing in the yard….
And at long last I shall write
the great poem I have not yet written
the wise summation
of the life I have lived
and have not managed to live
with the voice of two oceans
with the voice of the prairie wind
the caw of crows
and seagulls screaming
And I shall no longer care
if I am loved or famous
or good or clever.
It will be enough to be,
to have been, to speak
and anyone else
who may overhear… (pp. 30-31)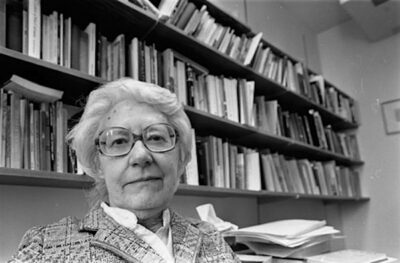 The Essential Elizabeth Brewster welcomes readers to "overhear" the words of a vital ghost who can connect us to our own place and time. The volume is replete with poems that reveal the poet holding varied places within herself, having resided in New Brunswick, Indiana, England, Saskatchewan, and BC, to name only a few. She also travelled to Spain and Israel. The poem "Where I Come From," acknowledges how place shapes us:
People are made of places. They carry with them
            hints of jungles or mountains, a tropic grace
            or the cool eyes of sea-gazers. (p. 25).
Ruthig's selections showcase the range and diversity of Brewster's offerings, her skill with compressed lyrical poems as well as longer narrative ones. Among the latter are "In Wellington, for Katherine Mansfield" and "For Dorothy Wordsworth" where she engages with her female predecessors in the intimacy of the second person, ruminating on how they struggled to maintain their identities as writers within patriarchal structures.
The strength of her feminist voice is incisive in shorter poems like "Nobody (26 May)," where she foregrounds the marginalization of women and silencing of their voices in various mythic and historical constructions of the feminine.
What about Dorothy Pound, Olga Rudge,
            Penelope, Circe, Nausicaa, Helen?
            To write the poem is different
            from being the object of the poem.
            Did any of these women think themselves nobodies?
            What sort of a poem would Helen of Troy have written
            about the Seige of Troy? (p. 43)
Ruthig includes poems of spiritual quest that unite the quotidian and the contemplative, the particularities of everyday experience with broader literary, philosophical, and spiritual perspectives. Excerpts from another long poem, "Footnotes to the Book of Job," contemporize the perennial "problem of evil," how to reconcile a supposedly good and loving deity with the depths of suffering in the world. "Santiago de Compostela" (p. 51) takes up the archetype of the pilgrimage or spiritual journey, humorously invoking Chaucer's Wife of Bath by asking,
Did she come here in search
of her sixth husband?
Would she have climbed those steps,
or would she have stayed in the hotel,
drinking spiced wine, talking to another pilgrim,
telling or hearing a story? (p. 51)
For Brewster, the process of the journey, its intrinsic value, is what matters — not a single epiphany or end. In "Astrophel 2," where she summons the flower that bloomed in the realms of the dead in Greek myth, she unflinchingly faces both fear and mortality, ending with the image of the heart as "a rundown clock/ ticking its last astonished tock."
In the flow of these selected poems, it becomes clear that Brewster's interest in Greek myth, Hebrew biblical stories, and esoteric (Kabbalistic) traditions are not divorced from everyday life and the particularities of the world. She entertains no naïve abstractions or theology in a package.
Ruthig concludes her Foreword with a powerful stanza from Brewster's "The Poet in the Last Days:"
I wanted to save breath
            hold it caught in,
            not released
until sometime centuries later
            I might breathe it out
            blow the hair of
            someone sitting reading
            not expecting a ghost. (p. 24)
As we are invited into the worlds held in Brewster's words, we may sense that unexpected ghost breathing life through our own hair. Brewster's work reveals the human need to conjoin the living and the dead, past and present, the particularities of life lived in time with longings for integration and union with a larger cosmos. Through her earthy, plainspoken, conversational, yet sublime poetry, Brewster comes as a ghost to remind us we are all fellow travellers. Her poems unite vital ghosts of the past, like her revered Shakespeare, with writers and readers of the present.
Ruthig's selections in The Essential Elizabeth Brewster encourage us to receive and honour a rich literary inheritance from one of our elder poets. Predecessors like Brewster carry in the marrow of their words the possibility of an expanded field, a holistic vision. In such a place, the melding of words, musicality, and silences prompts us to open to the mysteries of being in the world here, now. Her poems vibrate in both time and a timeless zone where the voices of past and present are simultaneously distinct and one.
*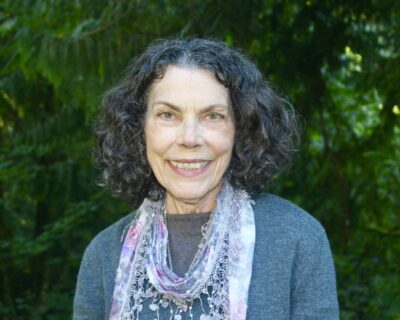 Susan McCaslin is a Canadian poet residing outside Fort Langley, BC, who has published sixteen volumes of poetry, including her most recent, Heart Work (Ekstasis Editions, 2020), reviewed here by Jessica Walters. McCaslin's Into the Open: Poems New and Selected was published by Inanna Publications in 2017. Demeter Goes Skydiving (University of Alberta Press, 2012) was shortlisted for the BC Book Prize for Poetry (Dorothy Livesay Award) and the first-place winner of the Alberta Book Publishing Award (Robert Kroetsch Poetry Book Award) in 2012. She has recently had a chapbook titled Cosmic Egg published by the Alfred Gustav Poetry Series. Susan can often be found walking with her dog Rosie along the Fraser River, better known to the Kwantlen First Nations as the Stó:lō, the Halqemeylem word for "river."
*
The Ormsby Review. More Books. More Reviews. More Often.
Publisher and Editor: Richard Mackie
The Ormsby Review is a journal service for in-depth coverage of B.C. books and authors. The Advisory Board consists of Jean Barman, Wade Davis, Robin Fisher, Cole Harris, Hugh Johnston, Patricia Roy, Maria Tippett, and Graeme Wynn. Scholarly Patron: SFU Graduate Liberal Studies. Honorary Patron: Yosef Wosk. Provincial Government Patron since September 2018: Creative BC
"Only connect." – E.M. Forster