1147 Kootenay schoolhouse sleuthing
A Lethal Lesson: A Lane Winslow Mystery
by Iona Whishaw
Victoria: TouchWood Editions, 2021
$16.95 / 9781771513531
Reviewed by Ginny Ratsoy
*
From Agatha Christie to Louise Penny, writers of mystery series have known the value of a village to ground their plots: establish winning recurring main and secondary characters, imagine quotidian landmarks in extraordinary circumstances, set it all off in a superficially simple microcosm, and readers will return. The lure of the familiar pulsates from A Lethal Lesson, the eighth in Whishaw's Lane Winslow Series; like St. Mary Mead and Three Pines, King's Cove, BC is habit forming.
Those new to the series can be quickly caught up: heroine Lane, who spent her youth in Latvia and England, arrived in King's Cove in search of a quiet life after completing a degree at Oxford, losing at love, and working for British Intelligence in the Second World War. The stunning but unpretentious heiress quickly becomes a village fixture and captures the heart of taciturn but charming Inspector Darling of Nelson. Much to Darling's ostensible chagrin, Lane draws on her war experience to solve crimes from the sidelines; she's a (much younger) Miss Marple with a formal track record of transferable skills.
Whishaw reveals Lane's past carefully, measuredly, as the series evolves, and her protagonist's inner life, particularly as she reflects on her strict and somewhat crippling childhood, adds a welcome psychological depth. In A Lethal Lesson, Whishaw does an especially good job of depicting Lane as both still experiencing damage from the past and on the journey toward overcoming it through her interactions in the village.
As Jennifer Chutter notes in a July 2020 Ormsby Review of the seventh in the series, A Match Made for Murder, which focuses on the couple's Arizona honeymoon, the Winslow/ Darling relationship does not conform to the norms of the time. When A Lethal Lesson picks up on the couple, newly returned from Arizona, the Nelson police find themselves immersed in a series of crimes – from a break-in and theft to kidnapping and murder. Lane, who has kept her home (an hour away, in snowy weather, from Darling's in Nelson) and name, initiates independent action to suss out clues to link the events.
When the village teacher is inexplicably absent from her duties, Lane's tentacles are raised. Miss Scott, who is leaving to get married, has been replaced by Miss Keeling, and both have been sharing the former's car and the teacher's cottage. Searching the cottage, Lane finds most of the house, including one bedroom, upended, Miss Scott bloodied of head and barely alive, and the second bedroom neat as a pin. With the phone line cut, Lane sees no other option than to brave the snow, move the fragile woman to her car, and make the trek to the Nelson hospital.
Whishaw is adept at crafting a multilayered plot that is a challenge for both readers and characters – with readers privy only to enough extra information to keep us hooked – all the while dangling red herrings amidst the genuine clues for all of us. Not only is Miss Scott's recuperation slow, and her memory so faulty that her testimony is of little utility, but Miss Keeling has vanished. Other events further muddy the waters: two abandoned cars are found; the negligent, hard-drinking father of one of the students has disappeared; and a rickety village home has been purchased by the female half of a wealthy and influential Vancouver couple who will do almost anything to ensure her husband's political success. While the unfolding and connecting of these layers can seem unnecessarily slow at times, I found the outcome worth the patience required to get there.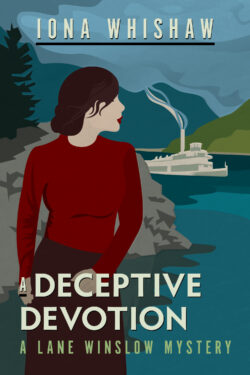 As Darling and his team try to fit the disparate pieces together, Lane takes on the immediate business of teaching the students. As Kim Naqvi noted in a December, 2019 Ormsby Review of A Deceptive Devotion (no. 6 in the series), Whishaw has a knack for intriguing side stories, and, as an educator, I found the novel's rendering of mid- 20th Century rural schooling intriguing. Lane conforms to the established routine of starting the day with "The Lord's Prayer" and emphasizing penmanship and memorization, introduces the mixed-grade students to Romantic poetry through Wordsworth, and has them write responses to A Christmas Carol. On the other hand, she follows up on a student's suggestion that the class perform a practical experiment that takes advantage of the school's icy temperatures and encourages the older students to guide the younger and students of all grade levels to work collaboratively. Perhaps most significantly, given her own childhood, Lane makes a concerted effort to instil confidence in all of the students. The lessons are an amalgam of a very British academic education and a rural Canadian pragmatism, tempered with kindness.
Never fear, though, the role of Lane-the-substitute-teacher is not antithetical to the role of Lane-the-crime-solver. In fact, her temporary career facilitates her sleuthing: she gleans clues from her students, discovers an incriminating note in her desk, finds a gun in a cubby hole, and rescues a second damsel-in-distress at the school. Most notably, the school is the site of a confrontation – in a scene, both comic and dramatic and complete with a classic villain – that gives new meaning to the axiom "the pen is mightier than the sword." The drafty, phoneless school, rustic even by 1947 standards, affords Lane the perfect setting for sleuthing.
As I write, A Match Made for Murder has just received the Crime Writers of Canada's Bony Blithe Award, self-described as "celebrating traditional, feel-good mysteries." The Lane Winslow Mystery series is undoubtedly in the cozy and comfortable vein. Nevertheless, as A Lethal Lesson illustrates, Whishaw fleshes out the atmosphere of her imagined world, providing glances into the underbelly of society. As the crimes and characters' backstories unfold, the battle fatigue, religious fanaticism, child abuse, alcoholism, and sexism that underpin them are brought to light.
However, true to form, once things are wrapped up (collaboratively: Darling and his crew do their parts, but the indomitable Lane is instrumental) King's Cove reverts to its comforting guise. Darling and Winslow host the villagers at a Christmas Eve drinks party that is mercifully free of snow, enjoy their first Christmas together in a setting familiar to readers of the series, and make a toast that may be a clue to the subject of the 9th Lane Winslow mystery.
*
Ginny Ratsoy, Professor Emerita at Thompson Rivers University, writes, ambles, and volunteer teaches in Kamloops. She would like to thank her dear friend Patricia Johnson for introducing her to Lane Winslow, sharing her superb knowledge of mysteries and impressive research skills, and understanding the therapeutic value of feel-good mysteries at a time when it was most needed. Editor's note: Ginny Ratsoy's recent reviews include books by Wayne Grady, Angie Abdou, Josephine Boxwell, Caroline Adderson, Melanie Jackson, Estella Kuchta, Madeline Sonik, Mary MacDonald, and Lauren Soloy.
*
The Ormsby Review. More Books. More Reviews. More Often.
Publisher and Editor: Richard Mackie
The Ormsby Review is a journal service for in-depth coverage of B.C. books and authors. The Advisory Board consists of Jean Barman, Wade Davis, Robin Fisher, Cole Harris, Hugh Johnston, Patricia Roy, Maria Tippett, and Graeme Wynn. Scholarly Patron: SFU Graduate Liberal Studies. Honorary Patron: Yosef Wosk. Provincial Government Patron since September 2018: Creative BC
"Only connect." – E.M. Forster