1076 Reflections on an Arctic voyage
Watermelon Snow: Science, Art, and a Lone Polar Bear
by Lynne Quarmby
Montreal & Kingston: McGill-Queens University Press, 2020
$24.95 / 9780228003595
Reviewed by Theo Dombrowski
*
Books about climate change are prolific—and for all the alarming reasons that most of us accept. Watermelon Snow, by Lynne Quarmby, is essentially a book about climate change, but it is not just the (catchy!) title that signals its unusual approach to the topic. Those looking for a primer that covers the most important issues surrounding global climate change will find them here, but they will also find a lot of unusual perspectives on the crisis.
Framed by an "expedition" to the Arctic, the book is simultaneously rich with scientific explanations, much of them not, at first, obviously related to climate change. Second, it is a kind of autobiography, starting with some colourful family history and progressing through the author's academic life, her career as a scientist, and her experiences as a climate activist. Third, and most electrifyingly, it is a polemical analysis of and attack on the social, political, and economic forces that lie behind impending climate catastrophe. Fourth, and interwoven with the previous three, it is an intensely introspective account of the author's emotional life, not only before the expedition and during it, but also afterwards. Each of these would have been enough for a separate book. It says a lot about the impact of Watermelon Snow that it feels, at times, like many different books compressed into one.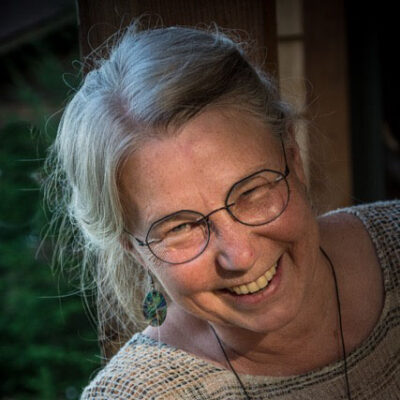 The fact that the title is so disarming and lightweight reflects a quality of the book that underlies all four of these aspects. In many, carefully crafted ways, the whole book is as disarming as the title. Clearly, the author has put a lot of thought integrating the four main threads so that they energize each other and engage the reader. After all, both the climate change ostriches in the reading public and the shell-shocked choir to whom she might seem to be preaching need something to keep them going.
A few decisions in crafting the book are immediately striking. For one thing, Quarmby elects to write in the present tense in recounting the actual expedition. For several decades now, the go-to narrative vehicle for fiction, the present tense when used in non-fiction, lends an immediacy and freshness to what the author sees and records—the Arctic landscape, the fellow passengers on the Antigua, the vicissitudes of her reactions to what she sees.
Further, and although she includes some haunting photographs, equally powerful are her verbal photographs. Consider the description of one part of Spitsbergen: "The sky is brilliant blue, interrupted by straps of mist so thick it seems here at the top of the world is where clouds are born." "Swaths of mountainside glow a beautiful, soft moss green in the late evening sun."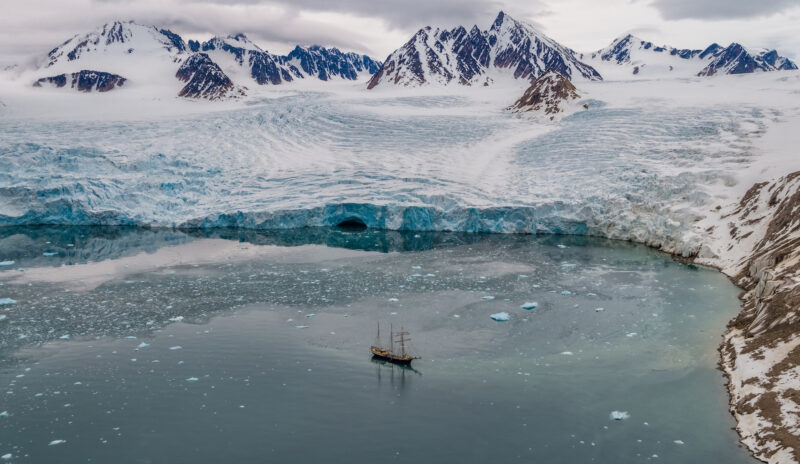 In every aspect of the book, Quarmby aims for variety and selection. Thus, for example, she introduces us to the artists and their projects aboard the vessel only a few at a time, dotting throughout the narrative accounts of their (hugely varied) work, and, importantly, linking them to the issues of changes in the Arctic.
Most far-reaching of her techniques, though, is her decision to write short (sometimes very short) chapters, each clearly labelled, almost all on completely different topics from the ones before. The most common chapter headings, "Expedition" and "Activist", are intermixed with others like "On Political Representation" and "On Energy and Life." And, if this weren't enough to keep a reader engaged, the writing itself is astoundingly compressed: blink for a few sentences and you miss a welter of thoughts, impressions or information.
The shortest sentence in the book is also one of the most telling: "Ay yi yi!" This is the author's voice, the voice that keeps all of the bits and pieces united. It is a voice enormously varied in tone: at times elegaic, other times wry, yet others joyous, it also ping-pongs from outraged anger, to frustrated bafflement, to reflective optimism. Above all, it is a voice that is as immediate and fresh as an "Ay yi yi!"
As the document of an expedition the book will appeal to those who love travel writing. Not an "expedition" in the sense that some expect, the trip, the eighteenth of its kind, is carefully planned and led by experienced guides on the tall ship Antigua. Even so, the events and sights will be fascinating to many an armchair traveller.
Some of these remarkable moments are germane to the Arctic itself: experiences with calving glaciers, with blue whales, and with the haunting song of bearded seals all culminate with a eye-popping incident involving a polar bear. Far from putting her emphasis on documentation, though, Lynn Quarmby infuses her writing of her experiences with deep feeling. Her reaction to hearing, via hydrophone, the "song" of bearded seals is typical: "I exclaim repeatedly in wonder as we are serenaded…. Like some human-made music, the song, though mournful to my ear, fills me with joy."
As a quest not just for animals and landforms, but, for the author, of "watermelon snow," the expedition fails: "I remind myself that my real science is back home, understanding the alpine snow algae microbiome of my local mountains. Finding Arctic snow algae would have been exciting," she writes, but crucially adds, "With or without the algae I'm confident that I'll make something of the precious experience of being here."
Because, however, this trip has been specially organized around 28 artists and 2 scientists, it is the author's reactions to their Arctic-based projects that also strongly colours the journey. The fact that the subtitle of the book includes "art," along with "science" (and a "lone polar bear"), gives ballast to her repeated attempts to engage with such artistic projects as dancing on ice floes, performing aerial manouevres in the rigging of the ship, or composing music in response to the Arctic. Generally open-minded and even appreciative of some of the more eyebrow-raising projects, the author nevertheless has a few qualms: "I'm here [in part] because I'm fascinated by art, even though I don't know much about it. Indeed, I often feel that I don't get it."
It is a reminder of the author's attempts always to penetrate the surfaces that she also asks, "What will the projects contribute? Who will be influenced?" The real significance of the artistic aspect of the expedition, though, at least for the author, is her understanding that each is "in their way, seeking meaning." And most important, at least for her own personal growth, is her moving discovery at the end of the time together: "I am awash with that most esteemed religious experience, love."
Such an intensely personal reaction extends to other parts of the book. After all, the book's subtitle, again, tells us that the book is about "science" as well as art. "Complex life blows my mind." The encounters with animals "are spiritual experiences akin to the most profound experiences of human made art."
In chapters that have nothing directly to do with the expedition, Lynn Quarmby develops a second main thread: science. Indeed, she provides an object lesson in effective science communication. Using analogy, careful explanation, and a lively tone–occasionally even joyous–she writes satisfying and substantial accounts of, for example, how e coli responds to changes in its environment, how, weirdly, bacteria can precipitate sexual reproduction in entirely different organisms, or how large swaths of the earth's oceans, once barren, came, through complex interactions, to support life.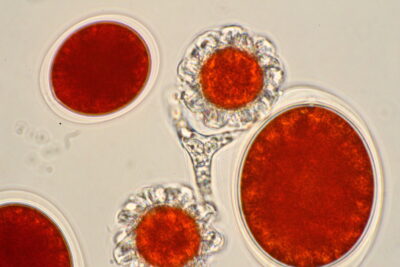 Unsurprisingly, such accounts are more than sidesteps from the main purposes of the book. In fact, it is a characteristic of the author's mind that she is not just impressively knowledgeable and analytical, but also almost overwhelming synthesizing—especially in penetrating interconnectedness of biology and all human behaviour, even, alas, politics. Thus, for example, her chapter on "cooperation" is really about complex systems: "Complex problems arise from systems that are a nasty mess of heterogeneity, stochastic events, dynamic interactions, interdependent variables, nonlinear relationships and feedback loop-de loops." Having made the point (and by now we might expect this), she then pulls the rug from under us. "We place power in the hands of a small homogeneous groups. In majority governments, there is no cooperation." A chapter that begins on cooperation in the natural world has, like almost everything in the book, brought us to the dire world of the forces driving climate change.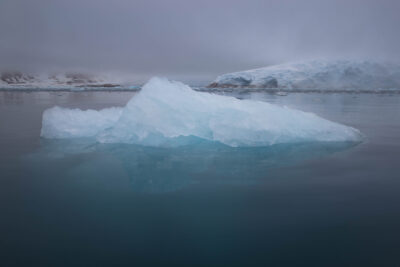 And this, the third main thread, it is difficult not to feel, is the real heart of the writing. The expedition, even the fascinating passages on biology, are the sugar that makes the medicine go down, but of medicine there is plenty. Rather than walking the reader through the best-known facts, though, the author integrates the information into her account of the journey. On one of the evenings towards the end of the trip, she gives a presentation to the rest of the boat members, while the readers simply overhear.
What really makes this book pop, though, is not the facts of climate change, but the way the author targets industry, politics, and especially the "cheater class."
Her political focus is less international (or even less provincial) than national. Stephen Harper, as we might expect, is excoriated not just for his failures to prevent disaster but for making decisions that made matters worse. It is Justin Trudeau and his Liberal Government that seems most to incense Quarmby, primarily because of the acute sense of betrayal she documents, and the astounding irrationality she finds in the government's purchase of Kinder Morgan pipeline:
What we have been told doesn't make sense; independent investigative journalists, economists, and scientists have repeatedly revealed the fallacies and lies. Trudeau, his cabinet, and the corporate lobbyists and executives that have captured them are one and all on the wrong side of history.
When, however, she direly asserts that Trudeau has "hijacked democracy," she cuts to the quick of what probably disturbs her most—and not just his buying the pipeline with pubic money, but also with breaking his promise to fix the "first past the post" electoral system. Industry, she seems to feel, we might expect to be duplicitous and against public interest. That our own government should be both, she finds particularly enraging because of the relationship between the elector and the elected. But it doesn't stop there. Enough for government to betray the people. The failure is also, she bitterly recognizes, "our failure."
It is characteristic of the author's deep humanity, however, and her restless determination to have a positive impact, that, even within the constraints of her book, instead of roiling in bitterness, she tries valiantly (desperately?) to energize her readers: "We can support parliamentarians who fight to retain their independent voices." "And we can remember—remember what it means to have a vibrant democracy and a rich and abundant natural world."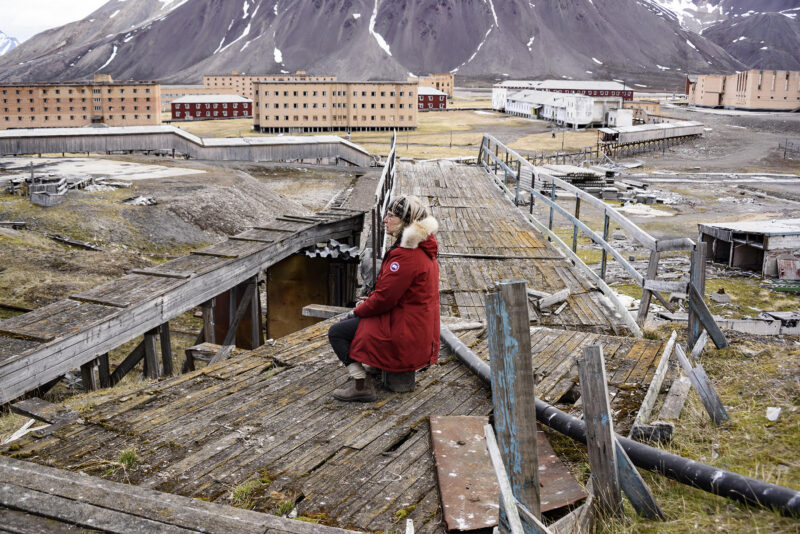 If her voice rings just a little hollow, however, that is a sad reflection not of her lack of sincerity and intelligence, but of her experience. The extent that the book is inspirational—and to many it will be—comes less from Lynne Quarmby's encouraging words than from what she reveals about the whole process of her life. Just as she could have written a whole book about each of the other threads—the expedition itself, the biology in which she is expert, the causes of climate change—so, too, she could have written a powerful autobiography.
Partly, she feels, her trip to the Arctic was fuelled by her family background. From a family scarred by shell shock, depression, and a great grandfather disappearing into the wilderness, for example, she suspects that something like "osmosis" drove her "longing for adventure, wilderness and the North."
While recording an academic and professional life driven by a love of science, she simultaneously recalls her struggles with the neoliberal ideology which insisted on practical results rather than encouraged pure research. Worse, she reveals, "I finally understand the depth of wounds inflicted by gender bias and misogyny." Even so, she admits finding enormous joy in science ("such fun!" she bursts out at one point). Much changed for her career, though, when, at a conference, she was struck by the disparity between the expertise of scientists and their apparent obliviousness of climate change.
And thus begins many of the most gripping parts of the book. A reluctant activist, driven to act by a sense of responsibility, Quarmby writes about first joining demonstrations against a coal train, and, then, with increasing personal risk, attempting to block the Kinder Morgan pipeline on Burnaby Mountain. Though most British Columbians (and Albertans, perhaps) will be familiar with the general story of this protest, Lynne Quarmby's insider experiences, leading ultimately to her arrest and her being part of a 5.6 million dollar law suit, make for heart-pounding reading.
Given the depth of her sense of responsibility to act, it was not surprising that the author responded to a request to become a Green Party candidate in a federal election. Even less surprising is the way she threw herself as passionately into this mission as into everything else. What is surprising, though, is her devastating disillusionment: "The bullying and negative campaigning by the NDP was beyond anything I had experienced."
After all of these harrowing experiences, she writes that she partly recovers from "burn out" on the trip to the Arctic. It is important, however, that she chooses to end the book not with the end of the trip, but with the period shortly after. Back home, she experiences the epiphany: underlying all her difficult times, she realizes, has been her acute "grief" for a doomed world.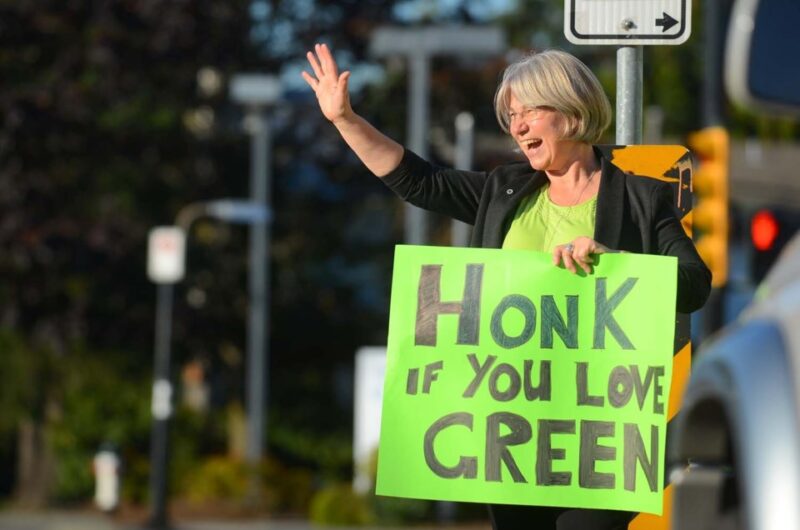 But, again, she struggles upwards: "Lately, I have found some peace—at least intermittently—and I've noticed a richer quality to life. But I can only do this a little at a time. I am terrified by the thought of opening myself to this grief." Drawing some comfort from the emotional resilience of younger activists, she concludes the book by saying, "And so I keep on embracing the responsibility of being human in this singular moment in the history of Earth."
It is misleading, even so, to conclude an account of this remarkable book with the impression that it is essentially the author writing about herself for herself. In important ways the book is exactly the opposite. Looking forward to the possibility of becoming again her "warrior self," Lynne Quarmby achieves exactly that in the very act of writing.
While all of the other aspects of her life—the science, the activism, the politics—arose from a need to affect others, this book, arguably, stands to do at least as much as anything she has done before. Such is the power of the writing and the sense of an inspirational scientist and writer pushing her words into the world, that few readers will be able to make it to the end of Watermelon Snow without having been at least a little transformed.
*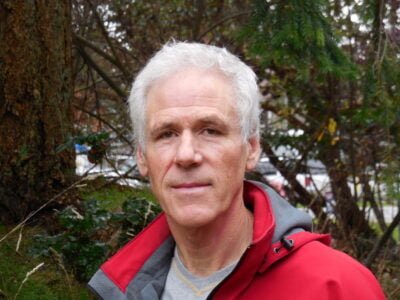 Born on Vancouver Island, Theo Dombrowski grew up in Port Alberni and studied at the University of Victoria and later in Nova Scotia and London, England. With a doctorate in English literature, he returned to teach at Royal Roads, the University of Victoria, and finally at Lester Pearson College at Metchosin. He also studied painting and drawing at the Banff School of Fine Arts and at UVic. Theo has written and illustrated  popular guide, travel, and hiking books including Secret Beaches of the Salish Sea (Heritage House, 2012), Seaside Walks of Vancouver Island (Rocky Mountain Books, 2016), Family Walks and Hikes of Vancouver Island — Volume 1: Victoria to Nanaimo, and Volume 2: Nanaimo North to Strathcona Park (RMB, 2018), reviewed by Chris Fink-Jensen. For Ormsby he has recently reviewed books by Renate Belczyk, Deni Ellis Béchard, Aislinn Hunter, Eva Holland, Anosh Irani, Anne Enright, and Esi Edugyan. Theo is also author of When Baby Boomers Retire, and you can learn more about him here. Theo Dombrowski lives at Nanoose Bay.
*
The Ormsby Review. More Books. More Reviews. More Often.
Publisher and Editor: Richard Mackie
The Ormsby Review is a journal service for in-depth coverage of B.C. books and authors. The Advisory Board consists of Jean Barman, Wade Davis, Robin Fisher, Cole Harris, Hugh Johnston, Patricia Roy, David Stouck, Maria Tippett, and Graeme Wynn. Scholarly Patron: SFU Graduate Liberal Studies. Honorary Patron: Yosef Wosk. Provincial Government Patron since September 2018: Creative BC
"Only connect." – E.M. Forster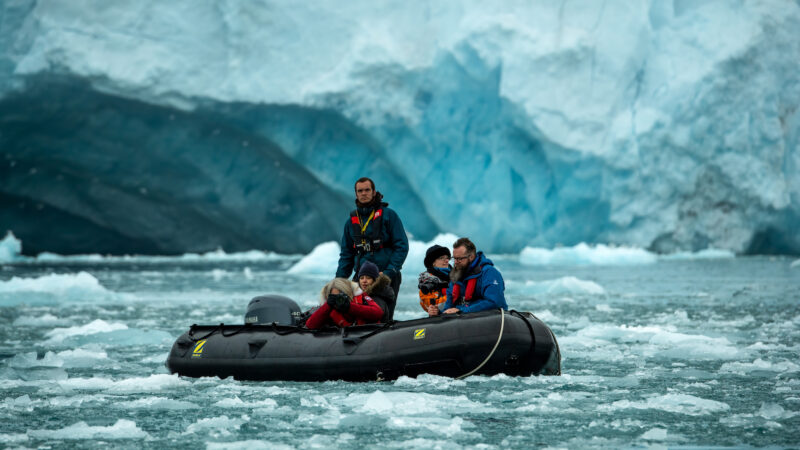 Please follow and like us: