1054 Foiling the fertility clock
Catalogue Baby: A Memoir of (In)fertility
by Myriam Steinberg, illustrations by Christache
Vancouver: Page Two Books, 2021
$23.95 / 9781989603642
Reviewed by Margot Fedoruk
*
Warning: you're going to need to set aside some uninterrupted time to savour Myriam Steinberg's new graphic novel, Catalogue Baby: A Memoir of (In)fertility because it is hard to put down. Steinberg tells the tale of her five years of fertility treatments with both humour and grace while revealing intimate details of her struggles while Trying To Conceive (TTC). The book is illustrated by a talented Vancouver-based artist, Christache (Christopher Ross) who has created expressive characters in monochromatic purple tones, possibly inspired by Steinberg's hair. From page one, readers will be swept away by this funny, sad, and very touching graphic novel with heart.
The story begins in 2014 when Myriam Steinberg is approaching her fortieth birthday and her biological clock becomes an angry shotgun-wielding cowgirl in spurs. Steinberg knows she must broach the subject of children with her new boyfriend. When things don't work out, Steinberg makes the brave decision to try to have a baby on her own. She writes, "I was sad that my family life would be so vastly different from my fantasy of it, but I was also relieved to be proactive about the one life-changing event that had a rapidly approaching expiration date," and she reflects that:
Steinberg's story was written as events were unfolding, creating the sense of joining her for an emotional ride. Experience Steinberg's first fertility treatment called intra-uterine insemination (IUI) and share in the excitement of her first positive pregnancy test. Then it is time to marvel at a grainy image of a baby's bum on her ultrasound.
Catalogue Baby will acquaint readers with many of the medical procedures involved in fertility treatments. And if you are not up on all your jargon there is a glossary of definitions at the back. But not all the book is a biology lesson; there are armies of adorable, anthropomorphized sperm and eggs who have cute things to say while travelling down fallopian tubes, "Ooh La La!" and "I think I'll pick… you! Come to mama."
Besides humorous moments, Catalogue Baby contains elements of beauty and grace; of note is a quiet scene where Steinberg sits next to a friend on a park bench and philosophizes:
Joy? Grief? Fair? Unfair? Truth? Untruth? It's all real and nebulous. Eternal and ephemeral at the same time. It belongs to everyone and no one. Either way, God, or no God, I have no choice but to deal with what's happened. At least with my friends and family I can feel the realness of their love and support. It's so much more meaningful to me.
Steinberg gets much needed support from parents, friends, and family. In one touching scene she brings a recording of her baby's heartbeat to share with her bedridden 97- year-old grandmother. Another important character that hops through the pages is her rabbit Sherbert, the bunny with health issues. The two seem to need each other in equal parts.
This book is not for the prudish. There are some detailed illustrations of vaginas being inseminated (with feet stuffed in those dreadful stirrups!) and another of a baby twisting out from between a woman's legs. There is a funny scene where Steinberg awkwardly inseminates herself with a syringe and hoists her legs up the wall (without any underwear). The author also opens up about her experience with abortion and miscarriage:
For many women, miscarriage is fast, surprising- a burst of pain and a gush of blood… But sometimes… it drags on interminable. The pain starts slowly, a dull ache in your abs and lower back. A silent groan like the slow creaking of old trees in the forest. And then a storm picks up.
The accompanying artwork shows Steinberg's distress as she lies on her back with what looks like an explosion of purple fireworks bursting from her middle; her face is wracked with pain.
Besides the lows there are many great comedic moments. Highlights include a series of panels where Steinberg sits in a judge's chair while three sperm stand on a stage in front of her vying for her attention. A rugged-looking sperm in a cowboy hat called Mr. Random Hook-up, boasts "I'm hot and I'm a guaranteed good time! Why not get your rocks off while making a baby, eh? Oh, and peace on earth and all that jazz!"
Steinberg knew the artist Christache was the right person for the job when she saw his drawings of balloons with expressive faces. Besides working as an illustrator, Christache has a background in writing, acting, and teaching youth. He has an impressive portfolio that includes promotional material for the Vancouver Fringe Festival, and he was also the illustrator for Jesse Thom's children's book, Some Bunny Loves You. Christache currently offers weekly online cartooning classes for kids and teens on his website.
Myriam Steinberg has a background in visual arts and was an events organizer for the In House Festival in Vancouver for eleven years. Myriam joined her sister Naomi Steinberg, author of Goosefeather: Once Upon a Cartographic Adventure, in an online book launch hosted by the Jewish Community Centre of Greater Vancouver. She explained that while she was writing Catalogue Baby in real time, she was still unsure about how to write the ending even when she knew the outcome. She didn't want women who were going through a similar experience to believe, falsely, that a live birth was the only positive conclusion.
Spoiler alert: there is a happy ending.
There is now a growing list of books on the subject, try Sheila Alexander's illustrated book, IF: A Memoir of Infertility (Archway Publishing, 2019) or Brett Russo's memoir, The Underwear in My Shoe: My Journey Through IVF (Houndstooth Press, 2020). Russo touches on similar topics but without illustrations. Another memoir of note (but with a different outcome) is Stacy Bolt's very funny, Breeding in Captivity: One Woman's Unusual Path to Motherhood (Skirt! 2013).
Thankfully, with books like Catalogue Baby, silence about the topic of female infertility is shifting. Myriam Steinberg's memoir is not only a valuable resource for those struggling with infertility but will appeal to anyone interested in an open and honest story about the female human experience. Final warning: better have a box of tissues handy when you reach the photos at the end.
"The world is such a funny place, so much unfairness and pain, yet so full of beauty and love," says Steinberg — this is Catalogue Baby in a nutshell.
*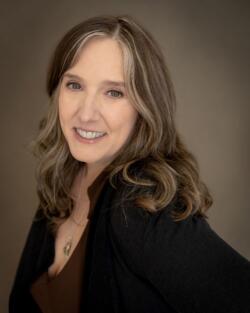 Margot Fedoruk has published excerpts from her memoir Cooking Tips for Desperate Fishwives: An Island Memoir in Portal, 2019, 2020, and 2021. She has a Bachelor of Arts degree from the University of Winnipeg and is currently completing a Creative Writing degree at Vancouver Island University, where Fedoruk was awarded the Barry Broadfoot Award for creative nonfiction and journalism and the Meadowlarks Award for fiction. She has studied with Susan Juby, Kathy Page, Sonnet L'Abbe, Frank Moher, Robert Hilles, Robert Wiersema, and editor Joy Gugeler.  Margot lives and works on Gabriola Island. Visit her website. Editor's note: Margot Fedoruk has interviewed Shelagh Rogers and reviewed books by Mandy Moore & Leanne Prain, sb. smith, Kim Clark, and Sari Cooper for The Ormsby Review.
*
The Ormsby Review. More Books. More Reviews. More Often.
Publisher and Editor: Richard Mackie
The Ormsby Review is a journal service for in-depth coverage of B.C. books and authors. The Advisory Board consists of Jean Barman, Wade Davis, Robin Fisher, Cole Harris, Hugh Johnston, Patricia Roy, David Stouck, Maria Tippett, and Graeme Wynn. Scholarly Patron: SFU Graduate Liberal Studies. Honorary Patron: Yosef Wosk. Provincial Government Patron since September 2018: Creative BC
"Only connect." – E.M. Forster
Please follow and like us: