1042 A culture of coastal pottery
My Life as a Potter: Stories and Techniques
by Mary Fox
Madeira Park: Harbour Publishing, 2020
$44.95 / 97815501179385
Reviewed by Maria Tippett
*
Part I of Mary Fox's lavishly illustrated My Life as a Potter: Stories and Techniques charts the artist's career beginning with the hand-built figurative sculptures she fashioned out of found clay as a young teenager, to her first experiments of making wheel-thrown forms in her middle teens, to setting up her first walk-in pottery studio in 1981, from where she launched a career whose experimentations with new forms, new techniques, and new mediums knew no bounds. Woven into the story of her professional career as a potter is Fox's life as a gay woman shared with her long-time partner Heather Vaughan. Their struggle in the late 1980s with autoimmune disease, which led to Vaughan's early death in 2007 and took five years away from Fox's own work, offers a heart-wrenching account of this devastating disease.
Part II of this practical and hands-on book considers the technical aspects of making pottery such as throwing, trimming, and slip casting, among many other things. (Fox even gives the recipes she has used on her glazed tableware over the last twenty years.) There is also advice on how to promote work: the beginner should start selling at craft fairs — the smaller the better — then progress to art galleries and, if they can also sell from their studio, that is even better.
But this book is much more than a memoir and a "how to make and promote your work" manual. Unwittingly, Mary Fox has written a cultural history of pottery making in British Columbia. For example, she might never have become a professional potter without the initial encouragement of Victoria's Central Junior High School teachers Waine Ryzak and Mary Tremaine and the fact that the school's art room was equipped with a potter's wheel. Nor, at the age of sixteen, would Fox have taught pottery herself if there had not been a vogue for craft-making in the mid 1970s. Nor would she have had a means of marketing her early work had the Art Gallery of Great Victoria not sold local pottery in their gift shop.
And that is not all that helped shape the formative years of this young potter. By the 1970s Victoria had several professional potters like Robin Hopper. Fox's first visit to Hopper's studio in Metchosin convinced her that, "You need to be able to live, work and sell all from one spot" (p. 8). Victoria not only had professional potters, but commercial venues like Joseph and Shushan Yeghoyan's Ego Interiors that introduced Fox to local and international pottery and to uniquely designed furniture.
When Fox settled in Vancouver in 1986 there were outlets devoted entirely to craft-making, namely Granville Island's Circle Craft, Gallery of BC Ceramics, and Crafthouse. When Fox wanted the solitude in which to explore new ideas in the late 1980s, she secured a six-week fellowship at the Banff Centre. It was at Banff that she met the English potter Victor Margie who told her to "Follow your heart and see where it guides you" (p. 23). And also at Banff, Fox got "the ancient look I was aiming for," by experimenting with saggar-fired vessels (p. 23).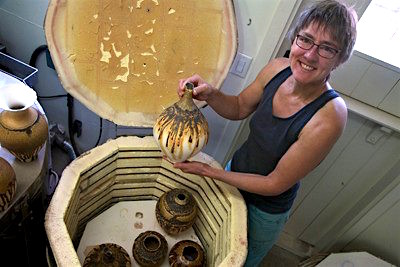 When Fox returned to Vancouver from Banff, she exhibited the results of her residency at Granville Island's Crafthouse Gallery and at the Art Gallery of Greater Victoria. Thus, as she recalled, "The first place that had supported me was now going to show me!" (p. 27).
As My Life as a Potter admirably demonstrates, Mary Fox could never have become the internationally acclaimed potter that she is today without her innate talent, inquisitiveness, and determination — nor without the cultural infrastructure that was available to her in 1970s and 1980s.
*
Maria Tippett spent the formative years of her academic career as sessional lecturer at Simon Fraser University, the University of British Columbia, and the Emily Carr College of Art and Design. Following her year as Robarts professor of Canadian studies at York University (1986–7), she lectured in South America, Europe, and Asia and curated exhibitions. In 1991, she returned to academe, becoming a member of the Faculty of History at Cambridge University and a senior research fellow and tutor at Churchill College, also at Cambridge. Since her formal retirement in 2004, she has written four books, including Sculpture in Canada: A History (Douglas & McIntyre, 2017), reviewed here by Catherine Nutting. Among many awards, in 1980 she won the Sir John A. Macdonald Prize for her path-breaking Emily Carr: A Biography (Oxford University Press, 1979), which also won the Governor General's Award for non-fiction. Editor's note: Maria Tippett has also reviewed books by Ruth Abernethy and Roger Boulet for The Ormsby Review.
*
The Ormsby Review. More Books. More Reviews. More Often.
Publisher and Editor: Richard Mackie
 The Ormsby Review is a journal service for in-depth coverage of B.C. books and authors. The Advisory Board consists of Jean Barman, Robin Fisher, Cole Harris, Wade Davis, Hugh Johnston, Patricia Roy, David Stouck, Maria Tippett, and Graeme Wynn. Scholarly Patron: SFU Graduate Liberal Studies. Honorary Patron: Yosef Wosk. Provincial Government Patron since September 2018: Creative BC
"Only connect." – E.M. Forster