1005 Ready, steady, halibut
Lure: Sustainable Seafood Recipes from the West Coast
by Ned Bell with Valerie Howes
Vancouver: Figure 1 Publishing, 2017
$29.99 / 9781773270876
Reviewed by Gillian Crowther
*
What is the bait for cooks? Ingredients? Recipes? What makes us cast our eyes over a cookbook? The cover? The title? The author? The search for inspiration? The desire to cook and eat healthily and sustainably? The need to ground one's cooking seasonally and locally? The hope of learning some neat tips and tricks to improve one's skills? All of these are this cookbook's catch, which will guide the novice or the experienced cook to plate delicious seafood suited to all meals, and seasons, using the bounty of the West Coast.
Picking-up a cookbook, and flicking through the pages, is often the first step to make a purchase. Lure: Sustainable Seafood Recipes from the West Coast will not disappoint. Its wipeable cover, good heft, and easily opened pages, with clear text, interspersed with beautiful pictures, reels you in to check out some recipes. First sit down and read the introduction that tells of West Coast-born and raised Ned Bell's culinary career as a chef, working with a who's who of local restaurateurs. This readable account situates Bell's orientation to local, sustainable seafood, close association with Ocean Wise, and sets the scene for his current venue at the Naramata Inn, in the Okanagan.
Bell's story, insights, ethical approach, and simple joy for eating local seafood, to be served to family and friends, entices the reader to try the recipes and learn about the West Coast fishery. Importantly, he stresses this cookbook is about cooking the fish that will support a healthy ocean and local fishers. What better way to get acquainted with a cookbook than to give it kitchen test run; let it guide culinary choices, honed to the season, the place, and pitched as approachable, not "overly cheffy."
The hands-on content of Lure opens with a "Back to Basics" section, visually cued by practical grey pages, providing a succinct, informative guide to sourcing sustainable seafood, seasonality, and how to cook fish. This is complemented by "Species Profiles" telling the story of fishery management, and providing culinary options tailored to the characteristics of each local sustainable seafood, which anchor cooks' choices in West Coast waters and familiarize the reader with many of the lesser-known species, such as skate, sea greens, rockfish, and geoduck.
Together these two sources of inspiration and practical advice offer a wonderfully creative "naked fish" approach to building our own "bespoke dish." Here's a ready-steady-cook perspective that works a treat and offers a welcome flotation device for anyone unsure about how to cook fish. So, with this security in mind — I chose my sustainable fish, the catch of the day: wild local halibut from Cape Scott — and confidently took it home to follow the guide's method, select a sauce, and find a carb and a suitable vegetable.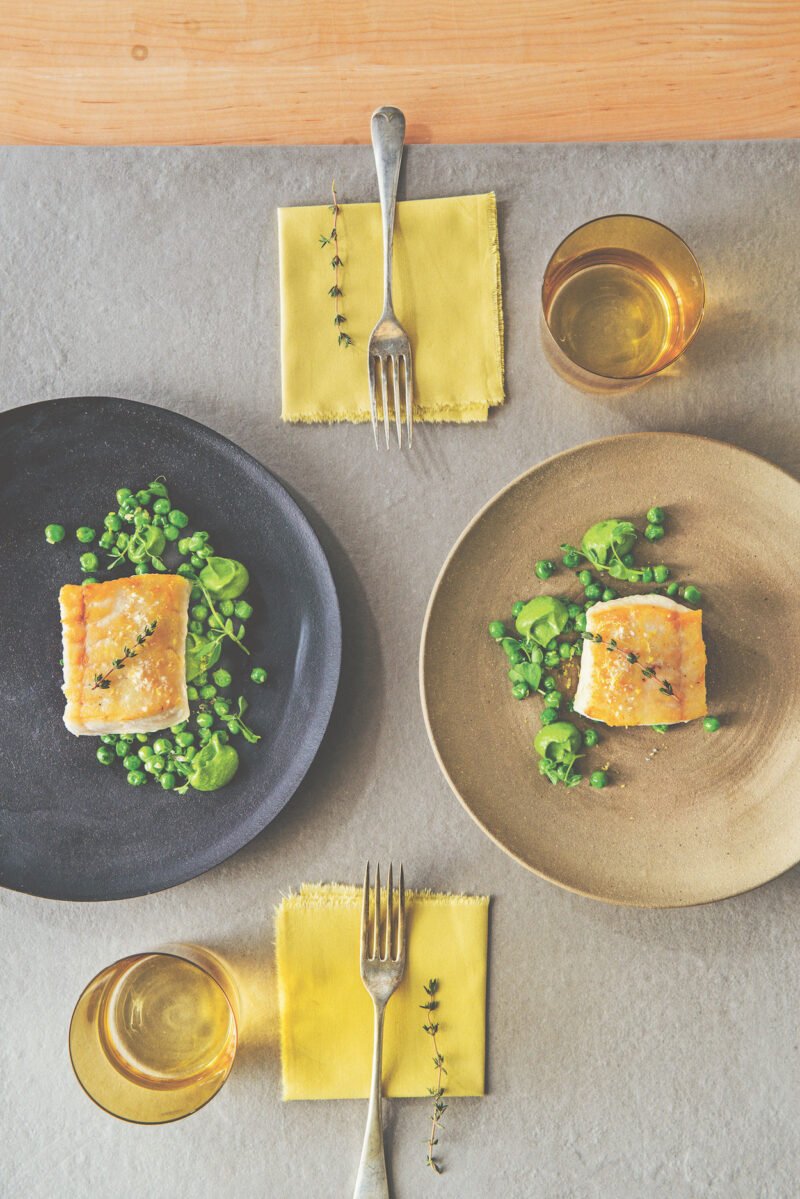 For my halibut I learn about the carefully managed fishery and the rigours and dangers of catching this huge flatfish; learn that its lean flesh soaks up marinades, responds best to any moist heat cooking, and pairs well with greens, such as spring peas. I chose my cooking method — pan-seared — influenced by my available equipment, including a skillet and big spatula (which is indeed a necessity), and following the step-by-step instructions, I selected a sauce from a list, with the recipes provided and determined by my available ingredients. The accompaniments to my "bespoke dish" — the carbs — were drawn from accessible, store cupboard suggestions, and finally a vegetable choice, sourced from the 'fridge. With a plan determined and recipes raided from the standalone or off-the-peg dishes section in the centre of the book, cooking commenced to curb the appetite whetted by Lure's alluring photographs by Kevin Clark.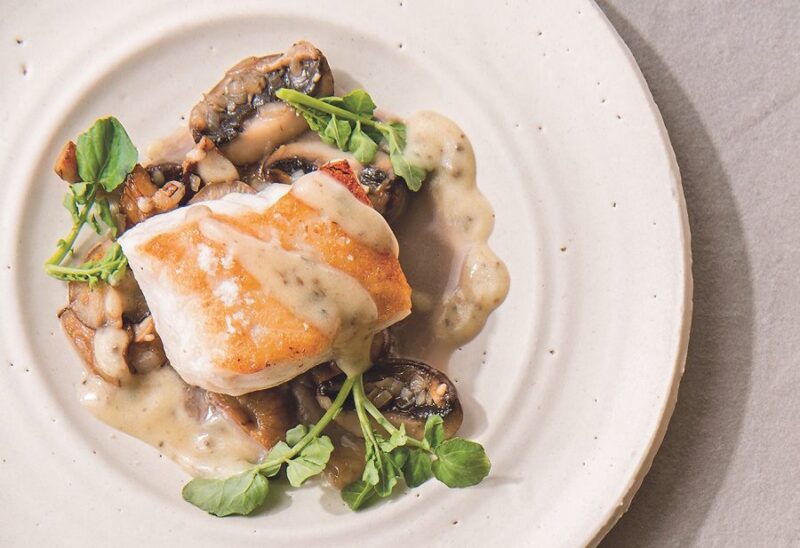 The recipes are organized with a list of ingredients for each component of the dish alongside the methods. The methods are separated into steps demarcated by preparation time, temperatures, and by outcomes, such as the pan-seared halibut and lentils. The details are practical, including reminders to dry the fish and plating suggestions. These were easy to follow, but as with all recipes, it is a good idea to read them over entirely before beginning to cook, so that you have everything to hand, and so that each component is simultaneously ready to serve.
The recipe flipping of this mix-and-match cooking happened without too much frustration — the book does lie flat quite well, and the only mishaps were a few smudgy fingerprints onto the pristine pages. But isn't this a sign of a used cookbook that marks it as kitchen-worthy, and telling of which dishes have become family favourites? My pan-seared halibut with lemon and thyme was served with black pepper and honey-roasted plums, lentils, and sautéed beet greens, with a lemon vinaigrette. It was delicious, fairly simple to make, and not preciously cheffy, but aesthetically pleasing to behold and taste.
As a second culinary engagement I decided to work through single dish, standalone recipes in their entirety, hoping to add to my culinary repertoire. Organized by seafood types — white fish, fatty fish, shellfish, etcetera — these recipes occupy the central section of the book. I suppose I could have left it at just one recipe — but I netted two from the tempting choices. The first, for the beginning of autumn, Grilled salmon with cheesy and spicy corn, maple-grilled peaches, and charred scallions, and the second as cooler weather arrived, Lingcod with caramelized cabbage, mustard cream, and pickle vinaigrette.
The grilled salmon dish, with its colours of orange, pearl-yellow of the corn, deep golden peaches, and yellow green of the scallions with steaming and wafting scents, matched its billing as "a last hurrah for the end of the summer." The Lingcod's silky texture and neutral, clean flavour carried the piquancy of the sour cream and mustard sauce, the sweetness of the cabbage, offset by a wonderful tang of a vinaigrette made from the brine of jarred dill or sweet pickle. This tasted like autumnal comfort food. Both of these recipes have been added to my repertoire of dishes, determined by their ease of cooking, available, reasonably priced ingredients, and consistent dish appeal. This catch makes me look like an accomplished cook while riding the apron strings of Chef Bell.
The mix-and-match inspiration, and the standalone dishes of Lure: Sustainable Seafood Recipes from the West Coast, make it a hook, line, and sinker addition to any fish-loving cook's library on the West Coast.
*
Gillian Crowther teaches social anthropology at Capilano University, North Vancouver. She is the author of Eating Culture: An Anthropological Guide to Food (University of Toronto Press, 2013). Editor's note: Gillian Crowther has reviewed books by Willoughby Arevalo and gid7ahl-gudsllaay lalaxaaygans (Terri-Lynn Williams-Davidson), for The Ormsby Review.
*
The Ormsby Review. More Books. More Reviews. More Often.
Publisher and Editor: Richard Mackie
The Ormsby Review is a journal service for serious coverage of B.C. books and authors, hosted by Simon Fraser University. The Advisory Board consists of Jean Barman, Robin Fisher, Cole Harris, Wade Davis, Hugh Johnston, Patricia Roy, David Stouck, and Graeme Wynn. Scholarly Patron: SFU Graduate Liberal Studies. Honorary Patron: Yosef Wosk. Provincial Government Patron since September 2018: Creative BC
"Only connect." – E.M. Forster