#991 Balkans, bicycles, baksheesh
Our Trip Around the World
by Renate Belczyk
Victoria: Rocky Mountain Books, 2020
$22.00 / 9781771603775
Reviewed by Theo Dombrowski
*
Travel books have been with us for centuries. Homer's saga of Odysseus's ten years' foray around the Aegean amongst monsters and temptresses set a high bar for adventure. It was in the age of exploration in Europe that adventurers began to bring to a credulous audience descriptions of strange beasts and people — ship-eating giant squids and the human-eating cannibals. Travel writing thrived on harrowing accounts involving ships at sea or caravans across deserts. Quite apart from the desire to document (and cause reader's hearts to beat and jaws to drop), some writers like Jonathan Swift in his iconic Gulliver's Travels fabricated searing satires.
Sticking to facts (more or less), prominent writers have used the framework of the journey for different kinds of extraordinary writing. Of modern authors, Patrick Leigh Fermor probably outdid the rest with lavishly baroque descriptions and dizzying cultural knowledge; W.G. Sebald managed to make a simple trip into a thin tissue around which biography, history, and philosophy billowed and swirled.
In the company of such travel writers, not to mention other such giants as Eric Newby, Paul Theroux, Bruce Chatwin, even the hugely popular contemporary Bill Bryson, Renate Belczyk, author of Our Trip Around The World, resident of Castlegar, B.C., seems a diminutive figure. Not a literary giant by any stretch, Renate Belczyk nevertheless achieves something just a little magical. Writing her travelogue in her eighties (she was born in 1932), she infuses her tale with something of the tone of a grandmother writing for her grandchildren — which, in fact, is part of her intention — but to do much else besides.
Even without looking into the book, a prospective reader might well perk up upon discovering the astounding list of countries that, in her life, the author has travelled not to, but through. Such a reader might also become alert on learning that she, along with her travelling companion for the three years documented in this book, were a media phenomenon in many of the countries through which they adventured.
And the key word here is "adventured." At the age of 23, Renate Hick, along with Sigrid Hirte, set off on a trip that took them roughly "around the world." Starting in Mexico, then travelling to Canada, the pair subsequently journeyed through many other countries, most notably Japan, Burma, India, Nepal, Pakistan, Egypt, and Turkey, before heading through the Balkans to arrive at their home in Germany. For two young women to go it alone in the fifties (and on the proverbial shoestring budget) is in itself impressive, of course, but far more impressive is the way the two women, with unfussed aplomb, sought out one adventure after another.
Writing about travel, like the travel itself, requires making choices. Even writers capable of demonstrating enormous intellectual and cultural panache must select what a reader might most want to experience — and "experience" is a key word, for, unlike most kinds of writing, travel writing does offer the reader genuinely vicarious experience. How much, really, might readers want details of practical nitty gritty? how much humorous misadventure, how many colourful character portraits, how many harrowing challenges, or descriptions of landscapes, cities, cultural practices or edifices?
Finally, how much of the author's internal reflection might readers want? — after all, some wanderers spend much of their writing time mulling not just over their emotions, decisions, and judgements in response to what they experience, but also, life, the universe, and everything.
On this last point, internal reflection, Renate Belczyk seems to have come to a no-nonsense decision. Of everything else on this menu she serves up plenty — but of reflections, little to nothing. This is not to say she does not tell us how she (and Sigrid) responded, at times, with dislike or exhaustion, or with joy and admiration, for example, but these reactions are few and brief.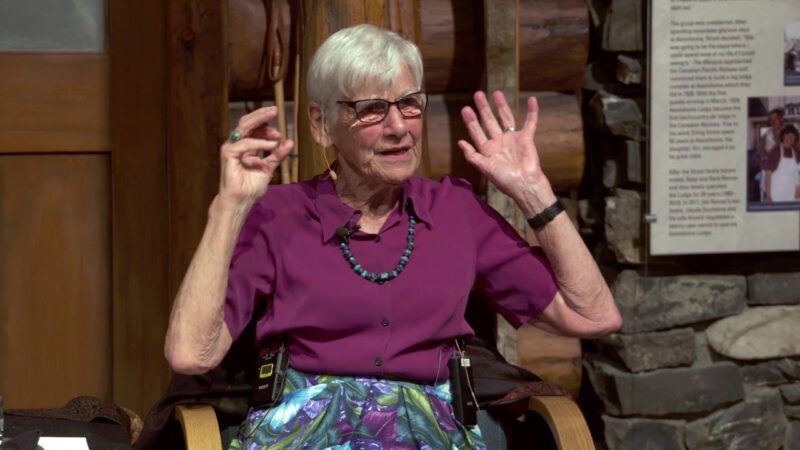 Astoundingly, too, the two women don't seem to have had a minute's tension between them or even different ideas of what to do next. Without so much as a moment's discussion (apparently), the author announces, "Then Sigrid and I left for Alaska." Indeed. At another point, in Vancouver, the author writes,
Some Japanese officers invited us to come and see their ship. On board we were served tea and laughed a lot as we tried to make conversation. As we were leaving, one of the officers asked if we had been to Japan before. When we said, "No," he asked, "Why not?" We immediately went to the Japanese Consulate."
Equally telling in this wonderfully strange little incident are three other facts: first, the women are able to engage with strangers with amazing facility, second, they are shown generosity with equally amazing spontaneity, and, third, they spend an extraordinary amount of their time with absolute strangers laughing (and, often, dancing and singing.)
Tellingly, too, is difficult to see how the same itinerary followed by any two other travellers would have yielded anything like the same results — unless they had the same unlikely combination of determined initiative (or, more accurately, good old-fashioned "gumption"), unbothered fearlessness, and good-humoured extroversion. In fact, some readers are likely to find that the most engaging aspect of the book is not what the two women experienced, but, rather, the way they experienced it.
Without their extroversion, most of their encounters with people would simply never have happened — and the book would have been hugely impoverished. While cycling around Japan, for example, the two women enter a small village and, apparently without a moment's hesitation (or much Japanese at their disposal), "stopped to take part in a Sports Day. The children displayed their athletic prowess, while mothers in pretty kimonos danced and some old men organized relay races. We had a wonderful time being part of this special school day."
Unsurprisingly, the author concludes her very brief account of this remarkable contact: "We heard, as we often had before, 'We will never forget you.'"
It is all the more disarming — but illuminating, too — to read about another, similar, encounter: "like many times before, we had to become actors in order to keep the conversation flowing. At times our Japanese hosts rolled on the floor, they laughed so hard."
While for the most part, this confidence leads to heartwarming encounters, at other times it is a brutally necessary survival skill. More than once they find themselves vulnerable in the little tent in which they generally spend their nights:
"Someone's hand is inside the tent," I said. "What shall we do?" Sigrid said, "Bite it." So that's what I did. Without even thinking about it, I grabbed the hand and bit into it as hard as I could. There was an enormous scream in the darkness. Whoever was there disappeared, and we went back to sleep peacefully until the next morning."
Some readers will be hard pressed to decide whether to be more impressed by the composed dispatching of the intruder or the even more composed ability to sleep "peacefully."
The incident illustrates something else striking about the ability of the two women to carve out adventure — namely their sheer physical resourcefulness. In the first two countries they visit, Mexico and Canada, this quality comes out primarily in terms of their unblinking eagerness to climb an endless succession of challenging volcanoes and mountains, first led by (always friendly) locals, then going it alone. As for the dangers from falling down cliff faces or freezing in storms, these are reported levelly, but only once seem to induce the kind of fear, that, vicariously, would have many the reader in a state of dry-mouthed anxiety. Even when, on a canoe trip in remote northern Ontario, they (and a friend) are completely lost and without food, their reaction is matter of fact. "By now we had completely run out of food." What do they do? "Tired, hungry, dirty, and mosquito-bitten." Sigrid catches fish and Renate collects huckleberries. Problem solved.
After arriving in Japan from North America, the women find that the nature of the physical challenges changes because they travel by bicycle — even though the roads are as often as not mud or dust, and as often as not climb over mountain passes. Ultimately switching to motor scooters, they find conditions not much easier:
Once in a while one of our scooters slid into a ditch, or one of us was thrown off when the wheels bumped against a big rock hidden in the quagmire. We were covered in mud from head to toe when we finally came to a better road. In the first village we reached, people, upon seeing us, laughed so hard they almost rolled in the mud themselves. Then they got hoses and Sigrid and I — as well as our scooters — got hosed down.
There is a lot of laughter in this book. A lot.
It is in Nepal and then India, still on their scooters, they face probably the greatest physical "adventure." First, there is the scooters themselves: "Every day something went wrong: the brake cable broke, then the ignition, screws loosened and the carburetor fell into the dust. It was just one thing after another." Second, it is the sheer challenge of getting through the countryside, the overwhelming heat and dust, and the roads themselves — again often compelling much laughter:
The road suddenly ended and we found ourselves on a trail covered with about 15 centimetres of pure dust — what a pleasure in the heat! After struggling for several hours we reached a river and wondered how we would cross it. However … some men came along with a raft and, with much laughter and noise, took us across.
This is not to say, however, that the version of the world around which the two women travel is one of physical and social adventure alone. The descriptions of cultural sites and events are sharp, the impact amplified by a real sense of appreciation and wonder.
In Halebidu the stone temple was decorated with horizontal bands of sculptures of elephants, tigers, horses, lotus flowers and people. The stonework was extremely intricate and amazingly beautiful. There were also many sculptures of the monkey god, the elephant god and many others. As we walked around in awe, a group of young girls arrived all dressed in colourful saris. They made such a graceful and happy group among the temple treasures that we couldn't keep our eyes off them.
Fortunately for the reader, the women have intense cultural curiosity and sharp powers of observation. Less fortunately, as the author herself frequently laments, they are long on experiences, but short on background knowledge about what they see. With such descriptions, the 44 photos in the book, mostly of people, enhance the narrative but don't underlie it.
Given the distance of the trip and the length of time it took, the women suffer amazingly few negative experiences. They both have short bouts of illness and they have some uncomfortable times around some apparently threatening strangers. Likewise they simply don't like some of what they see, notably the poverty in regions of India, and almost everything about Rangoon and parts of Egypt:
We crossed the Nile and settled down in the dirty, flea-ridden pension of Sheikh Ali. There were fleas and bedbugs everywhere, but the worst were the flies. The eyes and noses of young children and old people were often completely covered with flies. It was quite depressing. And then a person couldn't make a move without being asked for baksheesh. "Baksheesh" seemed to be every second word, and we were helpless victims.
By far the majority of the trip, however — at least seen through the eyes of the author, and that, of course, in retrospect — was positive, uplifting, heartwarming, and, simply, fun. And underlying the positive experiences most often is the astounding generosity and friendliness of the people the two women meet (extending, in fact, to some proposals of marriage!) "We were showered with invitations and enjoyed every one of them."
It says a lot about the way these two remarkable women encountered "the world" that their most repeated lament was the difficulty of saying good-bye. Probably the most telling sentiment in the book is their joint realization: "We both decided that it was the people who had made this trip so wonderful." And, for many readers, one of those people is probably the author herself.
*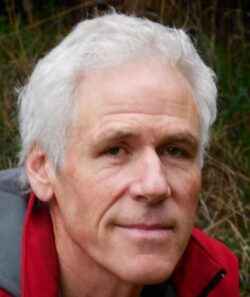 Born on Vancouver Island, Theo Dombrowski grew up in Port Alberni and studied at the University of Victoria and later in Nova Scotia and London, England. With a doctorate in English literature, he returned to teach at Royal Roads, the University of Victoria, and finally at Lester Pearson College at Metchosin. He also studied painting and drawing at the Banff School of Fine Arts and at UVic. Theo is the author and illustrator of popular guide, travel, and hiking books including Secret Beaches of the Salish Sea (Heritage House, 2012), Seaside Walks of Vancouver Island (Rocky Mountain Books, 2016), Family Walks and Hikes of Vancouver Island — Volume 1: Victoria to Nanaimo, and Volume 2: Nanaimo North to Strathcona Park (RMB, 2018), reviewed by Chris Fink-Jensen. His most recent reviews for Ormsby are of books by Deni Ellis Béchard, Aislinn Hunter, Eva Holland, Anosh Irani, Anne Enright, and Esi Edugyan. Theo is also author of When Baby Boomers Retire, and you can learn more about him here. Theo Dombrowski lives at Nanoose Bay.
*
The Ormsby Review. More Books. More Reviews. More Often.
Publisher and Editor: Richard Mackie
The Ormsby Review is a journal service for in-depth coverage of B.C. books and authors. The Advisory Board consists of Jean Barman, Robin Fisher, Cole Harris, Wade Davis, Hugh Johnston, Patricia Roy, David Stouck, and Graeme Wynn. Scholarly Patron: SFU Graduate Liberal Studies. Honorary Patron: Yosef Wosk. Provincial Government Patron since September 2018: Creative BC
"Only connect." – E.M. Forster