#988 Making lives at Oona River
Once Upon an Island: Hope and Hardship, Building a Log House and a Life on the North Coast of British Columbia
by Suellen Guenther
Victoria: Vargas Publishing, 2020
$29.95 / 9781771368421
Reviewed by Kate Braid
*
Once Upon An Island is the story of a young woman, Suellen Guenther, who in 1970 after a stint with the Peace Corps in Barbados, travels north from California with Ed, her husband, to live "an ecologically sound lifestyle in harmony with the earth" – a dream shared with many young people at the time.
But I admit to feeling flummoxed when I sat down to review this book. Perhaps I should start with my bias: given my background in construction, and having recently reviewed books by women builders, I blithely assumed when I read the title and knew the story was set on the north coast of British Columbia, that the author was likewise a "non-traditional" woman. So as she and her husband worked their way north, I kept waiting for her to pick up her tools, fix things, build things. But it didn't happen. In fact, the roles of the two are very traditional: Ed primarily builds the log house in question, clears the garden and fixes things, occasionally logs and fishes, and Suellen does everything else: cooks, cleans, does laundry by hand, eventually looks after their two boys and home schools the local children. Did I say that all this, for the first 5 years, is done in an 12' x 14' tent? So this may not be the story of a non-traditional woman, but it certainly is of a highly organized and determined one.
The book seems to be compiled from journal entries which may be why there's often too much detail – it could have used a good editor. But after I got past yet another birthday or Hallowe'en celebration – clearly the high points of the year – and also past my grumpiness about how traditional the gender roles were, I got caught up in the daily lives of two heat-loving people who chose to live in the rain forest three hours by boat north of the nearest city, building a log cabin without benefit of chain saw or crew, in a climate where it never gets much hotter than 14°C, and rains an average of 1475 mm (almost six feet) per year. As Guenther herself asks after their first summer, "Those wet grey days were summer?!" For a reader who's long lived on the Wet Coast, it was funny.
It was also in the spirit of the seventies no doubt, that the couple apparently did no research into their dream, so when they arrived in Canada as landed immigrants on April 16, 1970, they were surprised to learn there was no more homesteading. Also, that camping in a two-person tent even in southern BC in April, has its hazards. After a bout of food poisoning, Suellen notes, "I learned a lesson…. It may have felt like we were living in a fridge, but you still shouldn't eat wieners that haven't actually been kept in a fridge."
The pair travelled around Vancouver Island, then up the coast on the Mainland looking for a commune. What they found was, first a tiny cabin, then a tiny boat, to live on. "We had no plan, no sense of direction and no purpose. We were in a different country, where many things were unfamiliar. We also had no support community, no jobs, no home to fix up, and no garden. I don't do well in that kind of situation," she ends succinctly.
They end up in Oona River on Porcher Island, three hours by boat south of Prince Rupert, in a small community founded in the early 1900s by Swedes and Norwegians. The current owner, one of the original settlers, is willing to sell them a piece of his wooded property, an offer they accept, though it will take years of red-tape and debt before they finally gain official title. They pick out a home site facing the ocean, around the corner from Oona River, on a bay they rename Jade Cove because of the colour of the water on sunny days. They will be here for 15 years.
It's an intense learning experience, to say the least. For example, Ed has never felled a tree in his life, but the plan is to fall all the trees they need for their log house, on site. After the first tree barely misses Ed, a visiting friend (a former logger) shows him how to fall trees safely. It doesn't help that as Suellen reports, her husband is "a small, intellectual man clearing land and building a log house in a northern rain forest, by himself, using only hand tools." And the near-miss with the falling tree initiates another of what will be a long history of Ed's depressions and inability to work at all. But Suellen is what we used to call a "good wife," "essentially tagging along," she tells us, "to help Ed realize his dream," so, "I had to keep going, cooking, baking, washing diapers, and all the other necessary daily tasks." Because by now they have a six-month-old baby.
The labour involved in living in this fashion is breathtaking. Suellen teaches herself to knit and to bake bread in a stovepipe oven attached to the wood stove. Since their goal is to "live off the land," and their lack of cash emphasizes the need for same, they learn to dig clams, pick mussels off rocks and cockles off the beach, and try wild greens. Stinging nettles, steamed, are a big hit but skunk cabbage leaves are not. Canning the salmon that will be their main source of winter protein requires four hours of boiling on the Coleman camp stove. Then there are jams and jellies and vegetables to preserve once the garden has been planted and harvested.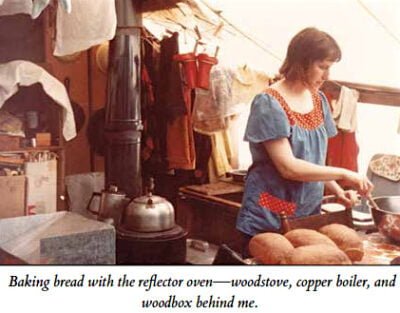 The plan is that it will take a year to build the house, but when it becomes clear that's not going to happen, Ed builds a temporary shelter, a wooden platform and on it an 12' by 14' canvas tent heated by a small wood stove. There is no well so water is collected from various sources, in buckets, pails and barrels.
Thankfully, shortly after the near-accident with the falling tree, eleven male neighbours come to "work in teams like horses," pulling huge logs out of the woods for the house frame. But they don't stay long; there's not only no beer available, but Suellen has prepared pea soup for their lunch which, according to local superstition, causes south-east storms. In this way do the pair begin to learn local customs. Luckily, six of the men return a week later (this time there's beer) to finish the job.
Eventually, Ed concedes to buying a chain saw, and along the way learns building techniques whereby a single person can manage seemingly impossible weights of logs. Three years later they have a second child, Ryan, who increasingly is able to help his dad. Ed also gets serious help from family and friends who occasionally visit.
Clearly, there are moments of despair. At the start of another winter, Suellen writes in her journal, "How we'll survive another long, cold, wet, dark, crowded winter in the tent I simply do not know."
I was lured into this story by the unending challenges the two face, especially – since the tale is told from Suellen's point of view – by her ability to cope with a huge workload, especially when her husband is stricken yet again by depression and unable to work.
Clearly, both parents are creative, and ingenious at making cash. Aside from short-term paying jobs like teaching for Suellen and logging and fishing for Ed, Ed invents an environmental game and – when the agent loses interest – sells its trademarked name to Parker Brothers. Suellen sells home-made touch-and-feel children's books at the local Christmas Fair and they occasionally babysit for a month or two for friends in Prince Rupert – which also gives a break from the struggles of subsistence.
Every six weeks, trips to town for supplies require boats, at first courtesy of a neighbour until they can afford their own. Later, Ed buys a boat and converts it for fishing, which he works at for several seasons – not very successfully.
Obviously, there are challenges in raising children so far from the nearest hospital. Illnesses and accidents have to be dealt with at home including chicken pox, a burst eardrum and a boiling water burn. Ryan, the younger, in particular seems "adventure prone," including, when he was two years old, climbing up a 12-foot ladder and "jumping to daddy" when daddy wasn't ready and only managed to grab him by one ankle as the child flew past.
Some of the suspense in the book comes from simply wondering how long they can survive. And indeed, after the ladder incident they figure it's "clearly" time to move. But another relative arrives to give Ed new energy (and labour) to work on building the house, and they continue.
After five years in the tent they move into the log house, still unfinished but at least dry and far more spacious for four people, including two growing boys. Slowly they acquire "comforts," including a generator so the house can be wired for electricity, and an electric spin-dryer washing machine so Suellen doesn't have to do the laundry by hand. (Though there's an on-going problem with collecting sufficient water.) Interestingly, she reports — briefly — missing the "meditative quality" of rhythmically rubbing clothes on a washboard.
There are glimpses of some of the sweeter moments of this life. For example, when they can afford a propane stove with an oven, she describes Ryan, then 4 ½, pulling up a chair to watch the first roast and potatoes baking behind the glass door, "as if watching TV." It's fun to hear about modifying old traditions, like leaving gumboots out for Santa instead of stockings, and the amazing family creativity put into themed birthday cakes and birthday parties, and Ed's invented games and elaborate designs for their model train layout. There's also some wonderful creativity from the boys, especially as they get older and begin inventing their own Hallowe'en costumes and birthday themes (and even, if I read this correctly, baking their own themed cakes. The gender roles slip, at least here.) The boys draw and present "movies" for their parents, writing the story, using background music tapes, a curtain with a raisable cord and a flashlight behind the pictures, for a screen. Thor even pops popcorn, draws ads on litter bags, and writes "Pepper Theatre" on paper napkins.
Still, they steadily deal with on-going issues such as an occasional lack of water (in a rain forest!) and the challenges in collecting it for drinking, washing and the garden and laundry.
Like many journals, this one too, can fall into a litany of woes: Suellen speaks more than once about Ed's depressions and lack of initiative, plus she mentions he "had nothing in common with the men in the community," but without much further detail. We hear about his "searching for himself" — drawing, painting, then dropping it while Suellen teaches full time until 5 p.m. each night, then comes home to bake bread, make supper, lunches for the next day, clean and mend clothes. Clearly, she feels overworked.
There's also talk of the community's lack of appreciation for her teaching: "I heard all sorts of hateful tales being circulated about me and my salary." And though she clearly enjoys some parts of teaching, at others she complains of the long hours. "There was so much to do to prepare for all the grade levels and no matter how late I worked, it felt like it was never enough."
Why did they stay?
I was cheered to find that for all her hard work and creativity at the "woman's" side of things, when she's pushed, Suellen can do the other side too. One day when she's fishing with Ed and the net rope gets caught in the propeller, it's Suellen who dives into the freezing water (Ed can't swim), to cut the rope loose. Another time when Ed is away, she saves the family skiff from sinking, and again, when he's away for an extended time doing a preliminary semester at SFU, and the generator stops working again, "I took quite a bit of the generator apart, so then I knew more about how it worked…. When I got it working again, it did give me a new feeling of strength and self-confidence to have fixed it myself." Of course.
Occasionally we hear about the more adventurous moments that come with living in this isolated place: the night Suellen has to find her way home from school through the forest in pitch dark because her flashlight has died; the day two children are lost in the woods for nine hours but finally found, not by professional searchers with dog and helicopter, but by a local who knows the woods; her dives off the fishing boat to untangle the propeller.
In the end, this is a woman's tale of survival — a sort of female Robinson Crusoe, though with gender-fixed chores. Suellen shows extraordinary commitment, tenacity, energy and ability to multi-task, including organizing annual Christmas concerts by the four to ten students at the school. Still, managing a depressive, hard-to-motivate husband and two young boys (one with speech problems and emotionally fearful) for fifteen years in a rain forest, five years of it in a canvas tent, is by itself an amazing feat of endurance.
Finally, in 1984, as life continues to be a struggle — the generator won't start, nor will the chainsaw, the stovepipe is so clogged that the stove won't burn and "Ed was fed-up with fixing things" — it's almost a relief when they feel it's time to leave Jade Cove "for everyone's sake." Though then she adds — oddly, given the difficulty of their stay — "except maybe mine. I loved living surrounded by nature."
And that's what was missing in this story. I wanted to hear and see more of the beauty and wildness of their rain forest- and ocean-centred life — the reason they came and presumably, stayed so long. Surely there were moments to sit quietly and enjoy smells, sounds, and colours of the north coast. What about animals, birds, or the drama of weather — the 129 kph gales? Clearly, there were happy times at Oona River (those birthday parties!) but a larger focus of this book is on the harder ones — Ed's depressions and the boys' bad moods, the broken equipment and physical struggles involved in being able to survive. It's almost a relief when they finally leave, moving to Victoria so Ed can pursue another dream, doing grad studies at the university. And that is where the story truly, sadly ends, for it's also where the marriage ends.
*
In 1976 Kate Braid did a somewhat similar move to Suellen Guenther, moving (alone) into an old cabin on the Gulf Islands. However, this cabin was already built, if minimal. It was here she got her first job in construction, not alone, but under the tutelage of skilled carpenters. She went on to get her apprenticeship papers in Vancouver and work for 15 years as a carpenter, contractor and trades instructor in BC and the Yukon. Later she wrote about it, including two books of poetry and a memoir, Journeywoman: Swinging a Hammer in a Man's World (Caitlin, 2012). Its follow-up, Hammer & Nail: Notes of a Journeywoman, a book of reflections on the culture of construction, has just been published by Caitlin Press (2020). For more information see her website. Editor's note: Kate Braid's recent books Elemental and Hammer & Nail, both from Caitlin Press, have been reviewed by Christopher Levenson and Jennifer Chutter in The Ormsby Review. Kate Braid has also reviewed books by The Mudgirls Manifesto of Lasqueti Island and Terry Faubert of Lund.
*
The Ormsby Review. More Books. More Reviews. More Often.
Publisher and Editor: Richard Mackie
The Ormsby Review is a journal service for in-depth coverage of B.C. books and authors. The Advisory Board consists of Jean Barman, Robin Fisher, Cole Harris, Wade Davis, Hugh Johnston, Patricia Roy, David Stouck, and Graeme Wynn. Scholarly Patron: SFU Graduate Liberal Studies. Honorary Patron: Yosef Wosk. Provincial Government Patron since September 2018: Creative BC
"Only connect." – E.M. Forster