#970 Death on Highway 7
The Weight of Blood
by D.B. Carew
Edmonton: New West Press, 2020
$18.95 / 9781988732923
Reviewed by Valerie Green
*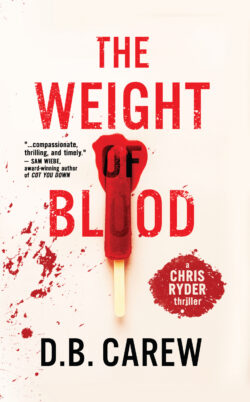 D.B. Carew's The Weight of Blood, his second Chris Ryder mystery thriller, is a mixture of intriguing thrills and deep psychological insight.
The main character, Chris Ryder, is a psychiatric social worker who is once again placed in the middle of a gripping high-profile murder case. After barely surviving the events of The Killer Trail (the first Chris Ryder thriller), Ryder now becomes involved with Marvin Goodwin, a young man who was discovered at the scene of a brutal murder on Highway 7 near Hope. A local ice-cream truck driver, Alberto Bianchi, has been murdered and Marvin is found there covered with blood. There is one major problem. Marvin is unable to speak and cannot explain how he came to be where he was with blood covering him. He is suffering from a mental disorder and is bordering on autism.
Nonetheless, Marvin is arrested for the murder and is then sent for psychological evaluation to the Institute of Forensic Psychiatry in the Fraser Valley, where he becomes one of Chris Ryder's cases. Ryder himself, however, is still suffering from his own issues of trauma, which include fear of his brother Ray, now imprisoned, but who still manages to torment Chris's brain from afar.
Chapter 3 ends with the words "Chris has good days and bad days when it came to keeping Ray out of his head. This was turning out to be a bad one!" I particularly like the author's quick, short chapters with endings such as this, which drive the story along at a steady pace and make the reader want to keep reading.
Chris's problems also include a strained relationship with his father, and a failed marriage that he is still coming to terms with while trying to start a new relationship and move on. He constantly fears for the safety of his ex-wife, his young daughter, and Stephanie, his new love interest, knowing what his brother could be capable of.
The fact that the case of the murdered ice-cream truck driver also creates a spotlight in the media makes everything even more difficult for Ryder, who prefers to shun the limelight at all times.
In Chris Ryder, D.B. Carew has created a character with whom the reader will identify and feel sympathy. He is able to clearly express, through Ryder's own sometimes erratic behaviour, how those with mental issues are often judged and condemned on appearances alone. This in itself is not easy, but Carew manages to treat the story with compassion for all concerned on both sides of the spectrum.
Born in Newfoundland and Labrador, D.B. Carew is a crime fiction writer who now lives in Coquitlam with his family. For over twenty years he has been a social worker at a forensic psychiatric hospital, which makes him more than qualified to tackle this sensitive subject in his Chris Ryder thrillers. In his Afterword, Carew states "I've also witnessed the effects of vicarious trauma that those in the helping professions (nursing, social work, psychology, psychiatry, etc.) may experience when they work with the victims of trauma." It is his hope that readers "perceive both the urgency and the hope running through this novel."
The first book in this series The Killer Trail was shortlisted in 2013 for the Crime Writers Association (CWA) and I have no doubt The Weight of Blood, available in stores and online since November 1, 2020, will do equally as well.
Carew builds up the tension with some surprising twists and turns to the very end of The Weight of Blood, making this book a worthy sequel to The Killer Trail, and well worth reading.
*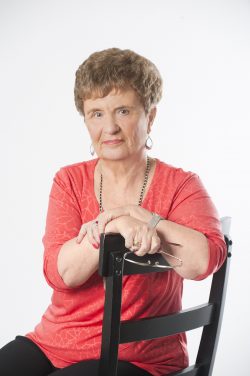 Valerie Green was born and educated in England where she studied journalism and law. Her passion was always writing from the moment she first held a pen in her hand. After working at the world-famous Foyles Books on Charing Cross Road, London, followed by a brief stint with M15 and legal firms, she moved to Canada in 1968 where she married and raised a family, while embarking on a long career as a freelance writer, columnist, and author of over twenty non-fiction historical and true-crime books.  She is currently working on her debut novel Providence, which will be published soon as the first of The McBride Chronicles, an historical four-generational family saga bringing early BC history alive. Now semi-retired (although writers never really retire!) she enjoys taking short road trips around BC with her husband, watching their two beloved grandsons grow up and, of course, writing. Editor's note: Valerie has recently reviewed books by Caroline Adderson, Dean Unger, Jody Hedlund, Dora Dueck, Tara Moss, and Heige Boehm.
*
The Ormsby Review. More Books. More Reviews. More Often.
Publisher and Editor: Richard Mackie
The Ormsby Review is a journal service for in-depth coverage of B.C. books and authors. The Advisory Board consists of Jean Barman, Robin Fisher, Cole Harris, Wade Davis, Hugh Johnston, Patricia Roy, David Stouck, and Graeme Wynn. Scholarly Patron: SFU Graduate Liberal Studies. Honorary Patron: Yosef Wosk. Provincial Government Patron since September 2018: Creative BC
"Only connect." – E.M. Forster