#956 Meet the Chekovs
A Russian Sister
by Caroline Adderson
Toronto: HarperCollins, 2020
$24.99 / 9781443426817
Reviewed by Valerie Green
*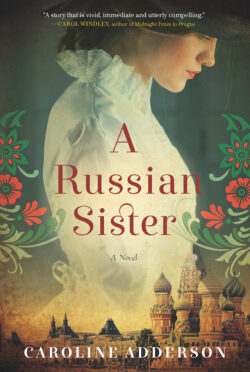 If you are a fan of Russian playwright Anton Chekov (1860-1904) you will most certainly enjoy A Russian Sister by Caroline Adderson. If not, you might find the book somewhat perplexing and strange.
Adderson's book is based on the life of Chekov and is written in the style of a play in Four Acts with other characters playing the roles of Chekov's real-life family. This is a brilliant and most unusual premise for a novel and is written with great expertise by Adderson who has obviously thoroughly researched the "Golden Era" of Russian literature and late 19th century Russian history, and the life and times of Chekov. Despite a depressing theme, Adderson also manages to inject humour into her story.
Notwithstanding its unusual writing style and its collection of bizarre characters, A Russian Sister manages to hold the reader's attention and effortlessly transport you to Russia's pre-revolutionary era when the impoverished elite society tried desperately to maintain a lifestyle of importance in the salons of Moscow.
I was thankful for the inclusion of the list of characters at the beginning of the book as the similarity of names between family, friends, and lovers often become confusing and hard to keep track of.
Adderson's story begins in 1891 in the home of Antosha who, like Chekov, is a doctor and prominent writer. He lives with his family, all of whom he supports with a small income from his medical practice — he treats most of the poor for free – and mainly he supports his family from his short story writing, which has made him famous and much sought after. He prefers anonymity and privacy but his family thrive on his beloved reputation. The family consist of his sister, Masha, a schoolteacher and amateur painter, who runs his household and has a somewhat unnatural devotion to her brother, plus their other siblings — brothers Misha, Ivan, and Aleksander — and their parents, Evgenia and Pavel. All these family members come and go throughout the story with their various oddities of character. They are often overshadowed by the memory of Kolia, a brother who died young, and another sister who died as an infant. The family also includes Maruishka, their cook, who follows them from one house to the next to take care of them all.
It soon becomes obvious that Pavel, the father of Antosha and Masha, had abused all his sons in childhood while their mother looked on, and this abuse has had a profound effect on all their personalities.
Masha, the Russian sister, ignores her own need for love while trying to keep Antosha constantly happy. She does this by introducing him to many women who might bring him out of his depression but most of them he temporarily falls in love with and then leaves. But when Masha introduces Lika Mizanova, her friend and fellow teacher, into their Moscow home, that meeting sets off a variety of events that include unrequited love, casual love affairs, jealousies, and scandals over the next seven years.
Chekov's work is best remembered for its intensity of sensations rather than emotions as he lays bare the secret motives of all his characters. His short stories and plays were not known for their neat solutions to problems, but instead were often described as "haunting and lyrical." Such is also the case with Adderson's A Russian Sister. While Chekov's most famous play The Seagull changed the theatre with its brilliance, Adderson's book will certainly change the reader's thoughts, through Masha's eyes, about how women play out their roles as "prey for male needs and male inspiration."
A Russian Sister gives us a vivid glimpse of those times. It is the story of a sister who devotes her life to a brother suffering with the same illness that killed their brother Koila. By so doing, she rejects other men who might have become her lovers. I particularly found her relationship with Svoloch, a pet mongoose who she adores, both bizarre and somewhat unpalatable.
Masha's quote at the beginning of Act One adequately sums up her situation in life: "I'm in mourning for my life. I'm unhappy."
By Act Two she is stating, "You must help me, or I'll do something stupid, something that'll make a mockery of my life and mess it up. I can't go on like this…."
By Act Three, she believes that "All this is just nonsense, Love without hope — it only happens in novels…. If love sneaks into your heart the best thing to do is to chuck it out."
And by the final Act she despairs: "What is the point of love without hope, of waiting whole years for something … one doesn't know what…."
As the final curtain falls on this novel, I predict you will either love this book for its brilliance or hate it for its absurdity. Either way, the parallel lives of Anton (Chekov) and Antosha will haunt you long after you close the final page.
Caroline Adderson is the author of four other novels and two collections of short stories for which she has rightfully won many awards.
*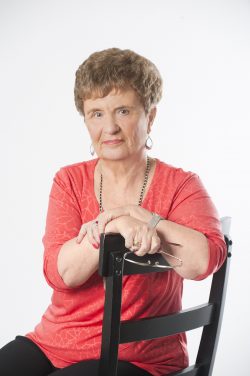 Valerie Green was born and educated in England where she studied journalism and law. Her passion was always writing from the moment she first held a pen in her hand. After working at the world-famous Foyles Books on Charing Cross Road, London, followed by a brief stint with M15 and legal firms, she moved to Canada in 1968 where she married and raised a family, while embarking on a long career as a freelance writer, columnist, and author of over twenty non-fiction historical and true-crime books.  She is currently working on her debut novel Providence, which will be published soon as the first of The McBride Chronicles, an historical four-generational family saga bringing early BC history alive. Now semi-retired (although writers never really retire!) she enjoys taking short road trips around BC with her husband, watching their two beloved grandsons grow up and, of course, writing. Editor's note: Valerie has recently reviewed books by Dean Unger, Jody Hedlund, Dora Dueck, Tara Moss, Heige Boehm, and RM Greenaway.
*
The Ormsby Review. More Books. More Reviews. More Often.
Publisher and Editor: Richard Mackie
The Ormsby Review is a journal service for in-depth coverage of B.C. books and authors. The Advisory Board consists of Jean Barman, Robin Fisher, Cole Harris, Wade Davis, Hugh Johnston, Patricia Roy, David Stouck, and Graeme Wynn. Scholarly Patron: SFU Graduate Liberal Studies. Honorary Patron: Yosef Wosk. Provincial Government Patron since September 2018: Creative BC
"Only connect." – E.M. Forster
Please follow and like us: