#905 Fresh and whimsical Vancouver
Hand Drawn Vancouver: Sketches of the City's Neighbourhoods, Buildings, and People
by Emma Fitzgerald
Toronto: Penguin Random House (Appetite), 2020
$24.95 / 9780147531209
Reviewed by Jennifer Chutter
*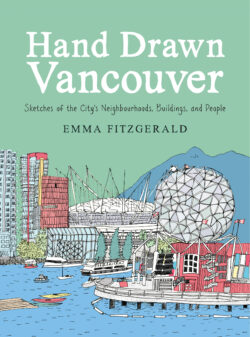 Emma Fitzgerald's Hand Drawn Vancouver weaves together her autobiographical accounts of growing up in Vancouver with visual depictions of personally meaningful places around the city. After spending many years in Halifax, where she wrote Hand Drawn Halifax, Fitzgerald returned to Vancouver in 2017 to support her family through illness. Born to Irish parents in Lesotho, Africa, Fitzgerald grew up in West Vancouver and went to Crofton House School in the west side of Vancouver. A daily commute by car from home to school provided a larger attachment to the city. This background gives her Vancouver narrative both an insider and an outsider view as she returns to sketch the places that marked her formative years here.
Fitzgerald's sketching style and whimsical fonts create an intimacy with the reader. It's almost as though we've been given her private journal to peruse. These images have a freshness, as she notes: "Sketching on location is a way of learning a place — not just its sights, but also its smells and sounds as the world continues to hum around" (p. vi). Her Vancouver includes both buildings and the rich cultural and ethnic diversity of Vancouverites, a mixture that adds to her understanding the city as a place. Fitzgerald's sketches also convey a sense of motion and energy; her human figures are actively engaged in participating in urban life by skating at Robson Square, walking dogs through Yaletown, riding bikes along the seawall, or dancing at Harbour Dance Centre. Hand Drawn Vancouver depicts a lived place more than simply a series of picturesque settings.
The book is arranged into four regions: Downtown, West Side, East Side, and North Shore, which are broken down further into neighbourhoods. Accompanying her sketches are brief descriptions of historical background, cultural events, snapshots and snippets of overheard conversations, and personal interactions and reflections. This eclectic content creates a broader view of how Vancouver has been inhabited by people over time and gives voice to the diversity of experiences within the city — though I found the inclusion of Yelp reviews to support her text an odd addition. To me, these reviews detract from the consistency of autobiographical narrative structure.
Fitzgerald's references to eating at Vera's Burgers in Dundarave before it was a franchise (p. 8) and renovations to Crofton House School (pp. 66-67) highlight how the city has changed for her personally. She also illustrates seasonal changes by mentioning the UBC apple festival (pp. 74-75), holiday lights outside of St. Paul's Hospital (pp. 10-11), cherry blossoms outside of Burrard station (pp. 16-17) and the Celebration of Light fireworks (pp. 90-91). For me, these subtle seasonal references create a dynamic and fluid understanding of urban life.
For me, the greatest strength of Hand Drawn Vancouver work is Fitzgerald's inclusion of a diversity of people and places. People's engagement with each other and with the space of the urban environment illustrate the city's rhythms and tenor. She also gives voice to people who are often ignored, dismissed, or erased from visual depictions of Vancouver's urban life. She does this by including, for example, conversations with a trans woman at a bus stop (p. 35) and a street artist who draws for food (p. 36), additions that help turn Hand Drawn Vancouver into an inclusive account of urban life.
Fitzgerald expands the urban environment with sketches of Marc Emery's Cannabis Culture, Dressew, Japadog, and Fluevog shoes. While all find a commercial home in Downtown Vancouver, they are rarely featured as part of Vancouver's urban fabric — despite the fact that many locals are familiar with them. While she features typical picturesque tropes of Vancouver's natural environment, Fitzgerald uses different locations — such as Trout Lake and Deep Cove instead of Stanley Park — to illustrate the city's sites of leisure. In this way, Hand Drawn Vancouver provides a fresh view of Vancouver's urban environment.
Most importantly, Fitzgerald frames Vancouver's urban life on the unceded territory of the Squamish, Musqueam, and Tsleil-Waututh nations. She includes a land acknowledgement with a sketched map of the city's neighbourhoods. She mentions crossing Lions Gate Bridge over the Capilano Reserve and the Burrard Bridge over Musqueam Reserve as part of her daily commute to Crofton House School, but she could have expanded such references. Her reference to Rebecca Belmore's video "ode to missing and murdered Indigenous women," on display at the Vancouver Art Gallery (p. 15), draws attention to the realities faced by many Indigenous peoples in the city. Her reference to the Vancouver Indigenous Fashion Festival illustrates Indigenous cultural resiliency (p. 22). These inclusions help promote reconciliation by emphasizing the complexity of Indigenous urban life. Fitzgerald moves far beyond the out-of-place Northern and Central Coast totem poles in Stanley Park, which have become a frequent, clichéd, and troubling feature of Vancouver's visual landscape.
Emma Fitzgerald's Hand Drawn Vancouver is a refreshing, original, accessible, and engaging addition to the visual depictions of Vancouver's urban life.
*
Settler Jennifer Chutter is an award-winning PhD candidate at SFU. Her dissertation research is on the formation of the Strathcona Property Owners and Tenants Association (SPOTA) and how they advocated for their sense of home and place within in the neighbourhood. Their agency and activism bring to light the legacy of colonial structures within the city and emphasize the importance of preserving and designing neighbourhoods to foster a sense of belonging and inclusion. Her previous research was on the Vancouver Special and its importance as a localized form of architecture. She feels most at home in Vancouver when she smells the salty air while running along the seawall. Editor's note: Jennifer Chutter has also reviewed books by Iona Whishaw, Dave Doroghy & Graeme Menzies, T.K. (Justin) Ng, and Chelene Knight for The Ormsby Review.
*
The Ormsby Review. More Books. More Reviews. More Often.
Publisher and Editor: Richard Mackie
The Ormsby Review is a journal service for in-depth coverage of B.C. books and authors. The Advisory Board consists of Jean Barman, Robin Fisher, Cole Harris, Wade Davis, Hugh Johnston, Patricia Roy, David Stouck, and Graeme Wynn. Scholarly Patron: SFU Graduate Liberal Studies. Honorary Patron: Yosef Wosk. Provincial Government Patron since September 2018: Creative BC
"Only connect." – E.M. Forster