#894 Varner's wild foods & cures
Edible and Medicinal Flora of the West Coast: British Columbia and the Pacific Northwest
by Collin Varner
Victoria: Heritage House, 2020
$22.95 / 9781772033236
Reviewed by Rose Morrison
*
A book authored by British Columbia horticulturist Collin Varner is always worthwhile. Varner's latest publication, Edible and Medicinal Flora of the West Coast: British Columbia and the Pacific Northwest, is a valuable addition to his earlier plant field guides. All the entries in this book are of edible flora; several entries are also noted for their medicinal properties. Unlike his other guides, this one features representative flora from a vast west coast strip that ranges north to south from Juneau to San Francisco. Varner intended this book to be accessible; and it is. A regional map and handy glossary are included at the beginning. The book divides flora into six categories; each illustrated page in Edible and Medicinal Flora is devoted to a different edible plant, fungus or alga. In each category the entries are listed alphabetically. The photographs are mainly the author's own, collected over the years. While too large for many pockets, the hiker or wanderer will not regret slipping this field companion into a daypack.
The written description for each entry includes botanical and common names, similar species, habitat, and edible properties. Unfortunately, origin and etymology are not given for every single entry, but the interested reader can successfully search for any missing information online. Almost half the entries are presented in section one, "Flowering Plants." Edible and Medicinal Flora of the West Coast is the kind of book that holds the reader's attention. While its purpose is to provide information on accessible, edible west-coast flora, the book offers much more than that to the inquisitive reader. In Section 1, for example, in the factsheet for large, yellow-flowered mullein, Varner writes that the plant was not only used traditionally in several medical conditions; its large leaves and stems were used to make shoe insoles and candlewicks. Also, he suggests that common pineapple weed can be used as potpourri ingredient.
Although edible, not all the more than two hundred listings in the book are described as being palatable. By noting that several are bitter, and some were traditionally used in emergency or famine, the author reminds readers that tasty food was not always abundant or available to foraging communities on the west coast region. Varner also issues a general caution in the use of the region's edible flora and issues specific cautions at the bottom of some pages. For clarity, the caution on page 28 (Common Camas) could be rephrased, and an added "Caution" sub-heading to draw attention to the final clause on p. 105 (Star of Bethlehem) would also be helpful.
Section 2, "Berries," lists 24 regional plants, from black gooseberry to woodland strawberry, that bear edible summer berries. Varner notes that the often-overlooked ripe salal berry tastes delicious when fresh; and it can be made into fine wine and preserves. Another blue berry, the Oregon grape, is tart and often mixed with sweeter berries. Varner's description includes an interesting traditional use of this fruit.
There is a lot of on formation in Edible and Medicinal Flora, and the reading is enjoyable. The other categories in the book are "Ferns" (five listings), "Trees, Shrubs and Bushes," "Fungi and Allies," and "Marine Plants."
Photos in the "Trees, Shrubs and Bushes" section are particularly helpful. Varner's photos and descriptions of red-berried elder (Sambucus racemose) and blue-berried elder (Sambucus caerulea) make it clear which one is poisonous if eaten raw. In describing the Baldhip Rose (woodland rose) he remarks that rosehips have a higher concentration of Vitamin C than oranges. This explains why, two or three generations ago, it was common for children to be given a daily spoonful of Delrosa syrup made from rosehips.
There are four serious cautions in the short "Fungi and Allies" section: beware of the alcohol inky, the gem-studded puffball, the pear-shaped puffball, and the smoky gilled woodlover. Again, the author's illustrations are helpfully clear. There are no cautions in the "Marine Plants" listings, which include sea asparagus (Salicornia virginica) and some interesting kelps.
Varner concludes with a short recipe section. While liquorice root fern is likely delicious in a tea, there are some less invasive recipes where no digging for ingredients is needed. The rowan is such a beautiful tree that rowan jelly beckons, along, perhaps, with fresh bread and a cup of sweet clover tea. Other appetizing recipe choices include stir-fried sea asparagus and golden chanterelle with salad and risotto. A longer recipe section would be a welcome addition.
Edible and Medicinal Flora of the West Coast is both a good read and, as a handy field guide, a keeper. The reader may dip into the book for specific safe foraging information – and will be drawn back to find out more.
*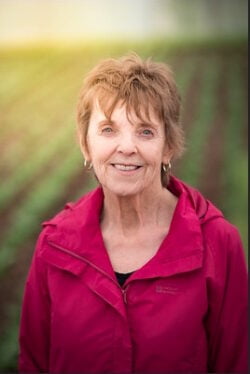 Rose Morrison lives and writes in British Columbia's bounteous Fraser Valley. She has a large, somewhat dysfunctional family that she loves dearly; and she has always been in awe of the earth. Rose enjoys good friends, walking, travelling and reading. She likes writing poetry and creative non-fiction. Her ongoing project is to convince her long-in-progress novella and her current poetry collection to finish themselves. She remains pleasantly surprised to be professor emerita in the Agriculture Technology Department of the University of the Fraser Valley.
*
The Ormsby Review. More Books. More Reviews. More Often.
Publisher and Editor: Richard Mackie
The Ormsby Review is a journal service for in-depth coverage of B.C. books and authors. The Advisory Board consists of Jean Barman, Robin Fisher, Cole Harris, Wade Davis, Hugh Johnston, Patricia Roy, David Stouck, and Graeme Wynn. Scholarly Patron: SFU Graduate Liberal Studies. Honorary Patron: Yosef Wosk. Provincial Government Patron since September 2018: Creative BC
"Only connect." – E.M. Forster