#889 Mennonite roots and shrubs
All That Belongs
by Dora Dueck
Winnipeg: Turnstone Press, 2019
$19.00 / 9780888016812
Reviewed by Valerie Green
*
Dora Dueck's book All That Belongs published by Turnstone Press in 2019 is set in Alberta and Manitoba. It tells the story of Catherine, a retired archivist who, on her last day of work, found memories from her own past were triggered when talking with two Australians who visited the Archives for information about their ancestors.
Catherine asked them how far back they had already traced their family and they laughingly mentioned convicts who were the first to populate the country. Then the woman said, "you've probably got something like that in your family tree too! A little embarrassment! Family trees are rarely reassuring!"
Having spent years investigating the past for others, Catherine now feels she must look back at her own life and her strange family. Her husband Jim was meant to retire with her and they had planned to travel and do many other things together, but Jim is called back to teach for another semester and Catherine feels at a loss. With so much time on her hands, she feels compelled to use this free time to investigate her own family and especially to learn the truth about a mysterious uncle she was always ashamed of and her brother who died young.
Dueck refers to her journey into the past as her "year of my preoccupation with the dead," and her excellent and sensual prose takes the reader on a descriptive family discovery. Unfortunately I found the journey into the past a little convoluted in places. Just as the reader is about to discover an interesting fact, the author becomes somewhat long-winded and complex as she goes into multiple other sometimes irrelevant details and opinions.
Fortunately this side-tracking does not diminish being able to appreciate Dueck's story, which needs to be savoured slowly. Catherine's decision to find the truth about growing up in a Mennonite community includes visits to her elderly mother who is now in a nursing home suffering from mild dementia making her recollections somewhat vague and unreliable.
Phrases like the one describing her mother — "her smile quivered at the edges, like a pulse. She was deeply lined and jowly, her skin had zero elasticity left, but that dazzling smile, like a flower blooming in gravel! Her best feature" — leave you grasping for more.
As Dueck's protagonist continues on her journey into the past she revisits buried memories of her strange uncle — nicknamed Uncle Must, her father's brother — who often embarrassed her during her childhood by the things he did, like spouting religious nonsense in church on one occasion. Was he insane, she now wonders?
She remembers once long ago she had attempted to trace her family. All  she knew was that her father Jacob (which became shortened to Jake once in Canada) and his brother Gerhard (which became George) had arrived from Russia with their father, but then she describes her research attempt at that time as "a pathetic family tree. More like a shrub. One of those impulsive projects of my youth that I quit soon after …."
Even though Catherine could now easily have found more names and filled out more branches on the family tree, she remarked, "who needed a visual reminder that no lines led beyond me and Jim?" We realize then that not only is she desperate to discover her past, she is also haunted by the fact that she and Jim were never able to have children of their own so the family line will end with them.
We also slowly learn how Catherine's brother, Darrell, had changed from a bright young boy who enjoyed life to the full to a troubled young man after he moved from Canada to California and became immersed in the drug scene. Again, Catherine has experienced regret and shame about how her brother eventually dies in a mental institution. Was he too insane? Or had the drugs simply frazzled his brain?
She still wonders if insanity is in her family tree or is it something else? Like a long ago murder?
My biggest criticism of Dueck's book is the fact that she chose to run all the dialogue into the text with no quotation marks. I found this very confusing at times and many scenes had to be read over a second time. I also wish there had been a clearer ending with a more compelling twist. I wanted Catherine to discover more.
Despite these minor points, the author has told a fascinating tale of secrets and lies submerged for decades by family loyalty. All That Belongs is indeed a beautiful read which will be long savoured and re-read.
Dora Dueck is an award-winning author of many books and short stories. She grew up in a Mennonite community in Alberta and lived in Winnipeg for many years. She now lives in Delta, British Columbia.
*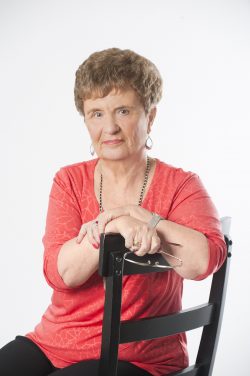 Valerie Green was born and educated in England where she studied journalism and law. Her passion was always writing from the moment she first held a pen in her hand. After working at the world-famous Foyles Books on Charing Cross Road, London, followed by a brief stint with M15 and legal firms, she moved to Canada in 1968 where she married and raised a family, while embarking on a long career as a freelance writer, columnist, and author of over twenty non-fiction historical and true-crime books including Above Stairs, Upstarts and Outcasts, and Dunmora: The Story of a Heritage Manor House on Vancouver Island (Hancock House, 2017 [reviewed by Patrick Dunae in The Ormsby Review — Ed]. She is currently working on her debut novel Providence, which will be published soon as the first of The McBride Chronicles, an historical four-generational family saga bringing early BC history alive. Now semi-retired (although writers never really retire!) she enjoys taking short road trips around BC with her husband, watching their two beloved grandsons grow up and, of course, writing. Editor's note: Valerie has recently reviewed books by Tara Moss, Heige Boehm, RM Greenaway, and Harold Macy.
*
The Ormsby Review. More Books. More Reviews. More Often.
Publisher and Editor: Richard Mackie
The Ormsby Review is a journal service for in-depth coverage of B.C. books and authors. The Advisory Board consists of Jean Barman, Robin Fisher, Cole Harris, Wade Davis, Hugh Johnston, Patricia Roy, David Stouck, and Graeme Wynn. Scholarly Patron: SFU Graduate Liberal Studies. Honorary Patron: Yosef Wosk. Provincial Government Patron since September 2018: Creative BC
"Only connect." – E.M. Forster