#859 Celebrating Indigenous jewellery
Understanding Northwest Coast Indigenous Jewelry: The Art, the Artists, the History
by Alexander Dawkins, with a foreword by Corrine Hunt
Vancouver: Greystone Books, 2019
$24.95 / 9781771642972
Reviewed by Victoria Wyatt
*
Northwest Coast Indigenous artists working in jewellery have long deserved more attention on these arts. Understanding Northwest Coast Indigenous Jewelry: The Art, the Artists, the History makes a start in providing it. Alexander Dawkins, who co-owns the Lattimer Gallery in Vancouver, has written a basic guide that commercial galleries might show clients to answer their questions and increase their appreciation. Oriented towards audiences unfamiliar with Northwest Coast Indigenous arts, it hits some high notes and misses others.
The text opens with a moving foreword by Corrine Hunt, the distinguished artist of Kwakwaka'wakw and Tlingit heritage who co-designed the medals for the 2010 Olympic Games. In a personal voice, Hunt explains what bracelets mean to her family and her community. She describes the genesis of her interest in creating jewellery and identifies important roles jewellery has played for her. She relates warm interactions with people who buy her jewellery, giving specific examples of how jewellers work in collaboration with clients to make particularly meaningful works of art. Hunt shows readers why the jewellery matters.
Visually, Understanding Northwest Coast Indigenous Jewelry shines. Its elegant photographs celebrate the jewellery as fine art. The numerous images are sharp and skillfully lit, standing out dramatically against slightly glossy white pages. While most appear on pages with text, even the smaller photographs show details well. None crosses the spine, and the thick paper prevents shadows from reverse pages. The book features photographs of works from many artists, covering decades. In addition, it offers informative didactic images. In Part I, "The Art," a series of photographs illustrates step-by-step descriptions of the techniques of hand-engraving, oxidation, overlay, repouseé and chasing, and stonesetting. A section on symbolism reproduces bracelet designs in flat, two-dimensional form, annotated to indicate identifying characteristics of animals. Insets compare photographs of art works to show common visual differences between stylized portrayals of bears and wolves, or eagles, thunderbirds, hummingbirds and ravens. Photographs of bracelets are marked to point out elements of two-dimensional northern formline design. This section also uses images of art works effectively to illustrate a variety of compositional choices.
Part II, "The Artists," offers brief profiles of 65 artists past and present, although not every artist whose art appears in the book is featured. The profiles helpfully show the initials or signature each artist uses on jewellery. Other topics vary, and may include where the artists live, distinctive characteristics of their work, the techniques they enjoy, who they apprenticed with and/or where they studied, awards they have won, and places their art works have been exhibited. Read together, the profiles give an overview of how artists learn their skills, show their arts and support each other. However, the section "The Artists" contains no artists' voices. In striking contrast to the moving foreword by Corrine Hunt, the artists cannot speak for themselves. Further, there are no photographs of art in this section to make the artists present through their work, and no cross-references to direct the reader to such images in other sections. Some profiles of living artists might have included quotes; thematic insets could have shown interviews; photographs or cross-references could have assisted readers in seeing art works by some artists profiled. While such additions might have required condensing content elsewhere, making room for artists to speak should rank as a top priority. A section called "The Artists" could do more to make the artists participants rather than subjects.
Part III, "The History," returns to a format that features generous visual images. It presents an engaging variety of resources: historical photographs, beautiful images of older art works, pages from the catalogue of Ye Olde Curiosity Shop in Seattle (ca. 1900), a promotional poster from the Vancouver Art Gallery exhibition Arts of the Raven (1967), the catalogue cover of the 1977 graphics collection of the Northwest Coast Indian Artists Guild, photographs of artists at the Jubilee Metalwork Workshop organized by Bill Reid and the Centennial Museum in 1977, and other relevant images. Visually, Part III resonates with the elegance of Part I.
The text in this section is organized into chronological periods: Early Adornment (pre-contact to 1850s), Marketable Metalwork (1850-1900), A Loss of Lustre (1900-1950), Northwest Revitalization (1950-1970), Shining Stars (1970-1990), and Outside the Lines (1990 to present). The section and the book conclude abruptly with five paragraphs on Cross-cultural Influences.
Dawkins explains that Part III "looks at the political events, technological advancements, evolving artistic tastes, and complex relationships between artists and buyers that have shaped the rich tradition of Northwest Coast jewelry making" (p. 86). This is an ambitious embrace of a region comprising many cultural groups, two colonizing governments, and somewhat different experiences and chronologies; necessarily, the section often overgeneralizes and over-simplifies. The lack of space for nuanced discussion might have been partially mitigated with footnotes and references naming more comprehensive sources. No such attributions appear, even for direct quotes. For instance, the section acknowledges cultural oppression and institutions such as residential schools, but has little space to develop understanding of these and other dynamics of colonization. Thus, their impact unavoidably seems muted. References to other sources, particularly those representing Indigenous voices, would encourage readers to seek more depth. A short section cannot do everything itself, but it can point audiences towards sources that provide more complex treatments and Indigenous perspectives.
In fact, the entire book takes on more than its limited space can accommodate, so generalizations and simplifications occur throughout. One of the most concerning issues is the almost exclusive focus on the two-dimensional art style known as northern formline (called simply formline in the book) with little acknowledgement of the different two-dimensional styles of groups in southern parts of the region. The text introduces formline as "the Northwest Coast visual lexicon" (p. 23) and calls it "a primary distinguishing feature of Northwest Coast Indigenous art" (p. 29). The text does mention more than once that not all groups use this style, but such comments read as asides: almost no information about other styles is provided except in the one-page inset "Regional styles" (p. 63). The inset does not point the reader to photographs of examples of each style, and most photograph captions do not state the cultural affiliation(s) of the artist. This makes it cumbersome for readers to find art works showing these styles to see how they differ from northern formline.
Until fairly recently, settlers tended to devote considerably more attention to northern formline than to two-dimensional arts from the southern parts of the Coast. This conveyed the sense to settler audiences that northern two-dimensional works were the real Northwest Coast Indigenous art, more worthy of attention than southern styles. Writers today have an obligation to ensure they do not unintentionally perpetuate this misconception. The omission from the History section of any meaningful treatment of Coast Salish mountain goat horn bracelets, some of the earliest existing bracelets from the Northwest Coast, corroborates the sense that southern groups are an afterthought in this text. A short book cannot provide a comprehensive discussion of all art styles on the Coast. However, it can explicitly emphasize that the styles it excludes are not peripheral, and it can name sources that provide information about those styles. The essays in the Seattle Art Museum exhibition catalogue S'abadeb The Gifts: Pacific Coast Salish and Artists, edited by Barbara Brotherton (2008) would have been a useful reference for Coast Salish arts. Neither it nor any other text on Coast Salish arts or arts of other southern groups appears in the short list of recommended readings.
The section on Northwest Coast symbolism similarly generalizes. The text makes claims about the meaning of specific crests without attribution, appearing to extend these beliefs to all Northwest Coast peoples. Killer whales "symbolize communication, unity, and travel" (p. 15). Dogfish "is a sly animal that represents assertiveness and persistence" (p. 11). Hummingbirds "are valued for their beauty and charm, and it is believed that good luck will come to anyone who spots them" (p. 14). Unattributed, generalized statements about beliefs of Indigenous peoples were common in the past century, especially in contexts oriented towards tourists. Texts today that interpret beliefs of Indigenous peoples for tourists must state explicitly who the sources are and for whom they can speak.
The text repeats, uncritically, the simplified assumption that Northwest Coast Indigenous peoples developed creative art traditions because abundant resources made year-round settlement possible. Artists "were able to focus their energies on creative endeavors, such as weaving and woodcarving, rather than more mundane activities" (p. 95). One often finds this claim in older works on the Northwest Coast, but it demands a more complex treatment today. In fact, permanent villages have little to do with creativity. They simply make non-portable arts feasible. Nomadic and semi-nomadic peoples show tremendous creative expression in portable contexts. They devote much time, energy and skill to creating beautiful clothing, decorated tools, and the most lightweight creative endeavours of all: songs, dances and stories. The misconception that settlement is a prerequisite for "creative endeavors" perpetuates hierarchical rankings of cultures that bear no relation to reality.
Despite such issues, Understanding Northwest Coast Indigenous Jewelry offers much of value. Corrine Hunt's Foreword personalizes the art poignantly. The book presents spectacular photographs of jewellery as fine art, featuring works by many artists. The didactic descriptions of techniques, with their illustrations, give clear information not easily found elsewhere. The text does generalize and simplify, without explicit markers to the reader about the impacts of space limitations. Information that demands attribution has none, including statements purporting to convey beliefs of Northwest Coast Indigenous peoples. As noted, some of these generalizations and simplifications have unfortunate implications, and Indigenous voices are largely absent. Novice readers with little background, the audience to which the book seems oriented, may not recognize these concerns. For readers who do, the book's more positive elements make it well worth their attention.
*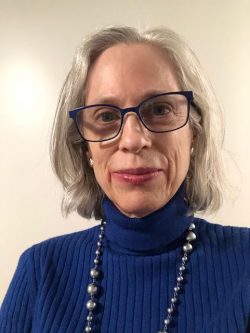 A settler Canadian, Victoria Wyatt teaches in the Department of Art History & Visual Studies at the University of Victoria.  Her courses explore creative responses of Indigenous artists to colonialism in North America from the eighteenth century to the present, with a focus on the Northwest Coast. She also teaches courses on Visual Studies. She encourages extensive analysis of the Internet as a resource for diverse voices and as a non-linear form of communication. In her research, she is interested in similarities between Indigenous Ways of Knowing and the recent paradigm shift in Western sciences that embraces processes and relationships within dynamic non-linear systems (e.g., neurobiology, quantum physics, epigenetics, climate science). She believes non-linear, holistic thinking that celebrates invisible interconnections is vital to addressing global challenges today. She holds a doctorate from Yale University and an honorary doctorate from Kenyon College, and is the 2020 recipient of UVic's Harry Hickman Alumni Award for Excellence in Teaching and Educational Leadership. Previously she reviewed Bill Reid Collected by Martine J. Reid (Douglas & McIntyre, 2016) for The Ormsby Review.
*
The Ormsby Review. More Books. More Reviews. More Often.
Publisher and Editor: Richard Mackie
The Ormsby Review is a journal service for in-depth coverage of B.C. books and authors. The Advisory Board consists of Jean Barman, Robin Fisher, Cole Harris, Wade Davis, Hugh Johnston, Patricia Roy, David Stouck, and Graeme Wynn. Scholarly Patron: SFU Graduate Liberal Studies. Honorary Patron: Yosef Wosk. Provincial Government Patron since September 2018: Creative BC
"Only connect." – E.M. Forster