#826 Lights, action, Michael Varga
Inside View: The Eye Behind the Lens
by Michael G. Varga and Roxanne Davies
Victoria: Island Blue (Printorum), 2018
$20.00  /  9781790697366
Reviewed by Timothy Lewis
This book is available through Amazon.ca
*
The perception one gets through the lens of a television camera often allows the viewer to gain perspective on something they would otherwise never experience. But that same camera provides only a relatively narrow scope of coverage.
Much the same is true of retired CBC cameraman Michael G. Varga's self-published book entitled: Inside View: The Eye Behind the Lens. It provides an interesting overview of both Varga's career in the television industry, and his personal life story; and most will likely conclude that getting to know the amiable Varga, via book form, is a pleasant experience. However, the book's primary title — Inside View — may cause readers to come away somewhat disappointed. While Varga does write about the many CBC personalities and other celebrities he worked with over the years, he rarely reveals anything about those individuals that would qualify as insightful, behind-the-scenes information. The main focus of the book is, instead, on Michael Varga himself.
Comments in the book's Acknowledgements suggest that Varga deliberately chose to avoid controversy when writing about others.
CBC director John Kennedy was probably one of the best bosses we had in British Columbia. We were strolling along the West Van seawall when I told him I was thinking of writing a book. John stopped in his tracks and looked at me. "Are you going to say anything bad?" he asked. I replied, "John, you know we could all say something bad about people." He looked at me and smiled. "Don't!"
When you've worked in the same industry for four decades, you're bound to run into some thorny issues. If you want to survive and thrive you have to learn to take the rough with the smooth. I wanted to be fair…. (p. 273).
Varga proves a man of his words. With one notable exception, he avoids serious criticism of those he worked with. That is certainly commendable, but Varga, arguably, takes his efforts to be fair too far, in that he consistently avoids in-depth insight of any kind on those he worked with, a fact that often leaves the reader wanting more. Clearly, he had no desire to produce an exposé, and, to be fair, the primary purpose of the book is to tell his own story, but the reader would be better alerted to those facts had the words in the book's title been rearranged to — The Eye Behind the Lens: An Inside View. That revised title would be a more accurate signpost for what lies in the pages to come, as the reader very much gets an "inside view" of Michael Varga, the man who was the eye behind the lens, but relatively little is revealed about those with whom "the eye" – aka Varga – interacted.
Reading Inside View: The Eye Behind the Lens is rather like what one imagines sitting down for a series of personal chats with Michael Varga would be like. That is no accident. The book was a product of just that process. As Varga notes: "Never having imagined myself writing a book, I'm grateful to Roxanne Davies who joined me on this learning journey. With persistence and determination, she transcribed my thoughts, words, and feelings and turned them into a book" (p. 272). Davies describes her collaboration with Varga in greater detail in her introduction to Inside View: "With a little coaxing, Michael and I were soon meeting weekly to record his story. One memory would lead to another, which would then lead to yet another! Before long the vivid highlights from his lengthy career had been mined from his memory…." (p. x).
Inside View is thus rather like an engaging dinner conversation with someone you've just been introduced to, and quickly have come to like. Afterwards, one feels they know the person better, and can reflect back with fondness to a series of interesting anecdotes that were shared. However, any dinner companion's life story is generally presented in rather haphazard form, and little truly in-depth knowledge is likely to be gained. Similarly, Inside View presents a roughly chronological account of Varga's television career at the CBC and beyond; but, like a good dinner conversation, the narrative frequently veers off in unexpected directions, and only rarely exhibits great depth.
The not-entirely-linear approach to the Varga story is evident in the book's first three chapters. Inside View begins with Varga already working for CBC Vancouver when he is given the opportunity to cover the 1976 Summer Olympics in Montreal. Once there, he is inspired to excellence by the example of two veteran CBC Sports cameramen. "As I sat there staring at them I thought to myself: That's the life I want! But…. I could tell that if you wanted to be part of their world you had to go for it" (p. 4). From that point, Varga's destiny was set:
Over the next four decades, I would meet thousands of people and … record stories at nine Olympics, four Commonwealth Games, the Pan Am Games and World Track and Field [championships], FIFA World Cup, World Cup skiing events around the world, figure skating championships, many Grey Cup games and six Canada Games as well as hundreds of NHL hockey games (p. 5).
Chapter Two goes back in time to Michael Varga's childhood roots in London, Ontario, but starts oddly with a few teenage dating stories before briefly discussing his parents immigration to Canada from Hungary in the 1950s. His parents' lives are then not discussed in any depth until Chapter 20. We do learn, however, that Varga was first drawn to the idea of being a television cameraman at age nine, when he joined his father who worked cleaning the local TV station. "I was hypnotized by the tape going round and round in that gigantic grey machine. From the very beginning, I was fascinated by the environment in a studio: the equipment, the busy activity, the smell of the place. Even today when I walk into a television studio, all my senses get a real rush" (p. 10).
From there, we get a brief history of the city of London and some of its more famous residents, as well as commentary on some popular TV staples in the 1960s. A more chronological telling of Varga's career returns toward the end of Chapter 2 and into Chapter 3, documenting his time at a London high school that offered a course in television production, the family's move to Vancouver, and his eventual hiring by the CBC in 1973. But the non-linear organization recurs at other points throughout the book, Chapters 17 to 20, in particular. Rigid adherence to a linear timeline is not, of course, an inherent necessity, but Inside View has little in the way of obvious thematic organization either; thus the jumps in time are more puzzling.
In Chapters 4 to 15, (pp. 29- 149) Varga devotes much of his time to introducing readers to the wide array of CBC personalities and international celebrities he had the opportunity to interact with thanks to his career: from Paul Anka, Wolfman Jack, and René Simard, to the Dalai Lama, Bishop Desmond Tutu, and Princess Diana, to sports broadcasters Dick Irvin, Scott Russell, Ron MacLean, Don Cherry, and many, many more. But, with the odd exception, one learns very little about any of those people, and few truly engaging behind-the-scenes stories are shared.
That not-so-detailed approach even applies to Chapter 16, which documents Varga's 12 years shooting the Read Report with Canadian ski legend Ken Read. Varga does briefly describe being hit by an avalanche at a Swiss ski resort during this time, and notes Read's struggles to keep both CBC executives and various ski sponsors happy with the program. But, again, not much personal insight is shared on Ken Read himself, even though Varga strongly hints that he could have written more:
I loved Ken and I tried to understand him. Often when Ken experienced problems on the road we would talk things through while going up on the chairlift. I think he trusted me. Over the years he told me things I don't think he had ever told anyone (p. 163).
Just what those things were, however, the reader is left to guess. That pattern of leaving the reader hanging is evident even when Varga mentions some of his favourite assignments. For example, he rates the 2002 Men's World Cup Soccer Championships in Korea as his "best gig ever." But other than a passing comment about that event having "tremendous energy," no other details are provided.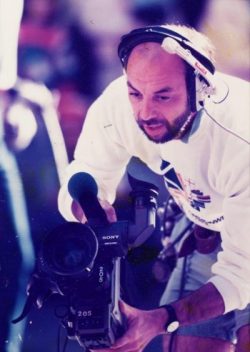 Varga's tendency to write largely in generalities is all the more frustrating, as there are other portions of the book where he proves that he is capable of being more informative, and it is those times that salvage the project. Inside View is sprinkled with moments, here and there, that do provide behind-the-curtain peeks at the less glamorous side of being a top-ranking sports television cameraman, including extended days with few hours of sleep, the need to have an iron bladder, the extreme cold faced when shooting ski races — skiing being Varga's favourite sport to shoot — and the hectic work/travel schedule that takes a heavy toll on personal relationships.
In several chapters, Varga also sheds brief, but valuable, insight on a number of technical innovations at the CBC over the years, including the move to handheld Betacams in the early 1980s. Varga was among the first to use the new, far more portable technology for CBC Sports, which gave cameramen unprecedented freedom:
The sound and pictures I could take were amazing! Now I was able to record everything myself. I didn't have to look behind me to locate the sound guy. I could go anywhere, at any time, and shoot anything. The development of the Betacam, using videotape instead of expensive film, had revolutionized sports broadcasting (p. 110).
Varga is at his best in the sections of Inside View where he is less guarded in his writing. This is particularly true in Chapter 17 where he documents his blacklisting from major CBC Sports assignments in the mid-1990s, following his decision to shoot an on-ice medal ceremony at the 1993 World Figure Skating Championships without permission, and his later confrontation with CBC executives to right that wrong. The book's last nine chapters — 20 to 28 — are similarly strong, as Varga opens up to reflect upon the lives of his parents, his own career and life choices, personal health issues, and his more meaningful romantic relationships.
The openness and honesty Varga expresses in these chapters does more to connect the reader to his life story and, ultimately, make the book a worthwhile read. One is left with a portrait of a "good guy" who was passionate about his work, and sees only one downside to the lifestyle his career brought him. "Work was my religion and my drug of choice. The side effect: no wife and no kids. I realized I have few regrets in life but I would have liked to have some kids of my own" (p. 204). That being said, Varga still advises his readers to: "Find what you love to do and make it your job . . . It won't be work. It'll be your life" (p. 262). Thus, despite the family it cost him, Varga seems at peace with his career/life journey, and concludes with these words: "It was work, often hard work. It was my job, and I loved it" (p. 271).
All in all, then, Michael Varga's Inside View: The Eye Behind the Lens is a reasonably satisfying read, especially in light of the fact that it is a self-published work produced by someone who never had any intention of being an author. The reader should know, however, that the 'inside view' highlighted in the title applies far more to Michael Varga himself than to anyone else mentioned in the book.
*
Timothy Lewis is Professor and Chair of History at Vancouver Island University in Nanaimo. Among the courses he teaches are several focused on the emergence and development of professional sports in Canada, and the place of hockey within Canadian identity. His research work is focused on the history of 19th and 20th-century New Brunswick, portions of which have been published in two articles in Acadiensis: Journal of the History of the Atlantic Region. His previous sports book reviews for The Ormsby Review include Jared Beasley, In Search of Al Howie (no. 791, April 5, 2020); Jeremy Allingham, Major Misconduct: The Human Cost of Fighting in Hockey (no. 718, January 9, 2020); and Kate Bird, Magic Moments in BC Sports: A Century in Photos (no. 695, December 16, 2019).
*
The Ormsby Review. More Books. More Reviews. More Often.
Publisher and Editor: Richard Mackie
The Ormsby Review is a journal service for in-depth coverage of B.C. books and authors. The Advisory Board consists of Jean Barman, Robin Fisher, Cole Harris, Wade Davis, Hugh Johnston, Patricia Roy, David Stouck, and Graeme Wynn. Scholarly Patron: SFU Graduate Liberal Studies. Honorary Patron: Yosef Wosk. Provincial Government Patron since September 2018: Creative BC
"Only connect." – E.M. Forster