#788 The year of the bicycle: 1973
MEMOIR: The year of the bicycle, 1973: North American backroads at the end of the Indochina War
by Howard Macdonald Stewart
*
Here, for the vicarious pleasure of the many COVID-19 shut-in readers of The Ormsby Review who are unable to travel, is a memoir of an ambitious bicycle journey taken in 1973 by Howard Stewart, now a semi-retired international consultant and a long-term resident of Denman Island.
Born in Powell River in 1952, Stewart was half way through an undistinguished undergraduate career at Simon Fraser University when he opted to be governed by his unsated passions for practical geography and bicycles. He decided to ride around North America until his money ran out. He was twenty. That's the sort of thing people did in the seventies. The World Wide Web was not even a twinkle in Tim Berners-Lee's eyes, WWW still stood for Whisky With Water, and email was non-existent. Stewart's only contact with friends and family after leaving Vancouver in late December 1972 was the General Delivery mail he picked up along the way in places like Alice, Texas; Natchez, Mississippi; and Raleigh, North Carolina.
His trip took him from Redding to Mexico, then into Arizona and back into Mexico as far as Mexico City, north again to Brownsville on the Gulf Coast of Texas, across the southern US to Florida, and up the Atlantic seaboard to Schenectady. A life-changing surprise awaited him at the Raleigh Post Office, he recalled, "I picked up a new batch of General Delivery mail at the central Post Office. A letter from my father said someone named Cornelius Burke had heard of my obsessive cycling and wondered if I might join him for a ride down the Danube River."
By this time it was March 1973, and Stewart had been on the road for almost three months. He called Cornelius ("Corny") Burke from a phone booth in Raleigh to discuss his offer. A couple of weeks after that, the frigid late winter of upstate New York caused Stewart to hop a Greyhound for the west coast. Two months later, after working as a gardener on Vancouver's North Shore, Stewart jumped back on his bike in Kitsilano and rode east to Montreal and flew — wth his Peugeot 10-speed — to Zurich to meet Corny Burke. That story has already been told in "Bumbling down the Danube," published in The Ormsby Review (no. 21, October-November 2016).
Join Howard Stewart here for his account of his North American road adventures in the first six months of 1973 — still fresh in his mind and now freshly presented after 47 years. – Ed.
*
Setting out
In five days it would be 1973. The Cold War had relaxed into détente and agonising decades of war in Southeast Asia would soon be over. Late in the year, a short, sharp Arab-Israeli war, the fourth in 25 years, would lead to our first 'oil crisis', when people lined up for gas. For me though, 1973 was the Year of the Bicycle, that elegant machine of liberation. An exhilarating dream had taken me riding across the world with boundless energy, up and down sunny green hills that stretched on forever. And that's sort of what I did in 1973.
The delightful dream ended badly though, as right-thinking peers crowded in and shouted at me from their grey world of sitcoms and automobiles.
"Get off that stupid bike. Why can't you just be normal?"
Was this my inner Toad? Years before, I'd been driven to tears by the fate of Toad of Toad Hall, a martyr to reckless longing who'd yearned to be 'Lord of the Lone Trail' and 'live his glorious hour upon the open road'.
Toad or not, with the bicycle I'd found the perfect cudgel for striking back at Big Tobacco and the oil industry, the bike seat my soapbox for a stand against the rampant pollution that I knew was killing us all. A bike was also an affordable way to get around.
I'd started smoking at 12 and quit 5 years later, at the end of my first year of university. It was the hardest thing I've ever done but a cheap Japanese 10 speed helped me cope with the stress. I toiled in factories, warehouses and construction sites, a pulp mill, a liquor store, a bar; I slipped off to ride the backroads of BC and Alberta, Washington and Oregon whenever I could. Between riding and working, I sleep walked my way through a little more university. Only cycling mattered though and I longed for a really long ride.
Sunlight and darkness in Ronald Reagan's California
Terry and I escaped the grey wetness of Vancouver on Boxing Day, 1972. We pulled our bike boxes off a Greyhound the next morning under an electric blue sky in Redding, California and assembled them on the sidewalk. Then we let a stiff tailwind push us south into the fertile, pesticide-sodden heart of American agriculture, the Central Valley.
Terry could ride until his classes started again in January. An incongruously tall, skinny and blond student of Chinese, he was a bit older than me and a better cyclist. He actually won bike races, which I never did. A better navigator too but even he couldn't make sense of the baffling tangle of road signs that first day. Some invited us to ride on the margin of Interstate 5 while others insisted we must not. Soon a siren came howling out of nowhere.
We stopped and watched in silence as the police cruiser eased up behind us, its lights flashing. Cars burst by on the freeway as a tall, thin cop emerged from the driver's side and swaggered toward us, pale face impassive behind reflective sunglasses. His partner leaned out the passenger window, a pistol aimed at us. Had there been had trouble with cyclists in these parts?
"You can put yer hands down now boys" he drawled. A bit of a paunch, short sandy blond hair, revolver on his hip and shiny high leather boots; he seemed to enjoy his work. We waited while he turned to smirk at his partner back in the car.
"Ya know yer ridin' where bicycles aren't allowed, huh?"
"Well, uh, no sir. We didn't know that. I mean, you know, it keeps changing…"
"And that's gonna cost ya," he chuckled as he wrote a ticket for each of us.
Chastened and consigned to the backroads after that, we never paid the hefty fines demanded by the Sheriff of Red Bluff County. We slept long and well that first night in California, despite the cold, and woke the next morning under a pale winter sun, a million frost-killed oranges as big as grapefruits scattered around us on the black soil.
We passed freighters that looked odd, moored in a canal where they towered over the surrounding flatland east of San Francisco Bay. Some claim they've found the remains of 15th century Chinese ships in those parts. California's 19th century American settlers began the systematic murder of their new state's Indigenous people around there. And this same area boasted a bountiful industrial salmon fishery, for a while, before the needs of irrigating farmers trumped those of migrating fish. Terry and I saw no ancient ships or Indigenous people or salmon. We did catch glimpses of enormous B52 bombers though, as they lumbered overhead like bloated angels of death. I wondered if they'd been among the ones showering countless tons of high explosives on America's foes, and bystanders, in Viet Nam, Laos and Cambodia.
We clambered up and spilled down one green hill after another in Napa Valley then watched the Godfather at a little cinema in Napa town before we bedded down back out in the hills. A local farmer had just been convicted of murdering dozens of Mexican migrants who he'd buried in the valley's red dirt. Neither of us slept well. The next day, I phoned an Armenian American woman at her home in swishy Marin County. We'd met in England and I hoped she might invite us for dinner. We spoke for a bit and she seemed mildly interested, then it dawned on her who I was and she hung up.
We celebrated the New Years Eve with beer on an empty sand beach by Point Reyes where posters warned of a serial killer who roamed the area still. He had a proclivity for women joggers, the notice said. The road was quiet the next day, when Marin County, the Golden Gate and the city of San Francisco all basked in glorious winter sunshine. We pedalled by thousands of identical little houses that spread over the hills and out of sight.
A spectacular twisty old highway hugged the wild shore south of Carmel, the sky always impossibly bright. Gusty north winds pushed us ever faster along a narrow road with little traffic; we blew past the cliffs of Big Sur where we admired empty beaches and a turquoise sea alive with white caps. At a sharp bend near the bottom of a very long hill my brakes didn't slow me fast enough and I dumped my old green Peugeot in a cloud of dust at the roadside. A couple more feet and I'd have been over the cliff.
Terry had to get back to UBC and I saw him off at Santa Barbara bus station. When he wished me luck, I assured him I didn't need it. I'd make my own luck, I said. Was it possible, even that young, to be so oblivious, so ignorant of capricious fate? I didn't feel lonely either, or bored. Driven and obsessed maybe, but not lonely or bored. With Terry gone, I'd meet more people along the way.
The highway stuck to the coast but the sea was often hidden behind a wall of buildings. South of Santa Barbara, I was pulled over again. Another patrolman back in the car aimed his gun at me while his jackbooted partner wrote up another exorbitant ticket for the crime of cycling on the margin of the wrong bit of freeway. I didn't pay that one either but did begin wondering about their routine. If highway cops were so spooked by people like me, then how did they decide who had to get out of the car? Did they squabble over whose turn it was to approach a potentially murderous cyclist? Flip a coin? Did they really think they needed to point a gun at someone on a bicyclist? Or was it just habit?
LA stretched on forever, Malibu and Santa Monica and Torrance and Long Beach and on and on through soupy yellow air that soon had my eyes red and weeping. Innumerable taco stands too: I'd never seen one before and stopped at a few.
Places like Newport Beach, designed for the very rich, did not welcome a bicyclist of modest means, nor did San Clemente, where I slept badly on what I hoped was a public beach. The place had a cloying, tight-assed, paranoid feel to it and reeked of Richard Nixon. It may have been my imagination but his California home was nearby and he'd just been re-elected.
*
Paranoia bubbled up again as I approached the gate of a vast military base the next day. A trim Marine sergeant with a grey crewcut walked up to me slowly, looked me up and down like I was a circus freak and grinned ambiguously.
"Whoa. Where you headed son?"
"Mornin'. I'm jus' tryna' get to San Diego. And the map, ya know, it shows this is the only road I'm allowed on. I know for sure I can't take the 5. I'd just get another damn ticket."
"So you wanna jes ride your fancy green bicycle through Camp Pendleton?"
"Uuuhhh, yeah. I mean… if that's okay. Sir. I, uh, otherwise I gotta go all the way round. Like way, way around. I dunno, maybe 100 miles around. They said it was okay to ride through this camp for a couple of hours on Sunday mornings."
"They did, huh? Well I guess I better let ya do it then. But make damn sure you don't stop son. Whatever ya do, don't stop. And don't get off that bike a yers, ya hear me? And make sure yer out again by noon. Any time after noon, well, that's when they might start usin' live roun's again."
"Yeah, no problem. It's a deal. Thanks a lot eh."
I was pretty sure it was bullshit about the live rounds but I didn't stop. I savoured the still, fresh morning air and rode as fast as I could over the camp's empty backroads, slowing only where they crossed deep furrows left by tanks. Once again, I struggled with road signs that told me where one could and absolutely could not go.
A chatty professor from the university at La Jolla rode with me for a while through laid back suburbs north of San Diego. Things had grown too calm by the time I reached the city centre. Downtown San Diego on a Sunday afternoon might have been a set for a science fiction film where a mysterious calamity had wiped out everyone save a few faceless drivers. I found a hostel open in the middle of town though, left my bike there and went off to stroll the silent sidewalks. I was in desperate need of a beer.
"Nice day."
This skinny middle-aged stranger, tight fitting blue jeans and t-shirt and a receding hairline, was the first person I'd seen on the streets. He smiled and began to walk beside me.
"Yeah, but the place is pretty dead, eh?"
"Yeah, it's dead alright man. Not much goin' on here in San Diego on a Sunday. That's for sure. Just one more thing we got to thank Governor Ray Gun for."
"I mean seriously, isn't there anywhere you can get a beer around here on a Sunday? I'm just passing through you know, and I'm really thirsty."
"Are you sure you're old enough son?" he grinned.
"Yeah, I'm 20. Oh shit. It's 21 here right?" I knew it was 21. Terry had been buying our beer further north.
"Yup, 21. But listen, no problem. I got some beers back at my place. Just a coupla blocks from here. Little apartment. And I'd be happy to share some. Name's John. John Norman." He grinned again and put out his gristly tanned hand.
"Hi John" I said, shaking his hand. "I'm Howard. From Canada. Vancouver. Just passin' through on my bike."
"Bike eh? That's gotta be hard on the ass."
Back in his cool dark flat, John gave me a beer, then another, and asked many questions about me and my trip.
"Don't mind me, Howard, I'm a photographer. Freelance, you know. You don't mind if I take yer picture?"
He didn't wait for me to answer and took my picture a few times as I savoured that delicious cold beer. It struck me as odd, this picture taking, but I guessed that was just what photographers did.
"Thanks John. That was great. Ya saved my life, eh. Thanks a lot. But I gotta go, you know, keep walkin' for a while. Otherwise I might cramp up." My twenty-year old legs never cramped up but I didn't know what to make of John.
"Sure. Any time. And listen, if you like travel Howard, then maybe I can hook you up with some guys — like an association of businessmen, you know. I work with 'em sometimes. These guys, they sponsor young people like you, mostly young men, help 'em travel all around the States."
"Kind of like the Rotary Club, you mean? Yeah, that sounds great John. Wow. Being paid to travel. What would I have to do?"
"Whad'ya have to do? Oh, nothin' much. Yeah, they're kind a like the Rotary Club, I guess. That's right. And most people who get sponsored, you know, they, they really enjoy it. I bet you'd be perfect for it. Anyways, if you're interested, just gimme your address and I'll send ya some of their stuff."
I finished my beer, gave John my address, and went back into the bright empty street. Being sponsored to travel sounded great. I'd applied to the Rotary Club a couple of years before because I'd wanted to go to Africa. But the haberdasher who'd backed my application thought I should go to Asia instead. So I'd asked Rotary to bankroll studies in either Malaysia or Senegal. They could choose. Instead they sent the daughter of my old high school principal to France. I probably never had a chance. Who went to study in West Africa or Southeast Asia anyways? People there all wanted to study in Canada.
But now there were these American businessmen. Would they let me travel by bicycle, I wondered. Why not? The whole idea of it and John's free beer had put me in a great mood. Meeting John had been my best experience yet with a Californian, the first time a local had really reached out.
Then I forgot the whole thing. Months later, on my way through Vancouver, I would find the package John mailed me. But I had other plans by then, months more riding ahead of me. So I just threw it in a drawer and forgot about it.
I finally got off my bike a few months after that, and was back to squatting on my auntie's porch in Kitsilano when I read a piece in Newsweek about someone named John Norman. It was the same one who'd given me beer in San Diego and, the article confirmed, my erstwhile benefactor was indeed a photographer. They also described him as a petty criminal whose convictions included what, in those days, they still called 'buggery'. And John was now a minor player, an accidental one he swore, in a gruesome murder case in Houston where police had recently discovered the remains of thirty young men buried under a house. As far as I could make out, the killer, a local businessman, was one of those 'travel sponsors' John Norman had proposed to me that sunny Sunday in San Diego. I finally looked carefully at the package he'd sent months earlier. A brochure full of black and white photos of skinny young men about my age offered only their first names and described their hobbies. Rotary Club indeed.
But I'm ahead of myself. I slept peacefully that night in San Diego, in a cavernous empty hostel. The next day I climbed east into sere and fragrant hills covered in pine forest then dropped into a damp green irrigated desert and spent the night behind a bush outside Calexico.
A first glimpse of Mexico
Mexicali, the capital of Baja California, was gritty and it vibrated like no town I'd ever seen. I hurried through, intimidated by dusty noisy streets alive with people and traffic, and disoriented by many unidentifiable new smells and sounds. Statues of unknown heroes towered over me by the roadside, mysterious monuments to Mexico's tumultuous past locked in eternal struggle with one another.
I glided east, into the silent, empty Sonoran Desert where there was no irrigation to green the wasteland. American farmers upstream had used all the water. Not far off the empty road, behind the ruins of a tiny shack, I bedded down for one of those long peaceful winter sleeps. When I woke up to pee, hours later, the coyote sniffing my head took off like a greyhound. As shocked as my visitor, I lay awake a while and admired the brilliant moon and a million stars in the black desert sky.
Late the next morning, despite the weak January sun, thirst and hunger almost laid me low before I made it to the first truck stop. Breakfast, when it finally came, was an out-of-body experience, much cool water then countless cups of strong black coffee to wash down an enormous, luscious burrito swimming in fresh, peppery salsa.
Moments in the foggy Arizona desert
It was almost dark when I re-entered the US, in the middle of an Arizona state park at Sonoita. I had to pay for a night in a campground meant for recreational vehicles. The warden consigned me to a concrete patio where the neon light stayed on all night. It made the moon disappear but illuminated a large green sign with bright white letters that listed the many things one must not do there. 'Tis an ill wind blows no good' however, and in that sterile snowbird haven I could read my dog-eared copy of Crime and Punishment far into the night without a flashlight.
The road north the next day took me over dry riverbeds and past dignified Saguaro cacti, through Ajo and Gila Bend and desert landscapes as beautiful as the campground had been ugly. A sign on one long empty stretch of road announced we were inside a US Air Force firing range and so ought not to wander off into the desert. After another night poring over Dostoevsky near the roadside, I arrived in Phoenix ready for some low brow culture. I searched in vain for a cinema then wandered lost through a thick fog that cloaked the city. Fog in the desert? Anyways, it made it easy to sleep unnoticed in a suburban ditch.
Decades later, I understood my mistake. I'd searched for 'downtown Phoenix', the sort of place where movie theatres might cluster. Yet 'downtown Phoenix' still barely exists almost a half century later, a pinprick lost inside suburbs that sprawl forever into the desert on all sides. The blinding fog rose from the city's innumerable canals.
The sky was clear again the next morning and I was soon back in a spectacular sere landscape of finely etched red brown hills and sculpted cacti. Headed for Mexico again, I found a hostel on the outskirts of Tucson run by a kindly middle-aged refugee from New England winter.
Renee was a Vermont liberal but still in shock after a recent visit from a bus load of feral African American kids from East LA. Embarrassed, she confessed her relief at having a 'normal' visitor again and I strove to be as normal as I knew how. She filled me with homemade cabbage rolls, my first decent meal in days, so I stayed two nights.
I spent happy hours at a local university's dendrochronology display. The pretty little city's hyper arid climate made it a perfect place for wood to petrify and local scholars had become pioneers in the science of interpreting past environments, especially past climates, by studying growth rings in centuries-old bits of petrified wood.
A more complicated relationship with Mexico
It felt like a happy reunion with an old friend when I rolled into Mexico again, though I almost froze to death that night in the hills south of Nogales. I wouldn't sleep as cold again until New York, months later. I sought warmth at a noisy roadside café the next morning and was the object of much merriment for a gathering of raven-haired women. Short and lively, friendly and pretty, they laughed till they cried about a gringo from Canada who'd almost frozen to death after getting back to Mexico.
It was soon clear that a greater risk would be a quick swipe from one of the huge trucks or buses that roared by me on the narrow highway, one after the other, all day long. These behemoths dominated Mexico's highways and each left behind a choking black cloud of diesel smoke. A chain of flowery roadside shrines to the Blessed Virgin reminded one of their many victims. Would anyone put up a shrine for me, I wondered, after an errant truck or bus swerved me into oblivion? Would they leave flowers? Otherwise it was a good ride and I passed through one or two dusty, bustling little cities each day, some on the seashore and some not.
"I spend fifteen fuckin' years in Chicago man. I never gonna forget that fuckin' cold." The truck stop outside Hermosillo was noisy and this short powerful mechanic had to shout. He smiled a gap-toothed grin as he wrapped his hands around his barrel chest to protect himself against the memory of that frigid wind off Lake Michigan.
"D'ya think you'll ever go back?"
"Yeah, sure. You know, maybe. But only when I really have to, you know what I mean, man. I mean when I really, really need the money. The money's good there, way better than here, for sure. And there's lotsa jobs. But that's not a life, man. I mean that's all people wanna do there. Work and make money an' work sa more. And the people there, they're not always so nice, you know, if yer a Mexican. Especially the cops."
He fixed my flat tire for free.
My Spanish was terrible but I met more warm and friendly people in Mexico than in the States, except for John in San Diego and Renee in Tucson. Many spoke English and everyone, it seemed, had either lived in the US at some time or had relatives there. The fact I was from Canada didn't often register with them, didn't distinguish me from other gringos. But my bicycle did. Some Americans I met also found it hard to distinguish my country from theirs. This was harder to swallow because we tried so hard, in those days of Vietnam and Richard Nixon, to make sure everyone understood the difference.
I arrived at a roadside checkpoint south of Ciudad Obregon to find another gringo cyclist in tattered shorts and t-shirt deep in friendly chatter with a cluster of Federales, the federal police. A Canadian from the Okanagan Valley, Larry had a deep tan and full bushy beard. I couldn't figure out where he was headed, or if he was headed anywhere in particular, but we agreed to ride together for a while.
"Came down with a friend last summer. But he left a while ago. I do' know why he'd go back there fer the friggin' winter. I just bin cyclin' around since then, between all the beautiful beach places they got hidden away around here. And smoking some good shit too, you know. They call it mota here. You wanna remember that word man. Mota. It's really cheap. And good. I mean like way better than the crap we get in Kelowna. And it's like, everywhere. I even smoked with some Federales at a roadblock one time. I wouldn't recommend it though. I don't think you can really trust 'em. But they were tokin' up when I got there and just kind of insisted. It was weird for sure… But sorta fun too. I guess… Hard to really relax around 'em though, even when yer fucked up. Hey, did you check out that beach by Guaymas? It's incredible and there's like, no one there. I mean, just about no one. Like no one even knows it exists."
Alone in a dry scrub forest that night, Larry and I smoked a little of his mota beside a roaring fire. A coyote slowly circled around the outside of our camp, sniffed and tried to make sense of us, or maybe it just wanted to know what we were eating. It was good to have someone to talk with, though Larry did most of the talking and we couldn't really talk much during the day anyways, because we had to ride single file along the busy highway. We split up at Cuillacán where Larry had other business, he said.
Ready for a rest by the time I reached the bright little beach town of Mazatlan, I was also feeling nauseous. I resolved to eat no more of those sickly sweet loaves of compressed mango or guava or whatever it was I'd been buying at roadside markets. They were cheap calories and had replaced my US diet of dates with peanut butter.
Whatever it was that roiled my guts that evening in Mazatlan made for a long and unrestful night on the beach outside town. Near midnight, when it finally looked as though I might sleep, a cluster of policemen came by to ask questions. Where was I from, they wanted to know, and why was I on their beach so late? They shone flashlights in my eyes so I could see their boots but not their faces.
"Sleeping on our beach is against the law. You cannot stay here."
They spoke simple English but I had taught myself to say "Me siento malo" (I feel sick) earlier that day. It was my first real sentence in Spanish and I was proud of it. They showed no sympathy however and reminded me again — more impatiently this time — that I could not sleep there and would have to move on. Right now. Inmediatamente.
In retrospect, I suppose they were just fishing for a modest payment, rent to secure my place on the beach. Instead I repeated "me siento malo", even more pathetically, I hoped. To convince them of my sad condition, I pointed to the soggy beach beneath them, a thin layer of sand over my copious and poorly hidden spoor. They disappeared without another word and I went back to sleep.
Mazatlan got better after that. I met another American named John, this one tall and skinny with straight sandy hair below his shoulders, a wispy little moustache and goatee. About my age and originally from Minnesota, John studied at the University of Tulsa and he'd ridden to Mazatlan on his motorcycle. Together we chatted up a couple of French girls about our age: a tall, moody blonde with a pneumatic body named Francoise and Marie, a shorter, plumper, and more jovial brunette. They were touring Mexico by bus. We joked and ate together, drank beer and talked on the beach, then strolled around town, talking some more. John looked almost as weather beaten, ragged and unstylish as I did. Were we part of the romance of foreign travel?
Mexico was heavenly, Marie told us, compared with their daily grind back in Paris. Life there, she said, was an endless dreary treadmill of dodo-métro-boulot-métro-dodo (sleep-subway-work-subway-sleep). My simple French helped bring us together and I fell for Nicole with her prissy Paris accent. We agreed I would meet them later that month at their hotel in Vera Cruz, on the other side of Mexico. It was not to be, though John and I would meet again.
John, like Larry from Kelowna, loved Mexico's marvellous cheap pot. Late one afternoon, after we'd shared a bit on the beach, I walked back from the shore and into Mazatlan, pondering the thin parallel strata that formed the place. First a row of glitzy tourist establishments along the shore then a block or two of fine Mexican houses, each surrounded by high concrete walls topped with broken glass. Behind these lay the far bigger, grittier part of town where everything happened on the street, amidst hordes of children, dogs and chickens.
Back on the beach a little later, stunned by the blazing sun and John's grass, I fell asleep. Something that felt like a small and furry mouse crawled onto my face. Half asleep, I reached up to brush it off. A large hairy spider bit the fleshy middle of my cheek before scuttling away across the sand. The bite would fester for days.
South again through a coastal plain turned more humid, greener and tropical. For the first time I encountered that pungent sweet aroma of a landscape full of rotting organic matter, that evocative bouquet I would come across in so many tropical places. My next destination, Tepic, was thousands of feet up in the Sierra to my left. I dreaded the inevitable hill. Yet the little highway clung tenaciously to the coast even as Tepic drew ever closer. Then the awful truth: The goddamn road builders had put off the hill until the last possible moment. When the highway finally turned east, it rose straight into the Sierra Madre Occidental, a brutal set of switchbacks up to the doorstep of Tepic, capital of the state of Nayarit.
Reading The Death of Artemio Cruz by Carlos Fuentes years later, I'd recognise a little American style soda fountain in the middle of Tepic. Like characters in that Fuentes novel, both Mexicans and gringos visited this place in 1973 for a taste of Estadunidense culture and cuisine. A kind and jaded old Italian nearby let me sleep free a couple of nights, on the grass inside his motel compound. Mildly intrigued by my bicycle odyssey, he spoke French as badly as I did; most of the time he was locked in an chess match with an aged Mexican companion. They chain-smoked and slid their three-foot high pieces around a black and white checkerboard patio.
Much time was wasted in Tepic on repeated, fruitless efforts to fix a punctured tire. Someone had warned me of thorns in the desert and I'd equipped my wheels with extra thick 'thorn-proof' inner tubes. Now, though the desert was behind me, something had punctured one of my special tubes and neither I nor the local fitters could mend it. I headed down the highway towards Guadalajara, twice, but didn't get far before the wretched thing was flat again. And no one in Tepic could sell me a 27 by 1¼ inch tube. So my noble battered metallic green Peugeot, like the beloved old family dog whose back legs have given out, was loaded on the overnight train for Mexico City. A no nonsense railway clerk insisted I could not leave my saddle bags on the bike. Instead, I'd have to carry them with me on the train. I saw this as arbitrary and preposterous, petty bureaucratic tyranny at its worst. Yet it saved my trip.
The train snaked slowly south and east towards Mexico's central valley and the great city. It was a travelling circus and I, one of its side show oddities. It wasn't so much my glaring gringo-ness — though I was the only one in our second class car — but mostly that spider bite from the beach in Mazatlan. It had reached majestic proportions, a little Popocatepetl rising up from my left cheek. The French and Spanish words for spider are very close, so it wasn't long before the whole car knew of my encounter with that great hairy monster and they found it hilarious. They took perverse delight in the obviously parlous state of my guts too.
But the other passengers were so darn nice that I just couldn't help but share their mirth at my misery. An enthusiastic middle-aged man from Guadalajara insisted I must get off the train there and come visit with him and his family. Why didn't I take him up on it? Instead, I mumbled a vague story about someone waiting for me in the capital. This ought to have been a lesson about the wages of lying.
We rolled through the endless outskirts of Mexico City in the gentle dawn light. I'd have a chance, a decade later, to wander awestruck through the nearby ruins of Teotihuacan, climb the Pyramid of the Sun, look down the Avenue of the Dead to the Pyramid of the Moon and ponder Mexico's many waves of civilisation that we know so little of. I'd watch Canadian bureaucrats besotted with Mexico City whores and American scientists obsessed with the need to turn that valley's treasure of maize germ plasm into their own personal, chemical soaked triumphs of Green Revolution science.
But as our train bumped along that morning, I mostly noticed a vast flat valley surrounded by green volcanic peaks and filled to bursting with tiny houses. Many of Mexico City's most wretched lived beside the railway. So I glimpsed profound poverty for the first time — endless barrios of plywood and cardboard shacks with tin pan roofs held down by stones.
It was a lot to absorb, for a poor dumb sleep-deprived boy from the backwoods of Canada. We pulled into the Central Station and the moment I stepped out of our shabby Segundo carriage, a freshly scrubbed man of uncertain age rushed up to me. He wore a smart looking green uniform and spoke proper English.
"Welcome to Mexico City señor! Please allow me to get your baggage for you. Give me your ticket. And tell me please, what is it?"
It was the first time in days anyone had spoken to me so clearly and this tidy, fluent, brown skinned, little fellow exuded the sort of efficiency I hadn't seen since Arizona. Relieved and grateful, I smiled and pressed my soiled baggage ticket into his outstretched hand.
"Here you are. It's a bicycle. Thanks very much, eh. Should I wait for you here?"
He hurried off, almost running, so fast we didn't have time to sort out details like where we'd meet or how much I'd pay him. For perhaps half an hour, I loitered vacantly about that vast station teeming with busy Mexicans. Then I began to ask myself how that smarmy little bastard could need so long just to get a single piece of luggage. For no particular reason, I decided to shout; one of those rash ideas that somehow makes sense in the moment. Nobody would understand me anyways, I reasoned. So I screamed out my frustration, to no one in particular.
"Where the fuck is my bicycle? I've been here for an hour already. What the fuck is goin' on here?"
A similar outburst from a Mexican in a gringo train station would almost certainly get him shot or at least beaten senseless. Several fit looking men did quickly descend upon me but none seemed anxious to close in, thanks perhaps to my grossly distended cheek. An older man, with the Ferrocarriles Nacionales de México logo on his leather jacket walked through the others and looked me over.
"What is your problem señor? I hope we can help you. But please, do not shout like that again." He spoke in a quiet voice and smiled graciously.
I explained the situation to him, careful to emphasise my dissatisfaction with FNM's preposterously slow porters. The older man listened and soon understood my dilemma better than I did. He spoke briefly with the others who tittered among themselves as they stole glances over their shoulders at me.
"Maybe we can go visit the baggage counter señor? Let's see what they might have for you."
Why hadn't I thought of that? They lead me downstairs into a nearby baggage claim area where the FNM man spoke with a worried looking attendant.
"He says, yes, there was a bicycle. Only one this morning. A man come for it. A long time ago."
Suddenly, just a little after the rest of them, I got it. It had been the perfect scam, elegant in its simplicity. It required only someone prepared to give away their baggage ticket to a fluent stranger dressed vaguely like a porter. Even better if they told the thief what their baggage was, then thanked him for his trouble. Thank God I hadn't tipped the bastard. I thanked those gentlemen in the basement too, ignoring their looks of pity and scorn. Then I turned away, climbed back upstairs and wandered off into the megacity.
Amid the roaring chaos of the street, all I could think at first of was my urgent need for another bicycle so I might ride down the other side of Mexico to the French girls in Vera Cruz. Only when I stepped into a public washroom would I discover the scale of the great white wonder on my cheek. I'd slipped by then into a blurry 'make them all pay for what they've done to me' sort of psychosis. I thirsted for vengeance like an obsessive antihero in a Charles Bronson film. The corruption on my face had reached a state that allowed me, with little effort, to send it onto the washroom mirror like a stream of septic yogurt shot from a tube. A first small act of revenge on this treacherous people.
A smiling young man of 10 or 12 named Ramon soon befriended me and we set off together in search of a new bicycle. He wanted to sell me his old bike but we agreed I should just rent it for the day instead. Ramon sat on the handle bars and guided me to every bicycle store he knew in the middle of the city. None had anything like the machine I needed so I pulled the plug, bid Ramon farewell, abandoned the French girls to their fate and bought a train ticket for that distant corner where Mexico, the Gulf of Mexico and Texas meet up.
Another boisterous second-class FNM carriage, another travelling circus. A wrinkled brown old drunk in white cotton, bare feet and a huge sombrero soon befriended me and we toasted my noble green Peugeot with his rotgut tequila as our train roared north through the night towards Monterrey, Mexico's industrial heartland in those days. A local train ran east from there to Matamoros where you could walk across to Texas.
We passed through San Luis Potosi and Saltillo and who knows how many other places before we finally pulled into Monterrey the next evening, or maybe the one after that. The only money I had now was a little bundle of US $20 traveller's cheques. I soon learned that the merchants who rode the train between stations could not cash these. To this day, I'm ashamed to admit that I seized upon this discovery to further slake my demented thirst for retribution. I sampled their tacos and chocolate drink and other modest fare then held out one of those ornate blue bills worth 240 pesos as I inquired innocently "¿Tiene cambio? (Do you have change?)" I knew they didn't.
"Por favor señor, tengo que hablarle." This enormous man had my undivided attention though I had only the vaguest notion what he had said to me. I was in Monterrey Station for the night and I'd stung several of the station's merchants with that shameless traveller's cheque scam. My train for Matamoros would leave the next morning. But now this very Indigenous looking giant towered over me, had me cornered in a stall during one of my frequent visits to the toilet. Like the other cubicles, mine had no door.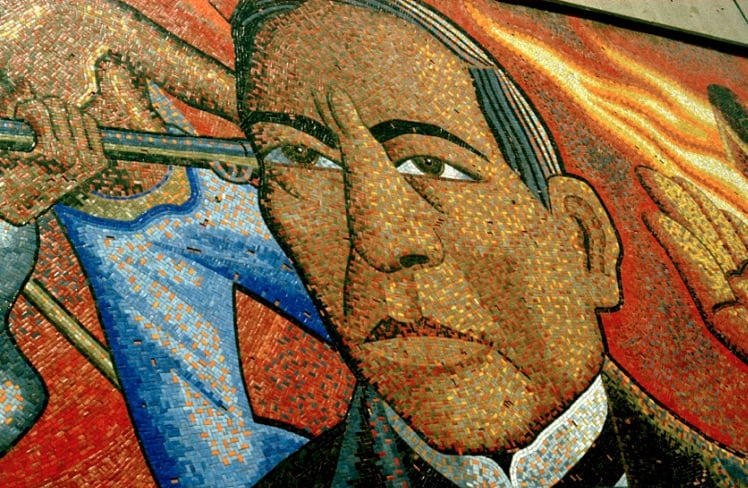 As Vladimir Putin would say of his enemies years later, I was 'trapped in the shit house', caught with my pants down by this man mountain who stood there, where there ought to have been a door. Cowering far below on the grimy toilet seat I was struck by how much his massive, impassive copper face looked like a character from a Mexico City mural. Except for his white shirt buttoned to the collar and worn out brown suit, the whole scene might have been a detail in a Diego Rivera masterpiece — the Indigenous hero who vanquishes the abject white exploiter.
But he just smiled sweetly, pulled out his wallet and showed me his railway security badge. The law had caught up with me at last.
"We got many people out there, señor, they not happy wit' you. You gotta pay 'em all you know, before you leave this place. I gotta make sure you do that."
He waited by the grimy sinks as I finished with the toilet. I was sure he was exaggerating. I couldn't have been to more than three or four food stalls since I'd arrived in the station; surely that wasn't exactly "many". I explained my traveller's cheque dilemma to him and he smiled again.
"No problem señor. Tomorrow morning, we go to a bank. Close by da station here. They gonna cash you cheque. Then you gonna pay everybody you owe here. Before you take any train. OK?"
"Yeah, no problem. Thank you" I said, smiling a big unctuous Canadian smile and overcome with relief when I realised he wasn't going arrest me or leave me battered and soiled in a stall. Instead he was going to help me repay my debt to Mexican society.
"My name is Jose. You know, like Joseph in English. What's your name señor?"
"Uh, Howard. Great to meet you Jose."
Jose did not stray far from me after that, didn't let me out of his sight the rest of the night. Early the next morning he took me out for breakfast where he showed me pictures of his wife and kids. Then he accompanied me to a nearby bank where he explained my situation to the manager. After the bank, Jose gave me a little walking tour of downtown Monterrey while I wondered feverishly how much I would have to give him from my little stack of newly acquired pesos. But Jose didn't ask for anything and he refused to let me pay him back for breakfast.
Deep in the heart of Texas
"Yeah, that sounds like them Mexicans all right. Ah tell ya. They'll do it to you every tahm." This bored, drawling guard on the Texas side of the border was almost asleep as he pawed through the soiled clothes and greasy tools jammed into my saddle bags. I had recounted my sad tale, to explain why I had bicycle bags but no bike.
Though still grieving the dear old Peugeot, and cursing its abductors, I was shocked again on re-entry into this cleaner, greener, richer but less friendly place. A little bike shop in the middle of Brownsville sold me the only 10 speed they had, a white Raleigh. The owner stood by and talked as his Mexican mechanic helped me fit my old saddle bags onto the new machine.
"Mexicans! They're so darn much trouble. Who knows why we've put up with 'em so long here in Texas? Sometimes I think maybe they're more trouble than they're worth."
First I thought he was kidding but he wasn't. So I smiled politely while Manuel concentrated on the bike. I'd hear more comments like this in coming days. Texas, like Arizona and California, had been part of Mexico not so long before. But many in these parts now tried too hard to distinguish themselves from their estranged cousins.
A hurricane had swooped in from the Gulf a few years earlier, devastating Brownville and leaving a legacy of damaged and abandoned buildings. The day I arrived, and left again, it was sunny with a brisk North wind that would challenge my return to the saddle. That end of the Rio Grande valley is flat as a tortilla yet riding into that powerful breeze was like climbing a hill, all day long.
A local farmer let me sleep in one of the vacant shacks he kept for migrant workers. After a few nights in noisy trains and stations, I was desperate to bed down under the stars. I didn't want to seem ungrateful though, and wasn't sure how Texans might react to strangers asleep in their fields. So I slept on worn wooden slats inside a bare shack that reeked of disinfectant and felt like a concentration camp.
South Texas in winter was quiet and empty but still lush with promise, its endless bare fields waiting for spring. Leafless hardwood forests surrounded slow moving brown streams. It was Lyndon Johnson country and the sad old president had died nearby a few days before. Yet local towns bore names like Kennedy and Nixon.
A desperate local boy in Nixon, short hair with glasses and big ears, followed me around his town for a while, hanging out the window of his pickup truck and trying to strike up a conversation.
"Maybe you'd like to meet my sister? She's real cute." he offered, in a high-pitched Texas twang.
"No thanks man. Why don't you just go away and leave me alone?"
"Or maybe, I wonder, maybe you and I could just be friends" he whined. "You know?"
"No. I do' know man. Can't you please just fuck off and leave me alone?"
He looked hurt now and stared at me for a long moment before he roared away, tires squealing and gravel shooting back at me. I'd said please, I reassured myself.
I rode around Nixon a while longer in the gathering dark, until I was sure he wasn't following me anymore. Then I bedded down, as I would often in coming months, beneath the passenger platform of an abandoned train station; dry, invisible, almost cozy.
Meeting his sister wouldn't have been bad, actually. Texas was solitary after Mexico. Among the few people I'd talked with had been two pick-up truck drivers who'd helped me the day before when I'd needed to get into Alice. Alice, Texas was my General Delivery mail pickup address for this leg of the journey and I had to get there before her post office closed for the weekend. Otherwise I'd have to spend a weekend in Alice, and I couldn't bear thinking of that, or else abandon a month's mail there. I'd started sticking out my thumb as I rode along and it worked like a charm.
The first ride was with a heavy set white haired old man. We didn't talk much but he snorked back copious amounts of snot into his throat, again and again, never gobbing anything out. I couldn't fathom it. Where was all this gob going? Was he swallowing it? Ewww. As desperate as I was to get to Alice, I was relieved when Snorky dropped me a few miles outside town. Then I rode with a far younger pick-up truck driver, an amiable Vietnam vet, convalescing he said, from an unidentified wound. His face lit up at the thought of someone riding aimless and carefree through his country. He dropped me at the post office minutes before it closed.
I wasn't aimless of course. I was headed for the Old Spanish Treasure Cave, one of the most famous tourist attractions in northwest Arkansas, up where Arkansas, Oklahoma, Kansas, and Missouri come together. As I was headed in that direction anyways, I'd stop in Tulsa to visit my friend John from Mazatlan. To get there, I had to cross Texas. In the process I got to see that rich land, especially the dark fertile soils of the north Texas plain around Dallas.
Had Mexicans known how rich this country was before those gunslinging Americans wrested it away from them in the 1830s? The local Mexican elite in those days, as in California, might have been too attached to their cattle to fully grasp the immense value of this farmland. Besides, how could they or anyone else have stopped that rising tide of violent, land hungry American settlers that poured west? Since then I've wondered: How dense were the indigenous populations on those fertile black soils of north Texas, before the arrival of the ferocious plagues that devastated the heartland of North America in the 16th and 17th centuries? Further east, before Spanish travellers and their vast herds of pestiferous pigs wandered through, the Mississippi basin had been a densely settled agricultural landscape. Had Indigenous farmers tilled these soils of north Texas too?
To be honest, most of the time I thought less about pre-Columbian history than I did about the weather. It turned bad in the far north of the Lone Star State as I approached Dennison, birth place of my childhood hero, Dwight D. Eisenhower. Eisenhower would be my hero later in life too, because of a speech he made as he left the White House in 1961, at the height of the Cold War, though I heard of it only decades later. The old war horse cautioned Americans about the growing threat posed by what he coined their 'military industrial complex'. It was taking over their country, he said. This stunning moment in modern American history had been virtually deleted from the popular record when I was younger, expunged in the years after 1961 much like a member of the Soviet Politburo would get airbrushed out of official photos after they fell out with Stalin.
But Eisenhower had been my early childhood hero because of he was tough and good looking. And what six year old doesn't love a man in uniform? Ike was far more macho, handsome and well dressed than our John Diefenbaker, that jowly wild-eyed monarchist from the backwoods of Saskatchewan. Ike had defeated the evil Nancies, then stood guard for all of us against the Commies, who were even scarier because they threatened us still. So it was disappointing, and embarrassing, when I discovered Eisenhower was their president, not ours. And no one could anyone explain why, in those years when Germans were so thoroughly demonised in our TV and movies, both our countries elected leaders had such German names. But I digress and my mind wanders, as it often did as I sailed across the endless green Texas prairie.
The weather changed suddenly south of Dennison. First a thunder storm then the first rain I'd seen since leaving Vancouver, an icy downpour that soaked me to the skin. It soon stopped but was followed by a frigid North wind that pounded my face and hands. Ike's hometown, when I finally got there, proved quite ordinary yet it was still a great relief to get there. Shivering uncontrollably, I broke down and paid for a cheap room in an old wood frame hotel in the middle of town — a luxury I would spring for just a couple of times during those months on North American roads.
The heating in my room didn't work. I had asked for the cheapest one they had. So most of my stay in Dennison was spent in bed, struggling to stay warm. I got up long enough to visit a doctor though. That Mexican bug still gnawed at my guts and I thought a doctor could help. Handsome and wise looking, with Santa Claus wrinkles around his eyes when he smiled, the white-haired old sawbones might have stepped out of Father Knows Best. But he turned mean the moment I pulled out my BC medical card.
"That thing's no good around here" he snarled.
You'd think I'd flashed a Communist party card or a stack of roubles with Lenin on them. His nurse receptionist stopped smiling too, but did sell me a disgusting banana flavoured concoction before giving me the bum's rush out into the cold empty street.
Cold and weird in Oklahoma & the deep South
A frigid wind from Canada blasted me all the next day. My clothes were dry again and I had a toque for my ears, a scarf for my face and heavy leather gloves. I could keep just about every body part warm, except for my freezing balls. Much spare clothing was stuffed into the front of my trousers to ease the excruciating pain. The next time it was cold like that I'd abandon the expedition. But I couldn't quit now, before reaching the Old Spanish Treasure Cave.
My first evening in Oklahoma found me hunched over another cheap greasy meal in a tiny, warm roadhouse run by a friendly Okie family. After dinner, the Smiths offered me a patch of floor to sleep on, beside their pool table. Over beer, Major Smith — Major was his name I think, not his rank — waxed eloquent about the homely brown pile of wrinkles on the floor between us, the second-best coon hound in America, he claimed.
I sent the Smiths a thank you letter later that year, telling them it looked like more people would be riding their bikes in Oklahoma soon. I meant because of the oil crisis that had begun by then. But the Smith's shy teenage daughter misunderstood me. She wrote back to say she was really looking forward to seeing me again and meeting all those other cyclists. But her parents had split up and Major and his dog had moved out.
It warmed up just a little as I rolled east towards Tulsa. I spent my first night sleeping rough again since the cold snap had begun, waking up chilly but mesmerised by a golden frosted prairie dawn.
John from the beach in Mazatlan lived with two other students at the University of Tulsa, all transplants from more northern states. We drank much beer but the main event was a visit to Oral Roberts University, that televangelist's futuristic campus built by and for fundamentalist Christians. I'd never seen anything like it.[i] The opulent spread seemed to confirm that God took care of his own. But there was no accounting for taste.
"Kin I help ya?" The bent old watchman squinted down at at me, wary of someone who'd arrived on a bicycle, in February, and was now hanging around a tourist attraction that was so obviously closed for the season.
"Uh, hi there. Yeah. Please. I hope you kin help me. Umm, I bin' sittin' here for a while now and it's gettin' kinda cold. I'm, uh, I'm lookin' for a friend I'm s'posed to meet here. Name's Hamish. He works here. I think. Or at least 'e did, you know, when it was open. And 'e lives around here still. Somewhere. I hope."
"What's that name dja say? Hay-mush? Nobody roun' here a name like that I ever heared about."
Almost the Ozarks now and I'd found the Old Spanish Treasure Cave but it was deserted, no sign of Hamish. Instead this old grump who'd never heard of him, or wouldn't admit to it anyways. Months later I'd learn Hamish had been out hitch hiking nearby, not long before I arrived. An off-duty immigration officer had picked him up, chatted with him about his adventures in the US and promptly deported him. Did this old man at the Treasure Cave really not know about Hamish, or was he just brushing off another annoying Yankee vagrant?
In need of a new plan, I considered riding in a big circle, so I could say I'd ridden through Arkansas, Missouri, Kansas and Oklahoma all on the same day. The dead straight borders of those places, the kind one finds all over the western US and Canada, were a specialty of 19th century map makers. People for whom Indigenous history and culture, not to mention physical geography, had little meaning. Colonial Africa got many of these straight borders in those years too. But I needed more than bragging rights about four states in a day; I needed warm weather.
So, like so many North Americans in winter, I set my sights on Florida. Riding south on beautiful empty Ozark backroads, steep little hills covered in bare hardwood forest, I stopped where two gargantuan pigs mated vigorously by the roadside but couldn't get my camera out fast enough. Later, whizzing down a hill through a silent forest, I didn't stop when I passed a man who stood beside his car, firing a pistol into the woods. Near Fort Smith I slept under a bridge across the Arkansas River then headed downstream towards Little Rock.
My Raleigh bicycle from Brownsville was as big a lemon as another Raleigh I'd picked up in England a couple of years before. To me, they spoke volumes about the collapse of English manufacturing we heard so much of in those years. After riding only a thousand miles, one of the front gear wheels had fallen off, and now I was replacing broken spokes on the back wheel every day. Not far from Little Rock, I gave up on the useless thing and just let its spokes go on breaking. Entering what would soon be Bill and Hillary Clinton's first capital city, I was riding in slow motion. The ruined wheel had become almost a liquid thing that wavered broadly with each rotation. I threw it away and bought a Schwinn wheel that would serve flawlessly for eight thousand miles before breaking my heart when I had to abandon it, in Zurich.
I mailed much unneeded gear back to Vancouver and rode out of Little Rock far faster than I'd come in. Soon my load would be little more than a two pound Icelandic sleeping bag, a plastic sheet, rain gear and a change of clothes.
"Jes what the hell ya think yer doin' there boy?"
"I'm sorry? Was I doin' suh'em wrong?" Though anxious to be polite, I didn't have a clue what I'd done wrong. The cop who'd stopped me near Pine Bluff wore the standard issue high leather boots and sunglasses, pistol lolling at his hip. At least this one didn't have a partner pointing a gun at me. Unlike the California cops though, this man was angry, and a little hard to understand.
"What do you think yer doin', ridin' that thaing on the highway like that?"
"Eh? Uh, I always ride on the highway. Is that a problem?"
"You bet thas a problem son. You cain't jes ride that thaing on a highway like that. Like it was a automobile or suh'em. Somebody jes as like' knock you off that damn thing. Wouldn't be their fault neither. You gotta stay off the pavement boy. I see you there again, y'all gonna get ye'self a big fat fahn."
In fact, this was my second warning that afternoon from the Jefferson County constabulary. I'd only heard this odd interpretation of highway law once before, from a testosterone poisoned young pickup truck driver in rural Washington. Now, as then, arguing seemed imprudent, so I bumped along the highway's rough gravel margin, cursing the ignorant cracker and all his kind until I was safely into the next county.
My last night in Arkansas was down among rice fields on the west bank of the Mississippi. There'd been another cultural shift; the nameless town where I spent that night was populated mostly, maybe entirely, by African-Americans. I stopped at a local bar where the patrons didn't look pleased to see me. One brave young man about my age struck up a conversation though and we had a couple of beer. We didn't have much in common and mostly we just smiled nervously at each other. I can't recount our conversation because I couldn't begin to capture his colourful English and many of his words eluded me. But like the pickup truck driver in Texas, he was intrigued by my journey. Once again, I slept hidden in an abandoned train station.
"Oh that's real nahs honey. But y'all jes make sure ya watch out for the niggers, y'hear."
This plump matron with curly blond hair had taken a shine to me. A waitress in the café where I'd stopped after crossing into Louisiana, she dispensed this motherly advice as she cleared my table and I'd told her of my little odyssey. All that seemed to register was that I was sleeping outside.
"Sleepin' awt like that roun' here? Hmmm, hmmm. Well you jes gotta be real careful honey. Our niggers, well, they'll steal jes bout anythin' you got. You never know. So ya gotta watch out all the time, ya hear?"
This advice and the Spanish moss that dripped from trees are about the only things I remember of northern Louisiana. I soon crossed the broad brown Mississippi at Natchez, where I admired that town's big white antebellum museum houses and picked up another batch of General Delivery mail. The pine covered hills of Mississippi and Alabama flew, followed by complicated traffic in Mobile and blessed warm sunshine.
Partying and sleeping with alligators in the Sunshine State
Florida had more in common with the festive west coast of Mexico than with the Deep South, still so full of fear and hatred. The northern fringe of the Sunshine State felt like a more progressive South — Virginia maybe — while the far south of Florida was imbued with the tortured soul of Richard Nixon. Between the two though, it often felt like an endless party where everyone was from somewhere else. For a bicycle, Florida's roads were as treacherous as Mexico's; the state's population had mushroomed to over seven million people[ii] and its highway system had not kept pace. Most of the time, one had ride on narrow, busy, two lane roads. But the people along the way made up for it.
I stopped in Tallahassee on my second night in Florida. Before the arrival of air conditioning and land developers, most white settlers had stayed up here in Florida's far north where there the ground is a little more solid, the air a bit drier. Well into the 19th century, much of the rest of the swampy state had remained a refuge for Indigenous Americans driven from their ancestral lands further north by waves of white settlement, and for African Americans escaping plantations.
An American general named Winfield Scott, eventually a hero of their empire building war with Mexico, went to Florida in the 1830s to fight troublesome 'Indians'. Scott's dispatches back to Washington explained that he was fighting escaped slaves as well as Indians but Washington told him to keep this under his hat. In fact Scott's message was kept 'Top Secret'. Imagine, they said, what Northern abolitionists might do with this kind of information. That messy conflict in Florida, known as the Seminole Wars, dragged on for years. The 'Seminole Indians', including many of African descent, were eventually vanquished and shipped off to Indian Territory (Oklahoma) where they were left in peace until white settlers needed that too.
Rooting around for spare parts in a Tallahassee bike shop, I began chatting with the owner who invited me home for dinner. We spent a delightful evening talking and smoking dope as we walked around the pretty little capital city. Ubiquitous marijuana was something else Florida and Mexico had in common.
Mike was another recovering Vietnam veteran, another of the walking wounded scarred by his time in Southeast Asia. Was he haunted, I wondered, by memories of sudden murderous gunfire, dead friends and booby traps? Did this great dope help banish images of mangled bodies and terrified children? Idyllic rural hamlets ripped to shreds? Like other young vets I'd met, Mike was quick to let me know he'd served in 'Nam but didn't want to talk about it. He just wanted me to know he'd been there and was happy not to be there anymore. Otherwise he was delightfully upbeat, a short and muscular cyclist, with light brown hair, a huge smile, and an obsession with the Lord of the Rings.
I'd heard of these books but knew little about them. Mike on the other hand, almost lived in their world. He spent much of our evening together retelling the Middle Earth's endless sagas. He recounted one intriguing scenario after another but I had trouble connecting them with each other. In fact, I didn't have the foggiest notion what he was talking about most of the time. It might have been the pot. But it didn't matter because Mike so obviously enjoyed the telling. His boundless enthusiasm for the elaborate tales was inspiring. Did Tolkien save Mike's mind from the Mekong Delta?
I was also stunned by the hundred acre supermarket where we plodded on forever under glaring neon lights, down one bright air conditioned aisle after another, past endless shelves stuffed with twenty glossy brands of every food-like product one could imagine. Was this the freedom the US was fighting for in Southeast Asia?
I pedalled south the next day, past roadside billboards nestled amidst lush green forest. Each sign announced an attraction: the renowned Suwannee River made famous by song writer Stephen Foster, underwater dancing maidens said to be world famous, frequent opportunities to buy fresh pecans, and on and on. Most attractions appeared on multiple signs that assured us we were getting ever closer to them. A kindly local couple put me up that night in their empty guest cottage beside the road where I dreamt of pecan pies and scantily clad maidens who drifted by underwater.
"Where are you coming from? You look like you've come a long ways, huh? Where ya headed?"
More people asked these things in central Florida than anywhere else; we were all travellers there. It was the end of another nerve-wracking day of riding a narrow traffic-choked highway through flat forest alive with billboards. In a tiny hamlet north of Tampa, I was enjoying a cold fizzy sugar drink in the late afternoon sunshine as I watched a teenaged boy's virtuoso performance on a unicycle. I tried to imagine what it would be like to ride a long distance on this machine but I couldn't. Then this skinny middle-aged couple, who'd also been admiring the unicyclist, had struck up a conversation and soon they were offering me a place to stay for the night.
"It's not much but at least you'd be inside" they said. It turned out to be clean, quiet and comfy, with a real bed. "And maybe you can join us for dinner too, down in Tarpon Springs. I bet it's been a while since you've had a decent meal, huh?"
Norma and Jim were Quakers, they told me, from Pennsylvania. It was soon clear they were not Richard Nixon's kind of Quakers, but anti-war activists. They insisted I join them for dinner too, their treat, at a hangout popular with local Greek sponge divers. They didn't talk much about their activism but by the end of the evening, after tantalizing hints and much retsina and ouzo, it seemed Norma and Jim might be hiding from the law in Florida. The next morning, not for the last time in Florida, I set off late with a headache and a queasy stomach.
My greasy crumpled gas station road map suggested one could avoid Tampa altogether by taking a coast road through St. Petersburg then over a very long bridge across Tampa Bay. When I got the there however, it turned out bicycles were forbidden on this bridge. Under the weather already, the prospect of back tracking then navigating the exhaust-filled urban shore east of the bay was almost too much to bear.
"Hey, you lookin' for a ride man?"
A tall thin man in a green uniform had leapt from a big white laundry truck, his stringy hair bouncing around his shoulders. Now he was hefting hugely stuffed white cloth bags into the rear of his van. His timing was perfect, my Deus ex machina.
"Oh God, yes. Thank you. Thanks so much. Yer headin' south eh?"
"You bet man. I just gotta do one more pickup then I'm outta here. On my way back across the bridge. Throw your bike in behind there. Anywhere you can find room. Don't worry about that other shit in there. It's already dirty."
Barry had come to Tampa a couple of years earlier, he said, from southern Illinois. He'd invited me to spend the evening with him and his friends in Sarasota before we were half way across the bridge. Normally I'd have kept riding but it felt like a good day to take it easy.
Apart from the usual substance abuse, Barry and his friends entertained themselves that evening with petty larceny from local convenience stores. I lingered in their getaway van, watching as they visited a few little stores from which they ran out, laughing maniacally. Then they jumped in and we zoomed away. I felt like that baby-faced mechanic in Bonny and Clyde and couldn't stop thinking of the horrible scene at the end, where Faye Dunaway's wonderful body is torn asunder in slow motion by the lawmen's bullets. Convinced my new friends and I might end the same way, I declined to share their purloined ice cream and chips. But they insisted.
Traffic grew thicker, and the suburbs richer, south of Tampa Bay. I made Naples around dark and bedded down behind a bush on the bank of a muddy man-made lake. This was the western edge of the Everglades and I harboured vague worries about alligators. Vast stretches of wetlands had been drained to make subdivisions but they'd also dug out many ponds like the one beside me. Did alligators live in these places? How does one ward them off? Do you shout and try to make yourself look as big as possible? Playing dead didn't seem like a good tactic. I didn't sleep well and left early the next day, straight into the tangled heart of that great swampy jungle, still very intact in the middle. I didn't stop much until I reached Miami.
"Hey man, where you gonna crash tonight?"
"I do' know. Maybe a hostel or suh'm."
I was searching actually.
"Why? You got somewhere I can stay?"
This skinny blond woman, unnaturally pale for this sunny place, needed a bath and some new clothes. She wasn't the kind of hostess I'd come to expect in Florida. But it would be dark soon and nobody else was offering.
"You crazy man? Yer kiddin' right? If I had somewhere to go, why the fuck would I be askin' you?" she snarled then scurried off down the sidewalk, searching for a better prospect.
I hadn't known what to expect in Miami, just assumed the locals would greet me as they had in the rest of Florida. My solitary night in swishy Naples ought to have been a warning. I'd arrived in the haze of late afternoon and headed straight for the University of Miami expecting to find fellow bohemians of generous spirit. Instead I'd stumbled into a rich kids' enclave inside a country club neighbourhood redolent of Nixon and white privilege. So I'd continued on and found myself scrambling in a hostile place called Coral Grove or Coconut Gables. Maybe Coconut Grove? Coral Gables?
"Yeah man, like you don' wanna be on the street lookin' for somewhere to stay when the cops show up. You know what I mean?"
I didn't know really what he meant though it dawned on me that I was now a member of this small army of ragged people in frantic search of a place to spend the night. At least I'd found one of them willing to talk to me. I couldn't figure out this place but I knew it wasn't the welcoming Florida I'd grown accustomed to.
"Whad'ya mean? What'll they do if they catch ya? I mean, if they find ya on the street and, you know?"
"They're not nice man, the cops in this part a town. Nowhere in Miami really. They don' like people like us, you know, people who don' go home at night."
Sometime in the last day or two I'd entered a new cultural landscape, crossed another boundary, this time into an intolerant police state where they locked up those unfortunates they judged 'vagrant'. My soiled and tattered t-shirt and shorts and aging running shoes might betray me. Judging from earlier encounters with American lawmen, I harboured little hope that my tale of a bicycle odyssey would warm their hearts.
"Fuck. Fuck. FUCK!" I couldn't think of anything more clever to say. Heading back to spend the night among the giant reptiles of the Everglades was not an option and the mean streets of Miami stretched on forever to the north.
"Yeah, it's fucked up alright. Good luck man."
Abandoned train stations and derelict houses didn't seem to exist in Florida. I didn't think to seek out the underbelly of a bridge but they were probably already spoken for anyways. I kept wandering the hostile and disorienting high rent wilderness, desperate for a little park or a golf course, anywhere I might hide out until morning. As night fell, I came across a construction site behind a hedge, a half-built mansion, its crew gone until the next morning; I slept on a pile of gravel in the basement and left early.
"You look like a bum. b-u-m, bum! Did you hear me?" this noisome stranger had got up close and now peered at me through coke bottle lenses as he howled in an unnaturally high-pitched voice, an aggressive half whine, half shriek.
"Why, I went to the Mardi Gras last year in New Orleans. I dressed up as a bum but I didn't look half as bad as you do right now. Did you hear me? I tried real hard to look bad and I still didn't look as bad as you do right now. Why don't you just get yourself some decent clothes? You look disgraceful!" He'd begun spitting on me a little with each hard consonant. "Can you hear me?"
Why did I attract these people? This one was older and stouter than my Texan suitor. He reminded me of a bit of Elton John, though more dissolute looking and flabby. Decked out in a bright flowered shirt, checked Bermuda shorts, and a pair of dark rimmed glasses that Sir Elton wouldn't be caught dead in.
It occurred to me that if I looked that bad to this freak then maybe my appearance might indeed be slipping a bit. But I didn't care. Sitting on the curb outside a convenience store and eating a bowl of granola, I just wanted him to leave me alone. I wanted to scream "Fuck off and go away." But instead I just ignored him. Even my Quaker friends back in Tampa owned a gun for goodness sake. I guessed that everyone in Florida probably had one [iii] and I didn't want to provoke any of them. And I remembered how crestfallen that tortured Texan had looked when I'd shooed him away. Eventually, in the face of my steadfast silence, my plump new amigo lost interest. Slumping into a fancy red convertible, he gave me one last exasperated look and drove off in a huff.
I sopped up the rest of breakfast in peace and rode up the shore until West Palm Beach where I turned west into the sheltering emptiness of the swamps again. I would face alligators now, anything to escape that noisy exhaust choked gauntlet of gaudy beach neighbourhoods, one sandy, glittering wasteland after the other.
"I could probably help you out, young man, if you'd just shut up about it."
"Oh, sorry. Yeah thanks, man. Thank you. Thanks a lot."
I'd found the solace I was seeking at a roadside bar that was the hub of a friendly little community of northern refugees, not far from Lake Okeechobee. The owners were African Americans from Ohio, Willie and Loreen, and they greeted me with open arms. The legal drinking age in Florida was 21 and I was still 20 but they would give me a beer, they said, if only I would stop blabbing on about Florida's unjust laws and how the legal age was only 19 in British Columbia, wherever that was.
Riding every day since Tulsa, I was ready to stop for a bit and this looked like the place for it. The local grandee was named Mad John. Long-haired with an elegant walrus moustache, John and his beautiful silent girlfriend, Mona, hailed from upstate New York. In their late twenties or early thirties perhaps, mature middle-aged people to me, they were caretaking the neglected citrus orchards that surrounded this tiny town and quickly hired me to help pick oranges and grapefruits.
"Here this'll keep ya goin', lighten yer load a little."
John came up to each of us in turn as we grappled with the gnarled and spiky old grapefruit trees, and he blew the holy smoke straight into us. John was one of those people who smoked pot the way many smoked cigarettes in those years — all day long. And he liked to share, especially like this, putting the lit end of the joint inside his mouth then coming close and blowing smoke into yours. Working on John's crew was infinitely better than those muddy high-pressure strawberry fields of Lulu Island where I'd spent some of the worst days of my high school summers. Actually, there were more girls picking strawberries, but apart from that, the grapefruit gig was far better.
Above all, Mad John's operation was low key. We were paid something, though not much, and we could count on his smoky visits a couple of times a day. He also took us with him to a roadside stand nearby where a machine transformed some of the fruits of our labour into juice, to be sold to passersby. We could drink as much of this blessed nectar as we wanted. What with the heat, the weight of those huge bags one had to drag from tree to tree and regular infusions of pot, we drank a lot of juice. But no one cared.
Most of the citrus we brought in went through a different machine that polished and waxed it. It was then packed into gift boxes and sent off to prospective land buyers. Each box contained a letter with an effusive description of the earthly paradise where the fruit had been grown, an Eden that each reader might share for only a few thousand dollars.
The rest of the pickers were local teenagers. They had less trouble than I did with the massive bags one draped around the shoulders and lugged around the orchard. These grew heavy as they filled up, especially the full ones you had to hoist onto the back of Mad John's pickup. This was when I realised that cycling eighty or a hundred miles a day was turning me into a freak, a kind of miniature Tyrannosaurus rex with great pistons for legs and skinny emaciated little arms. It was heavy work and the spiky thorns of the grapefruit trees made it worse, so it would have been unpleasant had it been high pressure. But John needed only a couple of hours from us each day, just enough to make juice at the stand and fill that day's quota of mail-out boxes.
"Crazy Canucks we called 'em. Lots of 'em where I come from. Most of 'em don' even speak English worth a damn." John's voice was ruined after a night of hard smoking. "They work hard enough though, but dumb. I mean real dumb. Yer English is way better'n theirs though. Most of them are real fuckin' stupid."
John had only one eye open now and it seemed to drift aimlessly. I couldn't tell if he was baiting me or just making conversation. And I was too wasted myself to explain the difference between French speaking Quebecers and someone like me, from the other end of Canada. Or to point out that Québecois speaking a language not their own might sound stupid even when they're not. He'd been blowing smoke up all of us for hours and he and I were the only ones still conscious. But John wasn't mellowing. Then he started to talk about Mona again, like she wasn't there.
"If I ever found Mona with another man, you know, well, I'd just have to kill 'em both. I mean, I wouldn't be able to stop myself. You know what I mean, man?"
I had a pretty good idea what he meant. But I couldn't help wondering why John was sharing this with me or if there might be more to the story that he wasn't sharing, and why did they call him Mad John? Sure, Mona had smiled at me a couple of times, but she smiled at everyone, and she'd hardly spoken a word to me. John and I passed out not long after that and, like everyone, I spent the night on the floor. As far away as I could get from the lovely, recumbent Mona.
Most people were still asleep when I pushed off the next morning, headed for Montreal now. A long, hot and sweaty day of riding around the big lake then north again and another night of sleeping badly between a road and a swamp, dreaming of alligators.
The next night, I got to sleep inside again, at a place called De Leon Springs in honour of a deranged conquistador named Ponce de Leon who'd tramped through the local swamps in the 16th century, convinced a Fountain of Youth must be burbling up somewhere nearby. He wouldn't have thought so these days if he'd seen the vast armies of wrinkled seniors who now called Florida home. Yet de Leon's Fountain of Youth story helped unleash this endless flood of old Americans. The law of unintended consequences? Could modern Florida be described as a Ponce scheme?
I stopped that night at a freshly painted little cottage, not with old folks but with their grandchildren. The absent old people might have been dead actually, I didn't ask. A high-strung young man from New Jersey invited me in. Short and bony with dirty blond hair, he looked like he should have been in high school. Instead he and a pretty petite blond girlfriend were hiding out near De Leon's Springs. She and I played footsie under grandma and grandpa's cozy little kitchen table much of the evening as we played cards but I remembered Mad John and Mona, and disengaged.
My final night in Florida was spent drinking with roofers from rural Georgia. We met outside a suburban liquor store near Jacksonville and quickly agreed I would pay for most of the night's beer if they'd go in and buy it. We drank in silence back at their tiny shack. It was starting to feel more like the South again. I was ready for a rest from the Florida high life but I wasn't prepared for the change in weather. I'd soon learn why Florida was called the Sunshine State but Georgia and the Carolinas were not.
A different kind of South in Georgia and the Carolinas
The skies opened up south of Savannah. Despite my rain cape, a relentless downpour drenched me to the bone. It was a warm rain and I could ride comfortably, for a while. But the deluge showed no sign of easing up and eventually I couldn't navigate roads turned to streams. I spent a miserable but almost dry night crammed inside a derelict chicken coop. Still pouring the next morning, the roads still rivers, I sought refuge in an expansive roadside emporium just over the state line in South Carolina. It looked like all the others from outside: a gaudy vendor of firecrackers and cheap cigarettes that catered to the endless waves of Yankees headed to and from Florida.
"Oh just get your black ass on out of my shop you lazy niggah. Ah never in my life heard such silliness."
"That's jes cause you never listen to one goddamn thing anyone has ta say Carl."
"I'd listen honey, if you evah had suh'm reasonable or interestin' to say to me."
"Well now I wonder who made you the judge a that, y'addle brained ol' faggot. But listen, I gotta go now Carl. You take care now."
"Always do honey. You too Andrew. See y'all next week."
Whoa. If I hadn't been drenched and sleep deprived, I might have just walked out and kept riding. But this friendly, abusive banter across the counter intrigued me too; more Tennessee Williams than Easy Rider and unlike anything I'd bumped into so far. So I just stood there, dumb and dripping.
"Now what can I do for you. Ah can see I'm gonna have to mop the floor after you're gone that's for damn sure. Have you been taking a shower out there young man?"
"Uhh, no. Oh God, sorry about yer floor. I'm on a bicycle and, uhhh, it's kinda wet out there you know… wet night too. Oh shit, I'm sorry about yer floor."
"Oh honey, ah really don't care about that ol' floor. But ah am worried about you. You're soaked right down to the skin, aren't you? If you get those wet things off I can throw 'em in the drier for you while ah get you something to eat. I bet you haven't had any breakfast either have you?"
"Mmm. No. But it's okay. Sorry. I, uh, I jus' thought this was a café you know."
"Sorry, hell. Y'all jes get those damn clothes off right now. Sit down here and I'll get you a nice housecoat. We'll get you warm and dry again in no time.
I mumbled more objections but Carl insisted and his warm shop and offer to dry me out and feed me were too good to refuse. His sense of humour helped too. With his   flouncing, flowery rhetoric, Carl wasn't the kind of person you might expect to find selling fireworks and cheap cigarettes by the road in South Carolina. But he'd inherited this shop from his dear departed mother, he told me, and it sustained him.
Carl fed me, warmed me up and entertained me for the rest of that soggy day. Sometimes banter between him and a steady stream of friendly African American truckers, sometimes lurid stories of the gay scene just down the road in Savannah. Savannah was still Carl's spiritual home, its club scene his passion. And he didn't seem worried by the prospect of gay-bashing good old boys out there on the Carolina highway. Carl stood about six foot six and was built like a linebacker. Once we established that I was trenchantly, boringly hetero, he was a perfect gentleman.
Late in the afternoon Carl waxed wistful about the first real love of his life, a rich Yankee boy who'd taken him on a European grand tour. Vienna, especially, had captured Carl's imagination.
"Oh Howard, Vienna's soooo beautiful! It's lahk… it's lahk a fairy land!" he exclaimed in that Scarlet O'Hara falsetto. How could I have imagined that I'd be riding through Vienna myself in a few months?
Carl spent that evening at a Savannah club while I got my first good sleep in days. The next morning, dry and well fed, I set off to explore coastal South Carolina, where it rained all day again.
Eighteenth century South Carolina planters knew their coastal swamps were probably good places to grow rice. But they needed workers who could cultivate the stuff. Where better to find them than across the water on the coast of West Africa where they'd been growing rice for centuries? New careers in the Carolinas didn't suit all the immigrants from Africa's Grain Coast though and escaped slaves from the Carolina rice plantations were soon finding their way south to the wilds of Florida where they joined up with Indigenous American refugees.
The story would mean more to me a few years later. African Americans on the Carolina coast still spoke a language close to the one I'd work in, and grow to love, a few years later in Sierra Leone. But in 1973 I couldn't have made sense of South Carolina's Gullah language even if I'd heard it, which I don't think I did. Mostly I noticed this coast was very wet. I broke down and paid for a cheap motel near Beaumont.
The next night, I was under a mouldering railway platform again, somewhere in North Carolina. It was dry under there and I could sit up and enjoy a spectacular lightning storm as it raged through the night.
"Sorry? Jesus who?"
It was one of those jokes that seems so good on the spur of the moment but one then regrets immediately. The look on this earnest young evangelical who'd just said grace reminded me of my jilted suitor back in Nixon.
"Jesus Christ. My Lord and Saviour."
"Oh, that Jesus."
I giggled nervously. The only person who laughed was the sole African American at our table, another outsider like me.
I'd stopped to visit a friend at the university in Raleigh. We'd met in a pulp mill in northern BC where we'd worked a couple of years earlier. Roger's campus was idyllic — clean and green and orderly — and, praise the Lord, the rain had stopped. But this was the Bible Belt now, another new culture and once again I'd been slow to pick up on it. Nothing in my experience at Simon Fraser University had prepared me for devoutly Christian university students. And an improbable number of young men lounged about in the sunshine playing banjos, really well, like a high-end version of Deliverance.
The Raleigh campus was also home to many delicious southern belles, with no mad John in sight. Alas, I now had a disfiguring sty-like thing in my left eye and I worried it might diminish my sex appeal. I showed Roger's student card at the university clinic, faked my best southern accent and pretended to be Roger Clarke from Virginia. The young woman doctor looked at me like I was an idiot and prescribed antibiotics.
I picked up a new batch of General Delivery mail at the central Post Office. A letter from my father said someone named Cornelius Burke had heard of my obsessive cycling and wondered if I might join him for a ride down the Danube River. Does the pope shit in the woods? Is a bear Catholic?
As instructed, I went to a phone booth and called this 'Cornelius Burke.' I had no idea what to make of him but he sounded nice enough. He'd already ridden down the Rhine, he said, and had now planned this much longer ride in the other direction. We could talk more if I got back to Vancouver before he left, he said. I did, we did, and a few months later, I'd roll into Vienna.
Downtown USA, from Virginia to New York
I roared through hills covered in bare hardwood forest. This wasn't Florida and the roads were quiet, for a while. Old Highway 1 was almost empty by the time I made southern Virginia. I had my legs now and the cool dry weather was perfect for cycling. The days were getting longer too, so I could ride after dinner and once or twice rode late into the night under a brilliant early spring moon.
Not only did I idolize Dwight Eisenhower as a young child, I'd also been obsessed by the Americans' 19th century Civil War. By the time I was nine or ten I'd read Bruce Catton's This Hallowed Ground several times, and everything else I could find about that bloody conflict. Now riding through bare deciduous woods and gentle hills that looked much like they did in faded photographs from that war, I recognised the names of places where monstrous slaughters had unfolded — Petersburg and Fredericksburg and Manassas and so on. I cried more than once as I rode along, for those countless tragic deaths, the foreshortened lives of so many hapless sons and fathers, brothers and uncles who'd longed for home but never made it.
I was brought back to the late 20th century as I rode through the erstwhile Confederate capital of Richmond, where a young African American took a swing at me for no apparent reason as I rode by. A hundred and fifty years earlier, plantation owners in these parts had been paranoid about slave uprisings. Nat Turner's bloody rebellion in Virginia was the best known event but there were many others. And there was the terrifying example of Haiti where a successful slave uprising had turned that jewel of France's colonial empire into a blood-soaked nightmare for the wealthy planters. The newly independent Haitian republic was inspired by the same Enlightenment rhetoric that had fuelled the American and French Revolutions. But France shunned Haiti, as did the US at the insistence of their powerful plantation states, like Virginia and North Carolina.
After pedalling through northern Virginia suburbs on roads full of fast-moving traffic again, I stopped for a couple of nights in Washington, DC. It felt like a controlled company town, like Powell River or Ottawa, only bigger. Its broad streets going in three directions were remarkably easy to navigate on a bicycle, as long as I found one going in the right direction and stuck with it. I visited museums on the Mall and called in at the headquarters of National Geographic magazine. I'd contacted them months earlier, informing them of my upcoming journey. Someone there had suggested I drop in when I reached DC but that person wasn't in town and I got short shrift from others in his office. Once again, it might have been my appearance. A few months later, National Geographic published an anodyne but richly illustrated saga of a photogenic young American couple bicycling through the wilds of British Columbia.
Strained relations between blacks and whites in America came into focus once again when I stopped for breakfast on my way out of town the next morning. That young man who'd lunged at me in Richmond was beginning to fit into a bigger picture. Canadians were hardly strangers to racism, though we seldom admitted it in those days. Our white majority directed its bigotry instinctively towards all our racial minorities, especially Indigenous people. But racial tensions and animosity were far more out in the open in the US and their history more raw. I was learning that many African Americans in cities were as hostile towards white people as so many white folk were towards them.
So it wasn't easy to find a welcoming place for breakfast that morning in north-east Washington. But I had to eat and finally just walked into a little corner cafe and sat down. Everyone, especially the waitress who finally came to my table, stared daggers at me. She made it plain I did not belong in their establishment but I stayed anyways and eventually had a great pancake breakfast.
To get from DC to Delaware I had to pass through a bit of rich green Maryland countryside. Another unusually long bridge spanned Chesapeake Bay and, like the last one, it was off limits to bicycles. The alternative route would have taken me around the bay and through Baltimore, a place I now aimed to avoid. The man in charge of the toll booths took pity on me and ordered one of his minions to ferry me across the bridge in his pick-up truck. Short and stocky with a salt and pepper crewcut, Smokey the Bear hat, nondescript uniform and the standard issue pistol, the driver didn't say a word or even look at me, just muttered the whole way across the bay about the stupidity of his boss and of this task and, especially, of bicycles and anyone who was stupid enough to ride one.
I spent one night in Delaware, in a delightful little place called Middletown where a young couple took me in and fed me. We had a grand evening of good food and good wine and stayed in touch for years after that. Apart from their warm hospitality, one of the most remarkable things about Susan and Jack and Middletown was that my friend Roger in Raleigh moved in right beside them a year later. One of those odd coincidences.
The next morning, Susan and Jack said they just couldn't let me ride through the miles of unfriendly territory. Having glimpsed simmering tensions in Richmond and NE Washington, I could sort of see their point. Driving through the endless devastation of South Philadelphia an hour later, I could really see their point. Even the middle of Philadelphia wasn't a place I would have called a 'City of Brotherly Love'. We went to a hostel near the centre of town where a snarling St. Bernard guard dog nearly bit my head off. Who'd ever heard of a vicious St. Bernard? Susan and Jack dropped me across the river in New Jersey instead.
For weeks I'd debated whether I ought to ride into New York City. Philadelphia settled that argument and it would be fifteen more years before I finally got to see the Big Apple up close (I loved it). Instead, I followed what passed for back roads in western New Jersey: Crowded, narrow two-lane highways where everyone except me drove far too fast. I slept in another cozy abandoned train station, in Morristown, where it snowed.
An essential difference between the east and west coasts of North America was becoming clear. At home, seven hundred miles closer to the North Pole, the lush wet splendour of early spring was already unfolding, daffodils bloomed, alders and maples sprouted leaves. Yet here on the east coast, at barely 40 degrees latitude, winter remain deeply entrenched.
I spent a couple more days in denial, on quiet backroads again, just long enough to admire the stark beauty of the Hudson River valley and forested cliffs that soared above that majestic river. Decades later, kayaking there would be my great escape from a tiny flat in the Upper West Side. Even in the stark dead of winter Hudson landscapes were sublime and one could imagine how they'd launched an artistic movement in the 19th century. It would have been better though, if it hadn't been so damn cold.
My little blue sleeping bag was perfect for cycling but not for real winter and I nearly perished the next night somewhere near Poughkeepsie. By the time I picked up my last instalment of General Delivery mail in Schenectady the following afternoon, I knew I had to sleep inside. Somewhere on the road I'd picked up a tip about surviving cold nights far from home. I approached a couple of Schenectady cops in a diner and asked them, ever so politely, if it might be possible to sleep in one of their cells. They stared at me, dumbfounded, then frowned like they might beat me senseless just on principle. But "no" was all they said. Later, as they got up to leave, one came over to me and looked embarrassed as he told me, in a very quiet voice, that if I really couldn't find anywhere else to sleep inside then I should come over to their station around midnight. So I had a fallback but still needed somewhere I could survive until then.
To Montreal at last, the long way
Weather forecasts suggested if would get colder still, heading north. So, despite Montreal being so close, I threw in the towel and hopped a Greyhound for Seattle. Three and half hallucinogenic days: a coal miners' union boss in trouble in Erie, Pennsylvania; vast expanses of white around the desolation of Cleveland; a refreshing but frightening midnight walk around the block outside Chicago's central bus station; a heroic driver who kept going through a blinding snow storm over a high pass in Montana.
I was received warmly at the University of Washington, where it was spring as it should be, mild and wet, grey and green. My friend there was the only child of a staunchly Republican Greek-American couple and she was an Ayn Rand enthusiast. Paula was excited to start graduate work in Russian at Stanford, she said. She and her diffident boyfriend encouraged me, sort of, to join them for a weekend at the cottage. There would be mushrooms, they promised. It was tempting but I couldn't wait. I never saw Paula again but I guess she joined the CIA.
My wretched Raleigh didn't make it to Seattle and I bought another white bike, a Peugeot this time, with the dregs of my budget. Even without mushrooms, my wires got crossed the next morning and I rode south for miles through the mist. I was past the Space Needle, well on my way to Tacoma, before I turned to go the other way. I arrived in Vancouver well after dark after a long day through gentle spring rain. Cycling was like breathing now. I could ride for twelve hours and barely notice my legs moving.
A stack of mail waiting for me in Kits included that large envelope from John Norman, the photographer who'd shared his beer in San Diego. I threw it in a drawer. That spring I was only interested in the ride across Europe with Burke.
A master gardener hired me to help him manicure the lush yards of the North Shore. Messages poured in from Greyhound stations all over the US; each swore they didn't have my white Raleigh. How could they know how little I cared for that bicycle (except for its back wheel)? When it finally showed up in Vancouver, with no hint of where it had been, I removed that magnificent Schwinn wheel from Little Rock, put it on my pleasing new Peugeot, quit my gardening job, and rode east in glorious late spring sunshine. The skier friend had left Montreal by then, but I'd go there to catch a cheap flight for Zurich, where I'd meet Cornelius Burke.
*
Long June days and gusty west winds made for a quick ride across Canada. There were few distractions, other than the bugs east of Winnipeg. Many have commented on the roles that landscapes can play in our stories. This is especially true in Canada, where there may be few other characters available.
I stopped in Summerland to visit my nephew Cameron who was waiting for his new sister to arrive. I showed him tricks one might do on a bicycle after you lost your training wheels. BC was mostly climbing up then tumbling down one empty and preposterously beautiful forested mountain pass after another. Then sliding through lush and tranquil river valleys and along pristine lake shores. No abandoned railway stations here; I slept by streams in the woods. It rained every day while capricious and complicated winds swirled through the steep valleys.
The sky cleared at Crow's Nest Pass and stayed clear to the Canadian Shield. A stiff breeze swept me across Alberta and Saskatchewan, where I sometimes felt like I was riding that twister in The Wizard of Oz. I pitied the wretches pedalling the other way, heads down as they trudged steadfastly into that relentless west wind. Think of the wind power these places might generate if they ever overcame their addiction to hydrocarbons.
In Saskatchewan I painted a water colour of glorious wild flowers, swam in a couple of muddy ponds and photographed a giant dead snake that I draped artistically over my bike. I enumerated the hundreds of prairie dogs but couldn't decide if road-kill ought to count as much as live ones. Winnipeg, the most culture- and history-drenched corner of western Canada (faint praise), flew by unexamined.
The prairie ended a thousand miles after it started, suddenly replaced by the dark green forests of the Canadian Shield. Still only half way to Montreal, the rest of my route would be through those rugged ancient hills and bogs, rivers and lakes. The reality of Eastern winters had been revealed to me months earlier. Another fact of Canadian life that one doesn't encounter growing up on the west coast would soon impose itself.
My first night east of Winnipeg, I bedded down by a pretty pond named Falcon Lake. I travelled light now, slept in my wispy blue bag on a half inch foam pad; both rode behind by day, wrapped inside a plastic sheet. If it rained at night, I wrapped the sheet around me. The glaring shortcomings of this system became apparent at Falcon Lake where I first encountered the billions of ravenous bugs who call the Canadian Shield home in June. Swarms of starving mosquitoes descended the moment I stopped. Pee breaks became punishing ordeals. I rode as long as I could every day.
The west wind kept me moving fast, even when it rained, which it often did. I day dreamed I was paddling instead pedalling, a voyageur headed east to my reward in Montreal. I learned I could get a little relief from the bugs if I slept in the middle of sand and gravel quarries beside the highway. The terrain between Thunder Bay and Sault Ste. Marie was more gruelling than BC, brutal little slopes that were far smaller but steeper and infinitely more numerous than BC's mountain passes. One had to struggle up them then slip down them and start all over again, endlessly. It wasn't hard to see why it had been a challenge to build a railway in these parts. Imagine those navvies who'd toiled in this startling dark green bug park day after day after day. I preferred romantic dreams of Ojibway hunters and French-Canadian traders in their sleek canoes. Even they must have been driven mad by the bugs of early summer.
It rained so hard north of Lake Superior, I had to pay for a cheap hotel in Schreiber where I drank beer with local Ojibway gentlemen while my sleeping bag dried in a laundromat. Around Terrace Bay, or maybe Marathon, I discovered the air got suddenly colder when you approached Lake Superior. But a couple of days later it was hot and I jumped off a tall black rock into the crystal clear waters of Gitchee Gumee. I barely made it out; I might as well have plunged naked into a liquid freezer.
Approaching the Sault, I discovered yet another eastern wonder — the summer storm. An unnaturally hot morning was followed by deepening overcast in early afternoon; the wind rose steadily but blew in many directions. Black clouds billowed higher and thicker until it was almost dark at four in the afternoon. Lightening had begun to flash across the sky when the first fat rain drops splattered onto me and the road. It poured all afternoon and far into the night. This drove the mosquitoes away. In an empty campground beside that greatest of lakes I slept like a fetus inside my soaking bag, wrapped warm in plastic and free of the madding bugs at last.
I stopped in Sault Ste. Marie just long enough to dry my sleeping bag again then headed east across the gentler landscape north of Lake Huron, where I met Clyde McRae going the other way. We'd not been friends at high school, more like friendly acquaintances, but we were delighted to meet that morning. I'd recognised his big curly hair and Cheshire cat grin from a long ways off. Clyde was walking from Halifax to Vancouver he told me. He'd been on the road for weeks and was growing impatient so he'd started running much of the time. My cycling suddenly felt so ordinary. Clyde winced at the unsightly sores in my eyes.
I slept in a Canadian government hostel at Echo Bay. Or was it Blind River? With so many young people on the road that summer, Trudeau's government had begun opening these places across the country. Like in Philadelphia, a monstrous Saint Bernard with a bad attitude greeted me at the hostel door. There was nowhere else for many miles though and I refused to be driven away by a toothy snarl. Sparse enough to make Youth Hostel Association places look luxurious, these federal hostels were also warm and dry and cost only fifty cents or a buck a night. A young Quebecois couple shared the bunk below me. They looked barely pubescent and I thought they must be brother and sister running away from home but it turned out they were honeymooners. Much giggling and gasping, huffing and puffing below me all night long seemed to confirm this.
The first half of the next day I slid through what the locals called Rainbow Country, west of Sudbury: beautiful mixed forests of pine and spruce, maple and birch, and many fine lakes full of fish. East of Sudbury, on the other hand, looked like a place where someone had experimented with a secret weapon. Years earlier, American astronauts had practiced for their moonwalk on this bleak landscape, stripped to bedrock by the endless streams of sulphur dioxide that spewed from local smelters. The wind that pushed me east also blew their toxic soup across this land. Smelter emissions turned to sulphuric acid in the air then fell to earth again, where they killed most living things.
The land looked healthier again by North Bay on Lake Nipissing, where I met a clutch of charming young American women at another of the Queen's new hostels. These Michigan girls viewed me as a freak I'm afraid, on account of my seeping eyes. But they were fascinated by my high calorie diet of bread stuffed with peanut butter and raisins or dates. The only other thing I ate most days was truck stop pancakes, inhaled with as much syrup as I could get. It would be years before I suspected this monotonous diet, combined with much exertion each day, probably contributed to my eye problems.
The last leg of the ride took me down the Ottawa Valley. In a cozy café beside the river in Mattawa, I was stunned to realise that people were speaking French all around me and I couldn't understand a word. It was not the French we were being taught in school.
Making a hundred and fifty miles a day now, I'd reached Ottawa ahead of schedule. I didn't know what to make of the nation's capital, the largest place I'd stopped since Vancouver. It felt as tranquil and orderly as a little company town.
I slipped across the river past many stacks of tiny logs waiting to be turned into paper. A sign at the historic village of Carillon said a band of stalwart young Quebeckers led by Dollard des Ormeaux had held off an Iroquois war party there in 1660. Dollard and the rest of his gallants had all died in battle but they resisted the sauvages long enough to save Montreal. A minority, Indigenous, view says Dollard's party went upriver to steal furs from the Iroquois, who were aiming to sell them down in Montreal.
Carillon had an official Youth Hostel Association hostel, the first one I'd seen in North America, and I was their only guest that night. The man in charge had a management style more Quebecois than YHA and we spent a long evening chatting over a large bottle of Old Niagara Port. Laurent's French at least, I could understand. Like those hapless Iroquois, my encounter at Carillon slowed me down and it was almost noon before I set off the next day.
Montreal was as much a lesson, in its way, as the Deep South or those eastern US cities fraught with racial tension. From downtown Montreal you could see a conspicuous island of English-speaking wealth and power, that little enclave called Westmount. These people had dominated the economy of this French speaking place for a couple of centuries; they'd controlled the rest of Canada too, until Toronto eclipsed them.
Someone like me could only wonder at how Quebec had remained so tranquil for so long. I tried to imagine western Canada run for two hundred years by an island of rich Chinese speakers holed up in Shaughnessy. Much of the answer to the Quebec riddle was the Catholic Church. The province only began throwing off its conservative Catholic straightjacket in the early 1960s. Their révolution tranquille was still a work in progress when I got there but the mighty church had already been marginalised and the English-speaking elite they'd kept afloat was on borrowed time.
Early summer of 1973 in downtown Montreal was not a time for such weighty matters though. Not for me at least. The managers at our government hostel in the middle of Montreal left the windows open so we could come and go on the fire escape, all night long. I took up with a giant Jewish logger from Vancouver Island. Eight inches taller than me and twice my weight, Adam was huge across the chest with long shaggy blond hair and a Jesus beard. He was a topper and made serious money and he'd come to Montreal to party with a ravishing black-haired dancer named Nicole. Neither spoke much of the other's language. Despite this, or perhaps because of it, they got along famously. Nicole's girl friend and I tagged along to the bars on Crescent Street for a few days before I flew across the Atlantic to ride from France to the Black Sea. But that's a different story.
Postscript
Sleeping on a porch in Kitsilano again, looking for a job and wallowing in the magic late August light, I read that Newsweek article about John Norman, who'd given me beer in San Diego. Metaphorically speaking at least, John was the only black cloud over those liberating months of riding. A friend who writes about serial killers was intrigued by my brush with their world but I've seldom thought about it.
I never rode very far in North America again but spent the next forty odd years bouncing around the rest of the world. Our young family lived in Ottawa off and on in the 1980s. This confirmed my earlier impression of an unnaturally sedate company town blessed by the splendour of the Gatineau Hills. And, like most company towns, it was a good place to raise small kids. Later I spent a couple of years working at UN headquarters in New York City, where I kayaked up the New Jersey bank of the Hudson to escape the heat on summer weekends. Manhattan was the most alive and engaging place I've lived but I stand by my original impression: it's no place for a cyclist. I never lived in Washington, DC but went there often for work. Another company town, albeit a very big one, I never liked it much. I've had good friends in Mexico City too, and returned there for work every ten years or so. Each time I was overwhelmed by that enormous, vibrant, labyrinthine megacity, fascinated and frightened by it. Like New York, I wouldn't recommend cycling there.
Working in Asia after 1990, I realised I could never really understand vast and complicated places like India. One can say the same of North America, where I've bumped into a steady stream of fascinating people, decade after decade. Many have been kind and friendly, all have been complicated and full of contradictions. Any generalisation one hazards about Mexicans or Americans or Canadians is bound to be contradicted the moment you make it. Who can understand today's United States especially, when that erstwhile beacon to the world hands the reins of power to an ignorant and bullying buffoon?
*
Howard Macdonald Stewart is author of Views of the Salish Sea: One Hundred and Fifty Years of Change around the Strait of Georgia (Harbour Publishing, 2017). An historical geographer and semi-retired international consultant whose work has taken him to more than seventy countries since the 1970s, Howard has reviewed books for The Ormsby Review and BC Studies. His memoir of a bicycle trip down the Danube with the war hero and debonair cyclist Cornelius Burke, "Bumbling down the Danube," was published in September-October 2016 (see The Ormsby Review no. 21), and he has written a popular Remembrance Day piece, "Why the Red Poppies Matter," in The Ormsby Review no. 420, November 11, 2018. He is now writing an insider's view of his four decades on the road that followed his perambulations of 1973, notionally titled Around the World on Someone Else's Dime: Confessions of an International Worker. He has lived on Denman Island, off and on, for more than thirty years.
*
The Ormsby Review. More Books. More Reviews. More Often.
Publisher and Editor: Richard Mackie
The Ormsby Review is a journal service for in-depth coverage of B.C. books and authors. The Advisory Board consists of Jean Barman, Robin Fisher, Cole Harris, Wade Davis, Hugh Johnston, Patricia Roy, David Stouck, and Graeme Wynn. Scholarly Patron: SFU Graduate Liberal Studies. Honorary Patron: Yosef Wosk. Provincial Government Patron since September 2018: Creative BC
"Only connect." – E.M. Forster
Endnotes:
[i] I'd never been to Disneyland. The only thing I've seen since that came close to Tulsa's Oral Roberts University was Astana, the new capital of oil rich Kazakhstan (Vol. 3).
[ii] Florida's population was at least three times greater by 2019, somewhere over 21 million. It might start shrinking again in coming decades as its buffeted by ever more powerful tropical storms and rising seas shrink the state's land mass.
[iii] I met a stranger in Miami Airport in1979 who confirmed this was true. He assured me that every Floridian owned a gun.