#781 Oil and vinegar, Italy and Canada
The Olive Oil and Vinegar Lover's Cookbook
by Emily Lycopolus
Victoria: Touchwood Editions, 2019 (revised and updated second edition; first published 2015)
$45.00 / 9781771513029
Reviewed by Natalie Lang
*
In A Room of One's Own, Virginia Woolf wrote "One cannot think well, love well, sleep well, if one has not dined well." This maxim shines throughout Emily Lycopolus's revised and updated book: The Olive Oil & Vinegar Lover's Cookbook. The love, heart, and soul poured into all 350 pages is overwhelming and can be felt right to the very end, throughout recipes, tips, images, and stories that Lycopolus has written, researched, collected, and bound for the rest of us to learn from, experiment with, and be inspired by.
At first glance the book is a feast for the eyes. It is simple, yet delectable. The front cover hosts a collection of antique silver-plated spoons filled with the earthy and full-bodied colours of various olive oils and vinegars. The stone grey backdrop provides a warm contrast to the olive-coloured spine, and the perfectly chosen images throughout the book provide a consistent tone and set the stage for a comfortable, warm, and enchanting experience in exploring the recipes, oils, and vinegars that Lycopolus has so carefully curated to appeal to both beginning and advanced oil and vinegar inspired cooks.
Easy to follow, the book is organized by types of oils and vinegars complete with colour-coded sections and a clear product list of oils or vinegars used for all the recipes. Lycopolus offers, at the top of each recipe, an anecdote or detail of explanation, printed in the same colour of the section, telling the cook what is unique or special about the particular recipe. This element of encouragement for experimentation is prominent throughout. In her introduction, Lycopolus discusses the freedom and fun of working with and changing recipes as one sees fit. She even points to the purposeful choice of including white spaces in the book's design so that those attempting or practicing the recipes may take notes and tailor the recipes as necessary to their own tastes, gardens, or herb beds.
While Lycopolus has indeed provided us with a comprehensive and full book of recipes, she acknowledges that cooking with oils and vinegars should not be static, but fluid and experimental. She offers her own suggestions on where to stray from a recipe while suggesting that cooks should deviate in their own particular ways according to their comfort level and with whatever ingredients are available.
Along with the recipes included with their detailed lists of ingredients, suggested substitutions, and step by step instructions, Lycopolus provides a special knowledge in the field of olive oils and vinegars. As a level 2 Olive Oil Sommelier, and having lived in Europe and been inspired by the small town of Fano, Italy, where her Aunt Maria and Aunt Graziella taught her about oils and vinegars by way of their olive oil farm, Lycopolus has since then acquired a vast amount of information and developed a supreme passion for oils and vinegars. As such, she not only provides incredible recipes in her book, but helps us build a pantry with olive oils and vinegars and advises the reader on what pairings work best, where to source ingredients, how to taste them, and what to look for when buying.
This desire to share what she knows began when, after returning to her home in Victoria from Europe, Lycopolus opened up a retail store and filled it with exotic oils and vinegars. Her goal was to help people learn how to use them. She gave out recipes and offered cooking classes, all with the intent, as she puts it, of "changing the way people think and feel about olive oil, and how they use it on a daily basis." This was the beginning of her cookbooks, which are now a legacy for readers willing to experiment and add flavour, colour, zest, and life to the food they eat. With simple recipes that are delicious, connections between people, families, and friends can be built.
When it was my turn to experiment, I was completely enraptured by Lycopolus's passion. Typically, when thinking of olive oil and vinegar, my mind went to the basic oil and balsamic typically found at the grocer. What I discovered at a specialized store, however, was a vast amount of flavours and qualities. You can truly use oils and vinegars in everything, depending on your desired taste. After visiting my local olive oil tasting room, buying up blood orange, lime, maple, chipotle, garlic, espresso, oregano, basil, and other oils and vinegars, I dived into the experimentation process that this book so aptly encourages. I started with the Herb Bolognese with Penne, which used Tuscan Herb Olive Oil and Oregano White Balsamic Vinegar; the result was astounding. As a pasta lover and flavour seeker, I was astonished at the finished taste these ingredients added to a rather simple recipe that I had cooked in my own way many times before. I will never go back.
Next I tried the double chocolate cupcakes. This recipe called for blood orange and espresso. As an experiment of my own, I tried it first without the blood orange. The result was delicious, moist, and rich. When I tried it with the blood orange, I was shocked at the titillating tang those cupcakes had acquired. I was hooked. I went on to try caramelized maple carrots, garlic butter dip, espresso chipotle marinade, lime and cilantro guacamole, pan fried potatoes, roasted carrot soup, creamy artichoke pesto, and many more. I found myself flipping through the book before bed, excited to choose the recipe for the next evening and hoping my friends and neighbours would be available to share in the experience. I hoped they would let me whip up a raspberry cocktail syrup — or a grapefruit oil gin and tonic.
While a great many recipes are now available online that are easy to find and use on any day of the week, there is something special about getting to know a physical cook book. Touching the book, spilling on it while you experiment, making personal notes, additions, and changes, flipping back and forth to suggestions and stories that accompany the recipes you are using — and bringing Lycopolus herself into your very kitchen, when her heart, soul, experience, and history went into the creation of this masterful book — adds a layer of connection that one simply cannot get from using an online recipe.
The Olive Oil and Vinegar Lover's Cookbook is not just about cooking and eating; it is about thinking well, loving well, sleeping well, and living well by using rich, incredible ingredients and letting Lycopolus take you through them one step at a time. Emily Lycoplous has embodied all that we love about food, family, and friends, and manages to contain in one comprehensive and beautiful book so much good food and drink that it is impossible not to share the contents.
*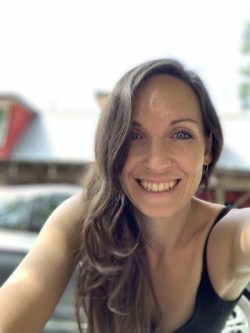 Natalie Lang is a teacher at Rick Hansen Secondary in Abbotsford. She graduated from the University of the Fraser Valley with a Bachelor of Arts degree in English Literature and Anthropology and then completed the PDP (Professional Development Program) and Bachelor of Education at Simon Fraser University. She is now a master's student in the GLS (Graduate of Liberal Studies) program at Simon Fraser University. Natalie lives to the beat of her own drum, allowing experience and life circumstances to help determine where she goes, what she does, and how she lives. As such, she has lived in China, walked across Spain, and travelled to many areas of the world. Natalie now lives in a renovated barn in the Fraser Valley where she can be found studying for her GLS classes, designing lessons for her students, listening to records, and dabbling with her own experiments in writing.
*
The Ormsby Review. More Books. More Reviews. More Often.
Publisher and Editor: Richard Mackie
The Ormsby Review is a journal service for in-depth coverage of B.C. books and authors. The Advisory Board consists of Jean Barman, Robin Fisher, Cole Harris, Wade Davis, Hugh Johnston, Patricia Roy, David Stouck, and Graeme Wynn. Scholarly Patron: SFU Graduate Liberal Studies. Honorary Patron: Yosef Wosk. Provincial Government Patron since September 2018: Creative BC
"Only connect." – E.M. Forster