#713 Writing tips from Cowichan
10 Sure-fire Ways to NAIL Your First Draft
by Carol Anne Shaw
*
After several years of reading, scribbling, blogging, Facebooking, and trying to look serious on LinkedIn, I've come to realize that this writing-a-novel thing is actually a no-brainer. Because there are only ten necessary rules for success. I'm not lying. (I'll get to this in a moment.)
The Internet is full of great advice for writers, for both beginners and seasoned veterans of the craft. There are some informative blogs out there in cyberspace, too. I've learned tons of good stuff from them, but what I've learned most is that the most popular blog posts seem to have numbers in the titles. Titles like: "10 Bullet-Proof Revision Tips from 10 Famous Authors," or "5 Rules to Remember When Outlining," or "15 Things You Should Never Say to a Literary Agent."
There has to be some psychology behind the whole "number" thing. Maybe it has something to do with the fact that we like lists. Or stuff with bullets. Or maybe we're all inherently lazy when it comes to learning important magic formulas. Short cuts, after all, are appealing. If we can learn them quickly, then we can eat chocolate chips straight from the bag while we simultaneously watch Netflix and write a kick-ass bestseller.
I thought long and hard about how I got through my third novel, and eventually came up with my own list. I'm calling it "10 Sure-fire Ways to NAIL a First Draft."
Here goes:
ONE — Ensure that you have plenty of good coffee on hand, and by good, I mean good — none of that MGB or Nabob crap. (This may well be the most important rule.)
TWO — If you don't have a dog or a cat, borrow one. Dogs and cats are comforting to have around you when you write. Also, they will eat all the food that you will inevitably drop on the floor when you are binge-eating/writing.
THREE — If, after four days, you haven't ventured outside, go and buy some milk from the corner store. Wait. Are corner stores still a thing? How many are left in Canada? Never mind. Just go and buy some milk. Or coffee — you've probably run out of coffee by now. This little break will force you to interact with other human beings. A heartfelt, "Sure did rain last night, didn't it?" will allow you to kid yourself that you are a functioning member of society instead of some weird, reclusive freak.
FOUR — Don't have more than one glass of wine as you steer your novel's climax into its oh-so-important dénouement. Drunken dénouements are usually s**t.
FIVE — Ah, music. Music is great. It can serve to inspire you. You should play some when you write. Sometimes I like a little Chopin; other times, Norwegian death metal is good.
SIX — Answering machines are there for a reason. Get one, plug it in, turn it on. Or, in the words of Lennon and McCartney, "Honey, disconnect the phone."
SEVEN — Make sure you own a pair of comfortable sweatpants. Grey and well worn are best. Size LARGE is the icing on the cake. Trust me.
EIGHT — Make a sign that says, "GO AWAY – I'M WRITING!" Stick it on your front door. Half of your friends will respect it, and the other half won't. I don't know what to tell you about the half who won't. Maybe you shouldn't be friends with them.
NINE — Back to the dogs or cats (borrowed or otherwise). Scratch them on a regular basis and put a dab of peanut butter on the ends of their noses. Comic relief is important when you're wrestling with a nasty plot snag.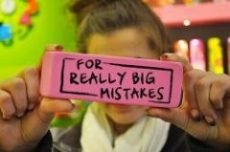 TEN — When you have finished your first draft, do something nice for your partner or the person/people with whom you share your home. They are long-suffering, special souls. Perhaps wash those grey sweatpants and then make them some soup. Soup is nice. Nothing says, "I love you" like homemade soup.
So, there you have it — my 10 Sure-fire Ways to NAIL your First Draft. Happy writing, and…you're welcome.
*
Carol Anne Shaw lives and writes in the Cowichan Valley on Vancouver Island. She is the author of the award-winning "Hannah" series, published with Ronsdale Press, and is a part-time visual arts instructor at a local high school in Shawnigan Lake. When she isn't writing, she is editing other people's writing — young adult fiction being her specialty — or she is painting at her easel. She is particularly fond of mentoring young writers and enjoys helping them discover their own unique voice. A big lover of the outdoors, Carol Anne is no stranger to the myriad of forest trails that surround her home, a passion she shares with her (coffee-making) husband and their dog, Gordie.
*
The Ormsby Review. More Books. More Reviews. More Often.
Publisher and Editor: Richard Mackie
The Ormsby Review is a journal service for serious coverage of B.C. books and authors, hosted by Simon Fraser University. The Advisory Board consists of Jean Barman, Robin Fisher, Cole Harris, Wade Davis, Hugh Johnston, Patricia Roy, David Stouck, and Graeme Wynn. Scholarly Patron: SFU Graduate Liberal Studies. Honorary Patron: Yosef Wosk. Provincial Government Patron since September 2018: Creative BC
"Only connect." – E.M. Forster