#691 Frankie goes to New York
Here I Am!
by Pauline Holdstock
Windsor, Ontario: Biblioasis, 2019
$21.95 / 9781771963091
Reviewed by Valerie Green
*
Rarely does a book draw me in from page one, but such was the case with Here I Am! by Pauline Holdstock. The protagonist is a delightful six year-old boy, Frankie West, and the reader soon learns through Frankie's own voice that he is running away from a tragedy — the death of his mother.
The narrative manages to pull on the reader's heartstrings and shows, without telling, what it must be like to be a child lost in an adult world. Frankie's intelligent observations of life around him are sometimes hilarious and always powerful. Although he is running away, he has a plan — or so he thinks! His plan is to head to the nearby docks, stow away on a ship heading to France, go to a police station and then phone his dad, by which time he imagines he will have caused enough people to worry and wonder where he is. He chooses France because that is where his father had told him they would all go on holiday one day when his mother got better.
Holdstock's cast of characters is also compelling. We meet his Gran, his teacher Miss Kenney, and his dad, Len, as they all realize what has happened, knowing it must have been Frankie who first found his mother and has now run away.
Reverting back to stowaway Frankie, the little boy eventually discovers that the ship he is on is not heading to France at all but instead to a place he overhears someone mention — New York! And Frankie knows that New York is in America! While still trying to remain hidden he must now come up with Plan Two, to which he assigns two numbers:
1. Stay on the boat and don't get off until it goes back to England (if it goes back!)
2. Go Home.
Frankie's descriptive prose is perfect for the voice of a child. His amusing use of words such as "a-noying" and "a nempty stomach" plus joining together two words into one like MyMum, MyDad, and MyGran, are perfect childish touches for the story and make the reader continue reading to the end. What will happen to this adorable, but sometimes a-noying child?
Frankie fantasizes that he will be in big trouble if discovered aboard. His dad will be responsible and have to pay a fine, but he knows his dad doesn't have the money, "and they would put him in prison." Frankie then decides to add another number to his second plan, just in case:
3. If MyDad is in the clink, go to Gran's.
The theme of this heart-wrenching tale vividly shows the invisibility of children when they are not seen by adults as being a little different from the rest, which Frankie most definitely is. The book also covers some very profound topics — death, loss, and grief — but somehow still manages to inject some humour into the story and make the reader want to keep reading and find out how Frankie eventually finds his way home.
On board we are introduced to additional characters such as a little girl called Kay and a dog. The adventures continue until the end, ensuring that this book is a page-turner.
There were also many poignant moments throughout the book, most especially when Frankie first discovers his mother is dead sitting in her armchair:
So when I went in the sitting room I saw MyMum in the big armchair, She didn't turn round and say Good Morning, Sunshine! She didn't even move. I said Mum! I'm up … and can I sit on your lap and eat my cereal?
Frankie climbs up on his mum's lap and puts his cheek on the collar of her fuzzy dressing gown. And then he says: "`You're dead, aren't you?' That's when I knew. She didn't burst out laughing like she would if it were a trick."
The tragedy of this moment is not lost on the reader. "Sometimes I forget MyMum is dead," he remarks later. "But that is probably better than remembering."
I particularly loved the last section of the book, told in the voice of an adult Frankie (now Frank). He begins his part of the story years later after reading what his six-year-old self had written:
A-noying wasn't he? It's ages since I've looked at this stuff, ages. I can't believe what an objectionable little fart I was.
Born and raised in the UK, Pauline Holdstock came to Canada in her twenties, as I did. Having an identical background makes me wonder if that is what drew me to her writing in Here I Am!, but I'm sure many others will be drawn in as well. And I know that writing through the voice of a child can be very difficult, but Holdstock does it to perfection.
Holdstock is an intentionally published novelist, short fiction writer, and essayist. Her work has been shortlisted for many awards, and her historical novel Beyond Measure (Cormorant Books, 2003) was the winner of the BC Book Prizes Ethel Wilson Award for Fiction. She lives near Victoria.
I highly recommend this book. I am sure you will find young Frankie's story both poignant and heartwarming — and not at all a-noying.
*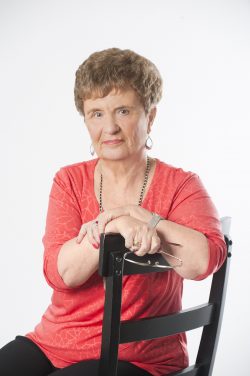 Valerie Green was born and educated in England where she studied journalism and law. Her passion was always writing from the moment she first held a pen in her hand. After working at the world-famous Foyles Book Store on Charing Cross Road, London, followed by a brief stint with M15 and legal firms, she moved to Canada in 1968, where she married and raised a family, while embarking on a long career as a freelance writer, columnist and author of over twenty non-fiction historical and true-crime books including Above Stairs, Upstarts and Outcasts, If these Walls Could Talk, Vanished: The Michael Dunahee Story, and Dunmora: The Story of a Heritage Manor House on Vancouver Island (Hancock House, 2017, reviewed in Ormsby #434 by Patrick Dunae). She is currently working on her debut novel Providence, which will be published soon as the first of The McBride Chronicles, an historical four-generational family saga bringing early BC history alive. Now semi-retired (although writers never really retire!) she enjoys taking short road trips around the province with her husband, watching their two beloved grandsons grow up and, of course, writing.
*
The Ormsby Review. More Books. More Reviews. More Often.
Publisher and Editor: Richard Mackie
The Ormsby Review is a journal service for serious coverage of B.C. books and authors, hosted by Simon Fraser University. The Advisory Board consists of Jean Barman, Robin Fisher, Cole Harris, Wade Davis, Hugh Johnston, Patricia Roy, David Stouck, and Graeme Wynn. Scholarly Patron: SFU Graduate Liberal Studies. Honorary Patron: Yosef Wosk. Provincial Government Patron since September 2018: Creative BC
"Only connect." – E.M. Forster