#690 A master's fly patterns
Essential Fly Patterns for Lakes and Streams: Tips for Tying Your Own Flies
by Brian Smith
Halfmoon Bay: Caitlin Press, 2019
$24.95 / 9781773860008
Reviewed by Myles Armstead
*
When you Google "fly tying recipes," you will discover website after website devoted to every aspect of the art of tying flies, from tube flies to intricate dry flies, from epoxy saltwater patterns to fully-dressed Atlantic Salmon patterns that hearken back to an age when the prized feathers of rare fowl were commonplace materials, and to simply-tied patterns intended to trick pan-sized trout on a camping trip in the British Columbia wilderness.
Variety has always been the hallmark of the passion of fly-fishing.
While the internet can be a daunting space to navigate for beginners, more experienced anglers — who tend to focus on a few specific aspects of the art – might find fly-tying books little more than lists of hook sizes and materials, with sometimes a colour plate included as an example of what the fly-tier must emulate. Unfortunately, more often than not books on fly-tying are so limited in their practical usefulness that many fly-tiers end up learning their techniques from others, often in informal fly-tying groups in fly-fishing clubs that meet to share ideas about what "representation of fish food" works best in their area, or from instructional videos available online.
In Essential Fly Patterns for Lakes and Streams: Tips for Tying Your Own Flies, Brian Smith shares the benefit of his many years' experience, including being mentored by the late, great Jack Shaw, a pioneer in developing modern-day trout patterns for lakes in the interior of British Columbia. Smith, who has thought long and hard about fly patterns and fly-tying, makes the topic accessible and straightforward.
Smith begins with forty-six "key tips." Understanding and applying these will lead to the improved tying of any fly, including those discussed in the book, most of which are intended for trout fishing. These tips are the foundational aspects of the craft, essential techniques that Smith has pared down and distilled to their essence in an easy to read and easy to reach for format.
Throughout Essential Fly Patterns for Lakes and Streams, Smith thoughtfully credits those who developed the patterns he describes. He also explains clearly how and why he sometimes strays from the original pattern. For example, when he discusses damselflies, he credits Jack Shaw's seminal patterns before describing the changes he made to them to better represent insects as they swim though the water column. It is Smith's attention to detail and his spirit of enquiry about why particular patterns work, and how one can improve upon them, that keeps the book refreshing and demonstrates his exceptional talent as a master fly-tier.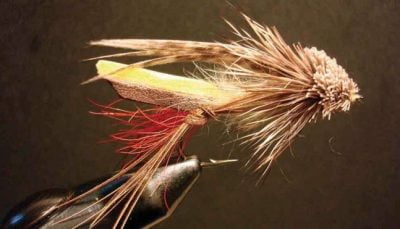 The book is well organized. An easy-to-use numbering system connects the fly patterns back to the applicable tying tips at the start of the book. For fly recipes, the book is divided into two major sections: "Essential Trout Flies for Still Water" and "Essential Trout Flies for Creek and Rivers." These sections are further divided into chapters on various forms of trout pattern, based on the foods they represent, such as caddisflies, mayflies, and leeches. Smith's comments on each fly are invaluable. For example, in the section on freshwater shrimp (scuds), he writes that:
Many fly-tiers tie scuds on curved hooks such as a Tiemco 2457 or a Mustad C49S. I don't. The only time scuds are in a curved fetal position is when they are resting or frightened.
Smith then suggests alternative hook styles that fit his rationale. Essential Fly Patterns for Lakes and Streams is filled with gems such as this that will go a long way to improve almost any trout fisher's fly-tying skills.
As mentioned, the internet is full of information on all aspects of tying flies. However, this source can be overwhelming and conflicting. Indeed, Essential Fly Patterns for Lakes and Streams is much more than a compilation of fly patterns. Like great cookbooks, Smith's masterful approach offers readers a way into the logic of the art form. His book is a fresh stepping-stone for any fly angler to become inspired and an invitation to buff up on his or her skills and continue to evolve and develop new recipes — in this case, recipes for ties for British Columbian trout.
The size of this book matters. It will fit well into any fly fisher's kit as an ideal reference, handy when camped by remote Interior lakes and far from the "connected" we live in today. As an asset on the bookshelf of a home workshop, studio, or study, Essential Fly Patterns for Lakes and Streams will bring a new perspective to fly patterns that, during ice-off next spring, will encourage trout fishers to fill their fly boxes with new and innovative patterns courtesy of this master of the art.
*
Raised in North Vancouver, Myles Armstead is a realtor in Courtenay. He has a degree in Tourism Management and a diploma from the Pacific Institute of Culinary Arts in Vancouver. Passionate about conservation and watershed habitat issues, he is involved in the Comox Valley Fly Fishers Club and is first vice-president of the British Columbia Federation of Fly Fishers. He is also a member of the Poet Laureate Committee of the Comox Valley Arts Council, and he is a bird watcher. He has written articles about fishing for a number of sources including CV Collective and the Watershed Sentinel.
The Ormsby Review. More Books. More Reviews. More Often.
Publisher and Editor: Richard Mackie
The Ormsby Review is a journal service for serious coverage of B.C. books and authors, hosted by Simon Fraser University. The Advisory Board consists of Jean Barman, Robin Fisher, Cole Harris, Wade Davis, Hugh Johnston, Patricia Roy, David Stouck, and Graeme Wynn. Scholarly Patron: SFU Graduate Liberal Studies. Honorary Patron: Yosef Wosk. Provincial Government Patron since September 2018: Creative BC
"Only connect." – E.M. Forster