#679 E.J. Hughes crosses the Strait
E.J. Hughes Paints British Columbia
by Robert Amos
Victoria: TouchWood Editions, 2019
$35.00 / 9781771513104
Reviewed by Phyllis Reeve
*
How can I "review" a book that renders me breathless even before I open it? It takes a while to get past the cover, vibrating as it does with colour. This is the Fraser Valley as we have never seen it — and at the same time, as we have always seen it. When I at last do look inside, the endpapers offer a roughly sketched landscape full of wonder and promises. A couple of pages in a double-page view of the South Thompson River with the town of Chase reaches without margins to the book's edges and compels us into the scene: again both a familiar place and a revelation. It is not quite magic realism, not quite primitivism, more what Ian Thom has described as "a tremendous intensity."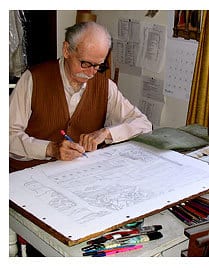 Overleaf from the Chase landscape a photograph shows us a dapper man in shirtsleeves, tie and vest — the very opposite of the artist stereotype.
In their preface the artist's nieces and nephews, identified as "The Estate of E.J. Hughes," praise the author, Robert Amos. "His special combination of interests is perfectly suited to making the work of our uncle better known to the public." I agree, but suggest that more than "interests" Amos combines the "vocations" of artist and writer with an obsession with the artistic process. His own artistic practice ranges from watercolour and acrylic to ceramics and calligraphy. Observing an unfamiliar medium, he needs to know how it works. As an artist interviewing other artists, he needs to know how they do what they do. In the archives of E.J. Hughes he found documents, notes, sketches, evidence of process from first glimpse to finished painting, everything he needed to make known not only the works but the works-in-process.
With Amos we embark on a double journey: through the evolution of a work of art and through the British Columbia landscape which is its inspiration. His previous book E.J.Hughes Paints Vancouver Island (Touchwood, 2018) began with a long biographical essay, specifically relating to Hughes's life on the Island, and followed the artist on an imaginary journey from Sidney and Victoria to Courtenay. Amos explains his plan for a Hughes trilogy:
The current volume describes Hughes's early life in Vancouver, then describes his trips up the coast and across the "vast and beautiful interior" of British Columbia. I hope to follow this with a volume about his work as an artist with the Canadian War Art Program, documenting the years 1939 to 1946. These books are meant to complement one another, and do not simply repeat the same story.
So while readers of the first volume will find some details familiar, they will notice variations in emphasis and geographical slant and much we did not previously know. Readers who begin with the present volume are given sufficient background and a story which stands on its own.
And those who, like myself, have regarded Hughes as primarily the artist of the Coast are in for a surprise. While the style and modus operandi are recognizably the same as those in the more familiar Vancouver Island views of the earlier book, in these paintings of mainland BC the light is something quite different, the mountains close, the deserts luminous. We islanders must now share E.J. Hughes with the rest of Canada.
Amos continues his character sketch of an unusual artist and simultaneously one of an unusual agent, Max Stern of Dominion Gallery in Montreal. Their relationship, also unusual, enabled Hughes to lead the life he liked, out of the limelight while Stern presented his work to the world of other artists and prospective patrons, suggesting projects and occasionally commissions, most of which Hughes accepted. Their letters are our primary source of knowledge about the artist's methods and thinking. Because of his chosen lifestyle, Hughes had no peers at hand with whom he could discuss art or to whom he could express opinions, for instance that Cézanne was the greatest painter since Rembrandt. In the days when a Canada Council grant of $3700 could finance seven months of sketching and a new car, Stern drove up the prices paid by buyers of paintings and passed the increases on to his artist.
Amos and Hughes take us on a series of road trips into the heart of the province. The routes often parallel summer excursions our family took from the coast through the Fraser Valley or the Hope-Princeton highway to the Okanagan and beyond to the Rockies. Paintings of Revelstoke, Yale, Kamloops, and Banff show vistas just as I remember them from half a century ago. Did we occasionally at a Stop of Interest encounter a parked car containing an artist sketching and annotating for the painting to come days or even years later in the studio? Maybe. And yet, Amos's recent photographs of some of these places are recognisable as the same. Hughes somehow makes his landscapes both detailed and timeless. But not nostalgic. Hughes stuck to real life. Unlike many Canadian artists of his generation, he also stuck close to the road most travelled and painted more work boats than canoes.
Other road trips took Hughes north to Hazelton, Williams Lake, Kitwanga, and Prince Rupert. One chapter follows him upcoast in response to a commission from Standard Oil. His painting of Yale graced the cover of the British Columbia Telephone Directory for 1958 and another of the Cowichan River the cover for 1961; and so for those years at least his art was found in virtually every home and office in the province.
Many of the drawings in the book are preparations for paintings, but others, mostly early, exist for themselves, proving the artist's mastery and versatility of craft: for instance "View from a Rooming House Window," "Study of a Stove, Rivers Inlet," "The Artist's Wife on Second Beach," and my favourite "Dad having a Lie-down." A series of linocut prints of Stanley Park dates from his years 1935-1939 as part of The Western Brotherhood, with Orville Fisher and Paul Goranson. For all these, as for the paintings, Amos provides a fascinating biographical context; he can talk about art, but he can also tell a good story.
The people at TouchWood Editions have outdone themselves. The book is a significant contribution to Canadian art history and a thing of beauty, worthy of the artist described by Michael Scott in the Vancouver Sun of January 29, 2003, as "British Columbia's quiet superstar."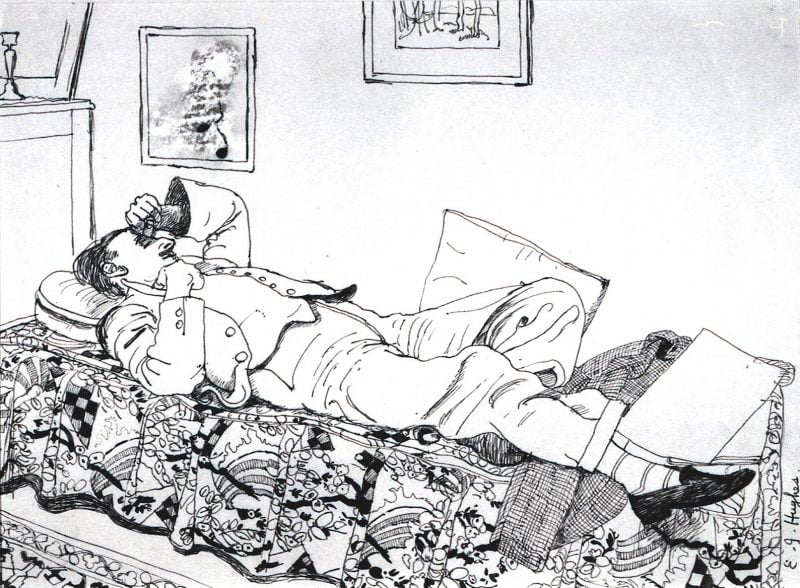 *
Phyllis Parham Reeve has written about local and personal history in her three solo books and in contributions to journals and multi-author publications, including the foreword to Charlotte Cameron's play, October Ferries to Gabriola (Fictive Press, 2017). She is a contributing editor of the Dorchester Review and her writing appears occasionally in Amphora, the journal of the Alcuin Society. A retired librarian and bookseller and co-founder of the bookstore at Page's Resort & Marina, she lives on Gabriola Island, where she continues to interfere in the cultural life of her community. More details than necessary may be found on her website.
*
The Ormsby Review. More Books. More Reviews. More Often.
Publisher and Editor: Richard Mackie
The Ormsby Review is a journal service for serious coverage of B.C. books and authors, hosted by Simon Fraser University. The Advisory Board consists of Jean Barman, Robin Fisher, Cole Harris, Wade Davis, Hugh Johnston, Patricia Roy, David Stouck, and Graeme Wynn. Scholarly Patron: SFU Graduate Liberal Studies. Honorary Patron: Yosef Wosk. Provincial Government Patron since September 2018: Creative BC
"Only connect." – E.M. Forster