#669 A Mennonite memoryfest
Every Little Scrap and Wonder: A Small-Town Childhood
by Carla Funk
Vancouver: Greystone Books, 2019
$29.95 / 9781771644662
Reviewed by Candace Fertile
*
With exquisite detail, Carla Funk brings alive her childhood in Vanderhoof, BC, and by doing so sets off in me a memoryfest of my own, an experience that is likely to happen for many readers. Every Little Scrap and Wonder is Funk's first book of non-fiction, following five books of poetry, and I hope more memoir will come.
In a brief Foreword, Funk explains the challenge of memoir: "memory is imperfect." She notes that she has altered some facts to preserve the anonymity of some individuals. And she's created dialogue. Some people believe that no details should be changed to preserve the truth, but Funk has elected to go for what I think is a much more compelling truth, that of emotion.
The book is organized in four main parts, corresponding to the seasons, beginning with autumn, and each part has six pieces. The seasons are bookended or perhaps bordered by the first piece, "Patchwork Crazy Quilt," in which she touches on her parents' childhoods, and the last piece, "Taking Up the Remnants." The quilting metaphor is common to memoir and handled with finesse by Funk, who still sleeps under a crazy quilt made of remnants from her family's worn-out clothes. Obviously every scrap and wonder of remembered childhood has combined in the making of the adult, just as the scraps of fabric comprise the quilt.
Funk grew up in a rather liberal Mennonite family. Her father, a logging truck driver, wasn't much of a church-goer, and while Funk experienced periods of religious fervour, she also felt the boredom of a child in church services. Mennonites are known for many things, music and food being near the top of the list of the positive things (one of my university friends and roommates was Mennonite). Hard work and practicality also matter, so when Funk's grandfather discovers a Dairyland truck depositing pallets of ice cream past its best-before date at the dump, the entire extended family is summoned to share in the booty. And share in the secret of its source. But Funk can't help herself, even though she knows she lives in a "surveillance state," compliments of the Holy Ghost, and when her mother finds out that Funk has let slip the secret, punishment is inevitable. "Be sure your sins will find you out."
Every Little Scrap and Wonder is no romantic view of childhood, small town life, religion, or family. It's a profoundly realistic look at these elements of life, and Funk is remarkably sure-footed as she dances between seriousness and humour. In one story, Funk is riding a three-wheeler and pulling her older brother on an inner tube attached by a thirty-foot rope. "At the end of the taut rope, my brother slid in wide orbit until at last, he hit the bank [of snow], his body jetted airborne with limbs outstretched — stunt man, fall guy, six-million-dollar boy — bionic as he flew in momentary hover … the open field of snow lay blank and brotherless." Funk is afraid she's killed him. When he finally resurrects himself from the deep drift, his response is perfect: "'Let's go,' he said. 'Again.'"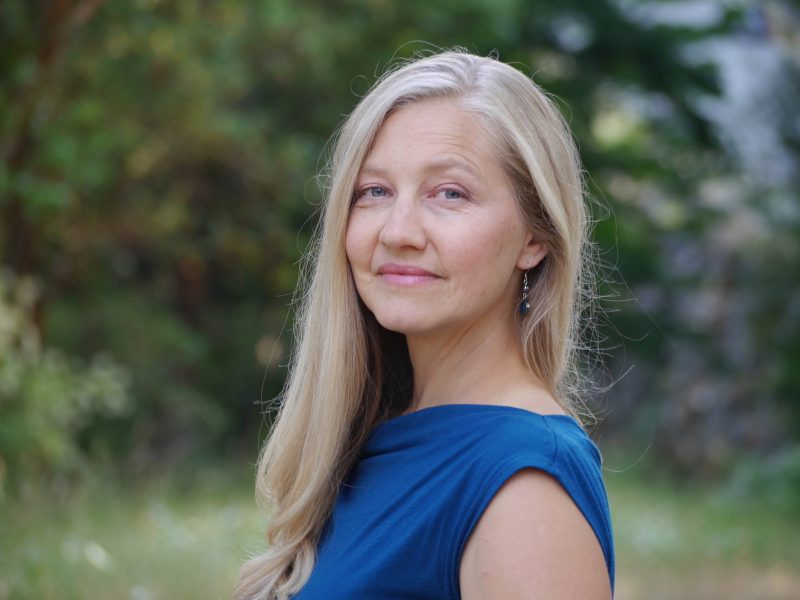 School rivalries for parts in plays, fights with her brother, falls in a house under construction, visits with elderly relatives, 4H club (her mother thought the pledge sounded like that of a cult), poem exchanges with the bus driver, and town events among many more experiences reveal a rich and complex background that has helped create a wonderful writer. One of the funniest stories is about "The First Annual Ping-Pong Ball Drop," an event to promote business. Balls are to be dropped by a helicopter, numbered balls with prizes to be awarded. Hundreds of people gather. What could go wrong? Funk gets a prize, but it's not what she wants. She doesn't succumb to disappointment, however. Instead, she says, "I'd make do with what I got, and learn that when you're thirsty enough, even water scooped from a puddle in the ditch tastes sweet."
Every Little Scrap and Wonder is an absolute gift. Whether readers have small town experience or not, they can appreciate Funk's incredible attention to detail of place and nuance of humanity. Funk's desire "to fit the pieces of the story to the pattern of the truth" has succeeded wildly.
*
Candace Fertile has a PhD in English literature from the University of Alberta. She teaches English at Camosun College in Victoria, writes book reviews for several Canadian publications, and is on the editorial board of Room Magazine.
*
The Ormsby Review. More Books. More Reviews. More Often.
Publisher and Editor: Richard Mackie
The Ormsby Review is a journal service for serious coverage of B.C. books and authors, hosted by Simon Fraser University. The Advisory Board consists of Jean Barman, Robin Fisher, Cole Harris, Wade Davis, Hugh Johnston, Patricia Roy, David Stouck, and Graeme Wynn. Scholarly Patron: SFU Graduate Liberal Studies. Honorary Patron: Yosef Wosk. Provincial Government Patron since September 2018: Creative BC
"Only connect." – E.M. Forster
Please follow and like us: