#663 Canadians in Bomber Command
Four Who Dared: Inspiring Stories of Canadian Airmen in the Second World War

by Kenneth B. Cothliff
Victoria: Heritage House, 2019
$22.95 / 9781772032949
Reviewed by Sylvia Crooks
*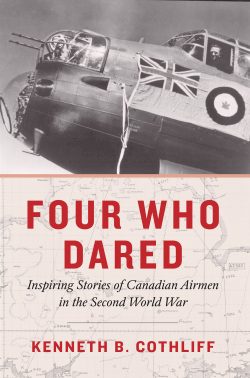 We are losing our Canadian veterans of the Second World War so quickly, now that they are in their nineties and beyond. How grateful we must be to authors who tell the personal stories of the courage, pain and terrors of that war, before they are lost. The terrifying and inspiring stories of four young Canadian airmen, Reg Lane, Jim Moffat, Steve Puskas and Bill Gracie, are brought to life in this book.
Kenneth Cothliff, an English writer and historian, was adopted as an infant during the war, and when adoption laws changed in Britain in 1977, he decided to find out what he could about his birth parents. He was inspired to research and write about these four RCAF airmen when he learned that his birth father, William "Scotty" Gracie, was a Canadian airman who lost his life in the war. He is one of these "four who dared."
Cothliff was able to meet the other three airmen who survived the war, and was given access to their diaries, flight logs and other unpublished writings. The result is a gripping narrative, written in such detail and intimacy that we feel we are there with them.
All four airmen flew with the RCAF in Bomber Command, one of four commands in the Royal Air Force, the others being Coastal Command, Fighter Command, and Training Command. The attrition in Bomber Command was devastating. Losses in it accounted for one-quarter of all losses in Canada's three services, a death rate of almost 45 percent. As Cothliff writes, "Three of the four men featured in the book survived the risky existence of being wartime aircrew members — when the chance of getting past five operations was fairly slim." Typically, a tour consisted of 30 operations or missions. One of the men profiled in the book, Reg Lane, eventually flew 64 operations, and another, Steve Puskas, flew 38. Almost half of all the aircrew did not complete the first 30-operation tour.
Of course, there is a similarity in the experiences of the four airmen, flying operations every few days over well-defended German or German-occupied territory, dodging flak and enemy fighters, sometimes on missions seven hours long. Cothliff vividly describes the close calls, near collisions, physical discomforts in the air, the ditching and rescue at sea, the pain of losing buddies. "The continual change of one minute over Germany in flak and the next waiting at the airfield for details of the next assignment took its toll of human emotions," he writes. Nervous strain was relieved somewhat by parties and visits to pubs between operations.
Reg Lane, a native of Victoria, was in action overseas at the age of 21. By the age of 24 he was a group captain. In the course of his career with the RCAF, he rose from non-commissioned officer to three-star general, was twice awarded the Distinguished Flying Cross (DFC) and Distinguished Service Order (DSO) which is second in rank only to the Victoria Cross. Lane's leadership qualities were recognized early when a training report described him as "an exceptionally keen and efficient officer, and will make an excellent squadron commander."
Indeed, Lane was to become squadron commander of 405 (Vancouver) squadron, the only Canadian squadron in the RAF Pathfinder Force. Only the best pilots and navigators were selected for the Pathfinder Force, whose job it was to go over the target first and mark it with flares to guide the following bombers. 405 squadron was one of 15 squadrons that formed Group 6 of Bomber Command, an all-Canadian group, amalgamated in early 1943 on the insistence of Prime Minister Mackenzie King, in recognition of Canada's management of the British Commonwealth Air Training Plan in "the wide open spaces of Canada."
In his 64 operations with Bomber Command, Reg Lane flew an amazing total of 996 hours. His missions included low level bombing of German battleships, Schornhorst, Gneisenau, and Tirpitz, carried out from a height of only 150 feet. "Apart from a couple of attacks by night fighters, he had come through unscathed; his closest call, he told the author, was 'a piece of flak fragment through my flying jacket on an operation over Berlin.'" He was given the nickname, "Lucky Lane."
Reg Lane's courage had been manifest not only in combat. In a morale-boosting operation in 1943 to publicize Canada's capacity to manufacture war planes, Lane was selected to pilot the first flight of a Canadian-built Lancaster across the North Atlantic to Britain. Named "Rhur Express," the operation was highlighted in news reports and news reels in theatres. But it had taken the expertise and daring of the experienced Bomber Command crew to complete the ten-hour flight. The plane was in no way ready for such a flight on the first hurried attempt. According to Lane, "When we climbed aboard in front of the cameras, and the engines started, none of the engine instruments worked — not one!" They flew the crippled plane from Malton Airport to Dorval where mechanics made the plane airworthy, and they were able to complete the flight to Prestwick. Target Berlin, filmed by the National Film Board, tells the story of the "Rhur Express." It is still available on You Tube.
Lane retired from combat flying in August 1944 and was posted to senior staff positions in the RCAF. After the war he continued to rise in RCAF administration, eventually becoming air vice marshal, and with amalgamation of the Canadian Armed Forces, he became lieutenant-general. In 2000, three years before his death in 2003, he was inducted into Canada' Aviation Hall of Fame.
The stories of the other three flyers of the "four who dared" are not so well publicized, but are as filled with drama and dread. The account of Jim Moffat's war story is a page-turner.
From a family of homesteaders in northern Ontario, Jim Moffat was "used to roughing it in the bush." He was also used to dangerous work, having operated the elevator cage that took the miners out of the depths of the gold mine near Timmins. No doubt, this background helped him survive the six months on the run in German-occupied Belgium and France, after parachuting from his doomed Halifax bomber. Much of Cothliff's account of Moffat's war experience is based on the biography by Moffat's sister, Mary Thomas, Behind Enemy Lines (2006).
Jim Moffat was an air gunner with 427 (Lion) Squadron in Bomber Command. He was on his 13th operation when, on the return flight from a raid on Nuremburg, his plane collided with a Lancaster bomber from another squadron. The raid was carried out in a full moon with no cloud cover, and probably should never have happened. A book by Martin Bowman about that operation, the most costly in losses to Bomber Command, is entitled The Blackest Night in RAF History (2006).
Cothliff's description of Moffat's escape from the spinning, crippled aircraft is spellbinding. It was Jim's first parachute jump, and luck was with him as he landed safely and was soon in the hands of the Belgian resistance. He was the only survivor of his seven-man crew. Over a six month period he was passed from house to house by members of the resistance, and was able to survive German patrols, malnutrition, and illness. He was passed to members of the French resistance, the Maquis, and fought alongside them in their raids on German bases and transport, which was to earn him the French Legion of Honor. Eventually, he accidentally met a U.S. reconnaissance unit and survived close calls with them as well as they went in search of a bridge that the retreating Germans had not yet destroyed.
Czech-born Steve Puskas was a toddler when his family immigrated to Canada in 1917 and settled in Hamilton, Ontario. He had a long interest in flying and had taken flying lessons before he signed up with the RCAF in 1942. Flying with 429 (Bison) Squadron in Bomber Command, Puskas completed 38 operations over heavily-defended targets, and had earned a Distinguished Flying Cross by the time his war was over. Many of these missions are described in dramatic detail by Cothliff, the operation over Essen in March 1944 being especially breathtaking, when Puskas and his crew fought off three enemy fighters, destroying two of them, without damage to their own aircraft.
Cothliff had been given access to Puskas's war diaries and unpublished writings and these provided a detailed description of day-to-day life while he was with the British Commonwealth Air Training Plan in western and central Canada. Puskas laments the total lack of privacy, men of many different backgrounds thrown together, endless parades, bad food, close calls in the air, and the loss of fellow trainees. Of the 132,000 airmen who trained with the Plan, some 850 young men were to die or suffer serious injury while in training.
Cothliff was able to identify his birth father and mother, and learned that his father, Flight Sergeant Bill "Scotty" Gracie, had been killed in August 1944, a week before Cothliff was born. His mother in England gave him up for adoption. He has remained close to the Gracie family and in fact, has dedicated this book to them.
Bill Gracie was flight engineer with 425 (Alouette) squadron when, on August 5, 1944, his Halifax aircraft was shot down by flak on an operation to destroy a V-l flying bomb storage site in northern France. He had survived many air operations between November 1943 and March 1944, known as the Battle of Berlin, when he flew with 431 (Iroquois) squadron. None of his letters home has survived. He was only 23 years old when he died.
The book is the result of a commendable piece of research, carried out over many years, and with first-hand accounts of survivors and witnesses. Detailed accounts of the various raids by the Maquis are amazing. One wishes for some footnotes here. The author's detailed technical information about the planes and flying aids would be of special interest to historians of Second World War air operations.
The inhumanity and callousness of war is not avoided in the author's account. It added to the airmen's emotional strain when they realized that their bombs had been mistakenly unloaded on a small town near the actual military target. Cothliff describes the carpet bombing of a medieval German city in March 1942 ordered by Air Marshal "Bomber" Harris, just "to see if a large force could totally destroy a town."
Photos of the crews are appreciated, as is the detailed index and a glossary, although it took this reader a while to find what a "dickey" pilot is. A quibble for sure.
The book is an exhilarating read, a tribute to four courageous young men, and a fine contribution to Canada's war history.
*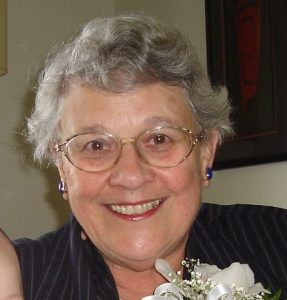 Sylvia Crooks (née Shorthouse) was born and raised in Nelson. She was a faculty member of the UBC School of Library, Archival and Information Studies for sixteen years where she taught library reference and outreach services. She is the author of Homefront & Battlefront: Nelson BC in World War II (Granville Island, 2005), and Names on a Cenotaph: Kootenay Lake Men in World War I (Granville Island, 2014). She makes her home in Vancouver.
*
The Ormsby Review. More Books. More Reviews. More Often.
Publisher and Editor: Richard Mackie
The Ormsby Review is a journal service for serious coverage of B.C. books and authors, hosted by Simon Fraser University. The Advisory Board consists of Jean Barman, Robin Fisher, Cole Harris, Wade Davis, Hugh Johnston, Patricia Roy, David Stouck, and Graeme Wynn. Scholarly Patron: SFU Graduate Liberal Studies. Honorary Patron: Yosef Wosk. Provincial Government Patron since September 2018: Creative BC
"Only connect." – E.M. Forster