#656 Facing all the ghosts
The Forbidden Purple City: Stories
by Philip Huynh
Fredericton: Goose Lane Editions 2019
$22.95 / 9781773100784
Reviewed by William New
*
Editor's note: We are pleased to report that on February 6, 2020,  The Forbidden Purple City: Stories was shortlisted for the annual George Ryga Award, given to a B.C. writer who has achieved an outstanding degree of social awareness in a book published in the preceding calendar year. The winner will be announced on June 25th at a ceremony at the Vancouver Public Library. Congratulations, Philip Huynh!
*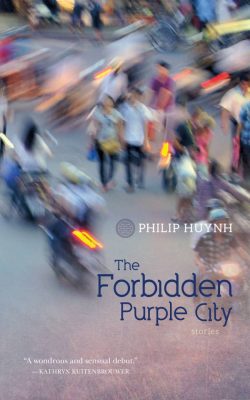 Philip Huynh's first book is an engaging, disturbing, wonderful collection of nine short stories. Each story's intriguing characters are living lives worth thinking about and caring about, each character compromised by choice and circumstance, each choice dangerous (though the danger's not always recognized, each circumstance realized in stylistically arresting prose). Short review: read this book.
Start with the title: The Forbidden Purple City. In history, this name refers to the imperial palace in Hue, Vietnam. Like the more familiar Forbidden City in Beijing, the Forbidden Purple City is built as a Citadel, a complex of ornate buildings arranged inside a perimeter wall. Destroyed in 1947, the Citadel was rebuilt, then bombed again in the 1970s and rebuilt again (and now enjoys UNESCO historical status). This history is relevant to the title story, lodged at the heart of the book, which concerns a Vietnamese-born taxi driver in Vancouver who had at one time worked on the historical reconstruction of the Citadel in Hue, and whose memories of the past require him to distinguish between nostalgia and sentimentality as he works in the present to celebrate the New Year. Several intertwined stories are contained within this larger story, like the buildings of the Purple City itself: couples argue and reconnect, generations divide and rediscover tradition, Vancouver buildings are redecorated, old understandings are given new life through allusions to folk tale. And without sentimentality, in the face of different kinds of disruption, this title story rebuilds a broken relationship and closes with remarkable acts of affirmation and kindness.
In a more diffuse way, the historical Forbidden Purple City serves as a guide to the structure of the whole book. Huynh houses several old stories inside the stories he tells of the present; these old stories and threads of cultural memory include tales of ghosts of all kinds, a death tribute called a "toad poem," and an epic folktale called The Tale of Thieu, "a hooker's survival tale." The "new" stories tell of the present lives of those who stay in Vietnam as well as those who are "re-educated" and those who emigrate (under various circumstances, to Canada, to South Korea). Huynh probes the lives of their children also, who face borders of several other kinds. In "Turkey Day," the most overtly comic story in the collection, some young people find themselves wandering the "ghost town" of New York at night, looking to buy a turkey to help them celebrate Canadian Thanksgiving — only to run into New Yorkers who insist that turkeys are unavailable in October because Thanksgiving is in November and no-one besides Americans celebrates that holiday. Alluding to Vancouver more than to Vietnam, the narrator ends up celebrating anyway, musing "We almost forgot what we had escaped, what had escaped us."
"Turkey Day" is not the only story to cross into the United States. In "Investment," the Vancouver-born narrator goes south to find work in the California film industry, but also to separate himself from a father in Vancouver whom he does not respect. The ending of this story, as with others, is more enigmatic than conclusive, and if it's judgmental it is so only obliquely. Sorting out values is a challenge for those who have chosen or been forced to emigrate, and in a different way so it is for their children. In "Investment" (the father has had more of an eye for the main chance than for any real opportunity), the father and the young man strive at the end to find a rhyme for "ambition": when the father says "discretion," the word tells of evasiveness more than repentance; so the son counters with a question — "contrition?" The father pauses, then asks, "What would that mean?" — leaving the son and the reader to hear the silent resonance of an unresolved difference.
Recognizing opportunity, throughout, often proves to be a choice between debilitating options more often than rewarding alternatives. Stories of marriage hint at love stories gone awry, at choices made under duress, at escape routes rather than respectful understanding. As the children in these families grow up, they seek both truths and tales, the latter often more accessible than the facts called history. Re-education takes variant forms, from Buddhist icons and Confucian tenets to doctrinal politics and Roman Catholic masses; from one cuisine to another; from the camps in Vietnam to the cultural expectations of a Vancouver suburb — as in "The Fig Tree off Knight Street" or "Gulliver"s Wife," which are stories of families and veiled suspicion, repeatedly sidling up to notions of power: Who has it, Who uses it, Who trusts or disputes it, Who is its victim, How is it possible to avoid being a victim, What is the right language, Who has the right language for the occasion they find themselves in? All these questions and more. They find that they must face their ghosts: taking delight from those that sustain, resisting those that would restrain.
In many ways The Forbidden Purple City adapts a long-standing motif in Canadian writing, the story of the newcomer who leaves behind an old culture and finds it hard or easy or simply challenging to adapt to a new one (or, alternatively, can't quite leave the old behind or ever find a way to adapt to the new). Examples from Susanna Moodie (the English emigrant) to Henry Kreisel (Austrian), Rohinton Mistry (Parsi), M.G. Vassanji (East African), Nino Ricci (Italian), and Guillermo Verdecchia (Latin American) only hint at the range of the paradigm. (There are many examples, not all of them affirmative.) The writers who address immigrant experiences characteristically tend to follow a documentary pattern, sometimes with nostalgia for the values left behind, sometimes with anger at the vitriol or cold shoulder of Canadian racism. Huynh does not avoid such issues, whether direct or implied, but nor does he restrict biases to any one community. He focuses more on the lives of individual characters and the ghost stories they live with: the often unexpressed desires that motivate them, the faces they present to the world and their capacity for love, endurance, laughter.
Of all the stories in the book, the two that I keep returning to are the last two in the collection, "Mayfly" and "The Abalone Diver," both of them quietly brilliant. The first of these is set in a working class suburb of Vancouver, tracking the childhood victimization and petty criminal career of a white boy who is absorbed on the school grounds into a Vietnamese gang (and then used and discarded). The second takes place primarily on the island of Jeju in Korea, and tells of a young Vietnamese woman who works alongside her older Korean husband cultivating oranges. Recoiling, however, at the scent of citrus, she finds a kind of escape, but only undersea, learning to free-dive for abalone with a group of elderly Korean women who teach her the meaning of the ocean's generosity. Both stories are rich with detail. When the man (Jun) and woman (Thuy) first meet each other, through an international marriage broker, they falter their way through conventions; when they discover they have both read Anne of Green Gables, Jun asks "Do you know what "the kindred spirit" means?" Thuy answers "It means best friends, no?" to which he replies "In Korean version it means friendly ghost." When it transpires that Jun., having "often hesitated at the edge of a thought," is now relying on a Samsung translation app, Thuy begins to enjoy "unspooling her broken English without thought to how she sounded." And when they decide that "friendly ghost" must be "incorrect," the word "incorrect" comes to mean "I agree," a telling sign of the workable tensions to come.
"Mayfly" offers another demonstration of Philip Huynh's talent. Written entirely in the second person, "Mayfly" sequentially recounts the events that have led "you" (the nameless central character) from his early isolation at school into what he sees as the companionship of a gang (and what they see as a usable face and an eventual scapegoat), and subsequently through criminal acts and manipulative romance to an inevitable arrest. The story reflects on bullying and racism, the law of the land and the law of the street; and its ending sears, leaving the reader to wonder if in reading this story we have been hearing the boy facing his own ghosts or some hypothetical counsel preparing a legal defence (or social explanation). Huynh (who is a lawyer by profession as well as a gifted literary stylist) inhabits this boy's life, just as he inhabits the lives of the other characters he writes about, with rare understanding.
*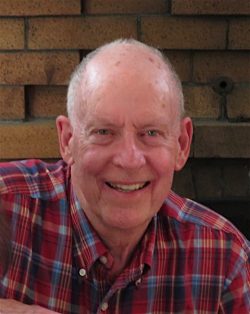 William New is the author of Reading Mansfield & Metaphors of Form (McGill-Queen's University Press, 1999); he has written widely on short fiction in Canada, Australasia, and elsewhere. He is also the author of a dozen collections of poetry, including The Rope-Maker's Tale (Oolichan Books, 2009) and Neighbours (Oolichan, 2017).
*
The Ormsby Review. More Books. More Reviews. More Often.
Publisher and Editor: Richard Mackie
The Ormsby Review is a journal service for serious coverage of B.C. books and authors, hosted by Simon Fraser University. The Advisory Board consists of Jean Barman, Robin Fisher, Cole Harris, Wade Davis, Hugh Johnston, Patricia Roy, David Stouck, and Graeme Wynn. Scholarly Patron: SFU Graduate Liberal Studies. Honorary Patron: Yosef Wosk. Provincial Government Patron since September 2018: Creative BC
"Only connect." – E.M. Forster