#634 Fragments of sorrow
Picking up the Pieces: Residential School Memories and the Making of the Witness Blanket
by Carey Newman and Kirstie Hudson
Victoria: Orca Book Publishers, 2019
$39.95 / 9781459819955
Reviewed by Sharon Fortney
*
Picking up the Pieces is a beautiful catalogue documenting the process behind the making of the Witness Blanket, an art installation created by master carver Carey Newman with the aid of a support team of collectors, artists, and conservators. A commemorative project of the Truth and Reconciliation Commission (TRC), the Witness Blanket travelled to cities across the nation before stopping to rest at the Canadian Museum of Human Rights in Winnipeg, where it is currently undergoing conservation treatment. The blanket pays respect to the more than 150,000 children who were victims of Indian Residential Schools by incorporating objects from their school experience as pieces of this monumental artwork. Picking up the Pieces is meant to allow the blanket's story to continue to travel and be shared as part of Canada's reconciliation process.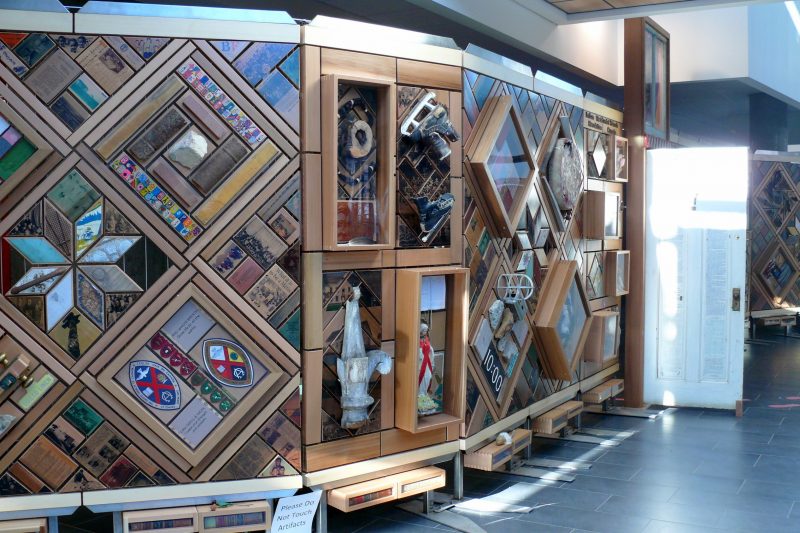 Newman and co-author Kirstie Hudson convey that the Witness Blanket not only represents an Indigenous symbol of protection and honour, but that it is very much about "walking among memories." The creation of the blanket involved a substantial effort to include physical objects from every residential school in Canada, and nearly does so. Pieced together as one would piece together a quilt, Newman and Hudson thematically invoke the hardships and many losses experienced by those who survived these schools. These stories also connect to intergenerational survivors, such as myself, whose families were alienated from traditional lands, knowledge, and languages during this period of extreme colonial oppression (1870-1998).
There are many photographs showing individual elements of the blanket throughout this book, but a large panoramic photo of the entire Witness Blanket is featured on the inside of the book jacket. This photograph allows the reader to experience and appreciate the Witness Blanket as a beautiful piece of art. When we share history, whether it is written or visual, there are always absences. We cannot recreate every event as it occurred but must select key points, which in turn, resonate for a specific audience or occasion.
This art installation is a commemorative activity which, first and foremost, targets survivors. Those who have been affected can read it by looking at the pieces through the lens of personal experience. However, this made me wonder how those whose families are untouched by this hidden element of Canadian history might connect to the diverse meanings threaded throughout the Witness Blanket? How do settlers and recent immigrants read this artwork? I ask this question because I observed that minimal interpretive text accompanies the objects that were placed into the blanket, although there are spaces where documents and books have been incorporated as artwork rather than interpretation.
For this reason, I would argue that this companion publication, and the film of the same name, are essential for sharing the truth about these schools with a wider audience. Newman and Hudson enfold both story and photography to impart truth, recognizing that the act of sharing of knowledge is an essential first step on the path to achieving true reconciliation. This project was a real collaborative effort, involving several Indigenous researchers and artists, as well as research trips to 77 Indigenous communities across Canada. Picking up the Pieces includes details of some of the journeys undertaken by the collection team — Rosy, Jamie, and Marek — who visited school sites and spoke with survivors to document their stories for the project. Conversations were had with more than 10,000 people, while 889 pieces of residential school history were gathered for this commemorative process. The project is more than an art installation; it is an archive.
Written in the first person, the artist's voice is the thread that weaves through each of the chapters of this book to unite the narrative. Carey Newman contemplates his own identity as an intergenerational survivor, with Kwakwaka'wakw and Stό:lō ancestry, by reconciling the stories of his father's childhood with his own aspirations as a parent. Newman's presence in each chapter anchors the story, giving it strength, while the reader is taken on a journey to witness the impact felt in a diversity of Indigenous communities from across our nation. This conversational tone makes Picking up the Pieces accessible to a wide audience and as a result may, in the end, have a more direct impact than the actual commemorative artwork.
As the authors share insights into why and how pieces were arranged to invoke specific memories or feelings, they cover a host of themes from school architecture, represented by bricks and doorknobs; to food scarcity and inequality – as seen in the disparity of serving dishes used for students versus staff; to artwork depicting abuse and the loss of innocence. Other sections explore "moments of humanity," when students were given a reprieve from their daily labour to participate in recreational activities such as art, music, and sport.
Picking up the Pieces contains a chapter, "Moving Forward," which considers whether demolishing school buildings can remove the pain felt by members of a community, or whether these feelings can only be transformed through re-claiming and re-purposing these sites to address current community needs. In Inuvik, for example, the residential school was demolished but the school's hockey arena was transformed into a community greenhouse, creating a space where people go to relax and find comfort.
This book should be in all school libraries. It thoughtfully introduces the reader to the truth of residential schools, and to their legacy. It encourages critical and reflective thinking which are now core competencies of the B.C. curriculum. I intend to gift my complimentary copy of Picking up the Pieces to my daughter's school, as it offers a complete overview of residential school history in a gentle way that can reach readers of different ages and backgrounds. This is a book for anyone who is seeking to learn more about reconciliation, and about Indigenous people in Canada.
*
Originally from Victoria, Sharon Fortney holds a BA in archaeology from the University of Calgary (1996) and MA (2001) and PhD (2009) degrees in anthropology from UBC. She is Curator of Indigenous Collections and Engagement at the Museum of Vancouver, a job that includes liaising with First Nations communities for museum exhibits and programs and assisting with the care of Indigenous collections. She is also a member of the museum's Collections and Repatriation committees.
*
The Ormsby Review. More Books. More Reviews. More Often.
Publisher and Editor: Richard Mackie
The Ormsby Review is a journal service for serious coverage of B.C. books and authors, hosted by Simon Fraser University. The Advisory Board consists of Jean Barman, Robin Fisher, Cole Harris, Wade Davis, Hugh Johnston, Patricia Roy, David Stouck, and Graeme Wynn. Scholarly Patron: SFU Graduate Liberal Studies. Honorary Patron: Yosef Wosk. Provincial Government Patron since September 2018: Creative BC
"Only connect." – E.M. Forster