#131 The last great centennial
The Year Canadians Lost Their Minds and Found Their Country: The Centennial of 1967
by Tom Hawthorn
Madeira Park: Douglas & McIntyre, 2017
$26.95  /  9781771621502
Reviewed by Forrest D. Pass
First published May 27, 2017
*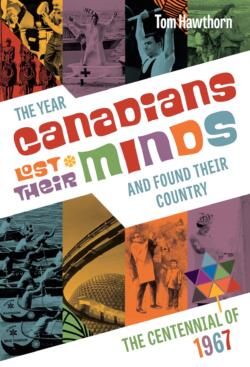 Tom Hawthorn collects groovy images of 1967 and recreates Canada's centennial zeitgeist in The Year Canadians Lost Their Minds and Found Their Country.
Reviewer Forrest Pass appreciates Hawthorn's overview, anecdotes, and quixotic eye – and also wonders if Hawthorne has overstated the Centennial's importance.
"Were the Centennial celebrations a driver or merely a symptom" of the 1960s decade of social, political, and cultural foment? – Ed.
*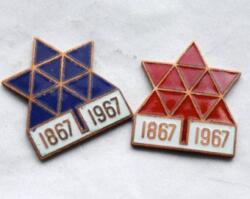 This year Canada marks its 150th birthday with relatively little fanfare. Canada Day festivities will have a special flavour, museums will launch new exhibits, and the tourism promoters will slap the "Canada 150" logo on brochures and t-shirts, but the celebrations will no doubt pale in comparison with the year-long party that marked the Centennial of Confederation fifty years ago.
Not only have they never been repeated, but the 1967 Centennial celebrations overshadowed any previous Canadian patriotic commemoration in scale and enthusiasm. The sixtieth anniversary of Confederation in 1927 — the largest national celebration to date — made up for the sombre, wartime fiftieth birthday somewhat, but it lasted only a weekend, and was dampened by regional, linguistic, and religious tension.
1967 saw the unique convergence of a federal government keen to celebrate its hundredth birthday and a citizenry ready, as Tom Hawthorn puts it, to "lose their minds."
And lose their minds they did, but in a good way. With an eye for the quirky and the quixotic, Hawthorn recounts dozens of Centennial projects, national, local, and personal. Expo gets a chapter of its own, needless to say, and marquee official projects such as the Confederation Train and Caravan receive well-deserved attention.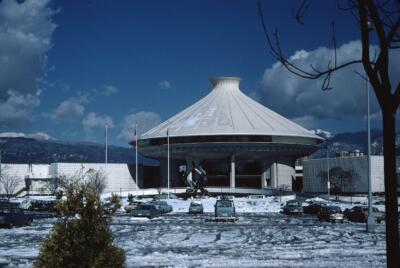 So do Stuart Ash's iconic modernist maple-leaf emblem, Bobby Gimby's celebratory ear-worm "Ca-Na-Da," and Alex Colville's minimalist Centennial circulation coin designs.
The book's groovy typography and bright colours capture something of the sixties style so evident in Centennial promotions and the endless souvenirs that still abound in the thrift shops of Canada. Yet we also meet Canadians whose projects did not fit the mid-century modern mould.
Ida Dekelver, for example, commemorated both the centenary of Confederation and the contributions of her Overlander ancestors by walking from Clearwater, near Kamloops, to Saskatchewan accompanied by two donkeys. Eldra Robertson of Chase was one of hundreds of women from coast-to-coast who produced elaborate Centennial quilts, many of which are the prized possessions of community halls and local museums to this day.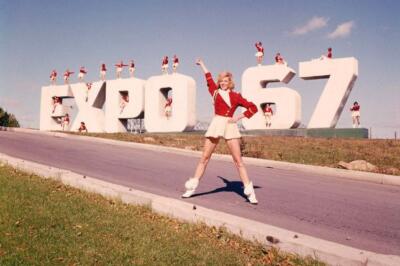 Other projects suggested the future. St. Paul, Alberta, constructed its famous UFO Landing Pad as a Centennial project, one of many unusual roadside attractions to sport the Centennial logo.
Hawthorn steers clear of the "behind the scenes" organizational history of the Centennial, ground already well covered in Peter H. Aykroyd's memoir, The Anniversary Compulsion (Dundurn: 1992). Hawthorn does acknowledge government projects and subsidies, but never loses sight of his focus on individual and community initiative. It was this government largesse that made possible so much of the Centennial celebrations and their lasting legacy.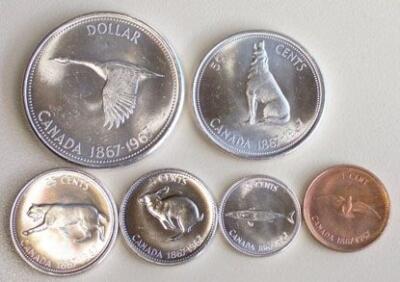 Inspired at least in part by the success of grant programs during the British Columbia Centennial of 1958, the federal Centennial Commission subsidized the construction of Centennial scholarships, arenas, parks, squares, community centres, monuments, and celebratory plaques, many of which remain the most tangible connection to the celebrations.
In this light, the celebrations were perhaps not quite as spontaneous as Hawthorn seems to suggest. Canadians embraced the Centennial for a variety of reasons, including official promotion and the enticement of funding for community projects.
If the book clearly demonstrates that the Centennial caused Canadians to lose their minds, the notion of "finding their country" is a little trickier to pin down. In his preface (p. 5), Hawthorn asserts that:
The Canada of 1968 was a profoundly different place than the Canada of 1966. All that was to come … was made possible during the Centennial year. It was the beginning of a new sense of national identity, one in which race, culture and language would play lesser roles that we had become accustomed to in the country's first century.
Here I think he overreaches. Certainly the 1960s in Canada were a decade of social, political, and cultural foment, but were the Centennial celebrations a driver or merely a symptom of these changes? For instance, the cultural nationalism of the CBC and the Massey Commission dated from the 1950s, while many of the political hallmarks of modern Canadian identity — universal health insurance, or a colour-blind immigration policy, a precursor to modern-day official multiculturalism — were products of the early 1960s, not of 1967.
Hawthorn himself lived in Montreal during the Centennial year, and considering the reception and aftermath of the Centennial in Quebec, it is odd that he suggests that language politics would play a lesser role in national identity after 1967 than it had before. Before the Centennial year closed, René Levesque would form the Mouvement Souveraineté-Association, which in 1968 would become the Parti Québécois.
For more than a quarter-century to come, language and culture would be central to discussions of Canadian national identity. Indeed, the celebration for the next major anniversary of Confederation, Canada 125 in 1992, was little more than an effort to shore up Canadian federalism in the wake of the failed Meech Lake and Charlottetown accords.
Major commemorations often inspire the revival and reformulation of national myths, and Hawthorn occasionally falls into the myth-making trap. Yet he also acknowledges that not everyone was thrilled about the anniversary.
Chief Dan George of the Tsleil-Waututh Nation (Burrard Inlet, North Vancouver) used the occasion of a Dominion Day address in Vancouver to lament the second-class status of Indigenous people in Canada. George's "Lament for Confederation" reads in part:
But in the long hundred years since the white man came, I have seen my freedom disappear like the salmon going mysteriously out to sea. The white man's strange customs, which I could not understand, pressed down upon me until I could no longer breathe.
When I fought to protect my land and my home, I was called a savage. When I neither understood nor welcomed his way of life, I was called lazy. When I tried to rule my people, I was stripped of my authority.
My nation was ignored in your history textbooks – they were little more important in the history of Canada than the buffalo that ranged the plains.
George's criticism was extraordinary in the Centennial year, and certainly Indigenous voices will be much more in evidence in Canada 150 observances than they were in the celebrations fifty years ago. Resistance and reconciliation were watchwords never uttered in 1967, but they are already the rallying cries and hashtags of 2017.
If there is a lesson in the Centennial for Canadians in our Sesquicentennial year, it is that anniversary celebrations have the potential to energize citizens in unexpected ways. Hawthorn demonstrates this really well, and with a sense of fun. With the benefit of a half-century's hindsight, Canadians' Centennial antics might seem a little quaint, but the excitement and optimism behind them were heartfelt and the legacies, while real, were not perhaps as definitive as Hawthorn implies.
The Year Canadians Lost Their Minds and Found Their Country recounts with humour, affection, and a little nostalgia the myriad ways in which ordinary Canadians marked their country's hundredth birthday. This is the book's strength, and makes it both a valuable contribution to the literature on Canadian commemorations and, more importantly, an enjoyable read.
*
Forrest Pass is a historian at the Canadian Museum of History in Gatineau, Quebec. Originally from the Sunshine Coast, he researches and writes on British Columbia regionalism, Canadian nationalism, commemorations, and public history.
*
The British Columbia Review
Publisher and Editor: Richard Mackie
Formerly The Ormsby Review, The British Columbia Review is an on-line journal service for BC writers and readers. The Advisory Board consists of Jean Barman, Wade Davis, Robin Fisher, Cole Harris, Hugh Johnston, Kathy Mezei, Patricia Roy, Maria Tippett, and Graeme Wynn. Provincial Government Patron (since September 2018): Creative BC. Honorary Patron: Yosef Wosk. Scholarly Patron: SFU Graduate Liberal Studies.
"Only connect." – E.M. Forster